Not just another cruise!
This area has been created just for you – the travel representative. We hope the information here will make it easy for you to prepare your clients for "the best holiday they have ever had"!
You won't find any casinos or swimming pools onboard the TRUE NORTH – our itineraries have been especially designed for the most discerning adventurer and daily activities include scenic walks, helicopter flights, culture, fishing, snorkelling, picnics, diving, exploring, nature and much, much more! Naturally, guests need only participate according to desire however daytime 'cruising' is always kept to a minimum so as to allow for maximum adventure and, because of the TRUE NORTH's unique shallow-draft design – guests need only step through their cabin door to experience their destination!
"Five star adventure – sometimes there were so many things to do, it was hard to choose which activity to sign up for!"
And, if your clients are looking for an authentic experience – look no further! The TRUE NORTH features a young Australian crew who are very much part of the experience. They have great enthusiasm for what we do and personal interaction with guests is encouraged!
"The professionalism in the daily planning of every single detail, the variety of activities plus the magnificent team spirit of the entire crew made this an unforgettable experience".
Dining onboard the TRUE NORTH is also a refreshingly authentic experience – all meals feature modern and creative Australian cuisine!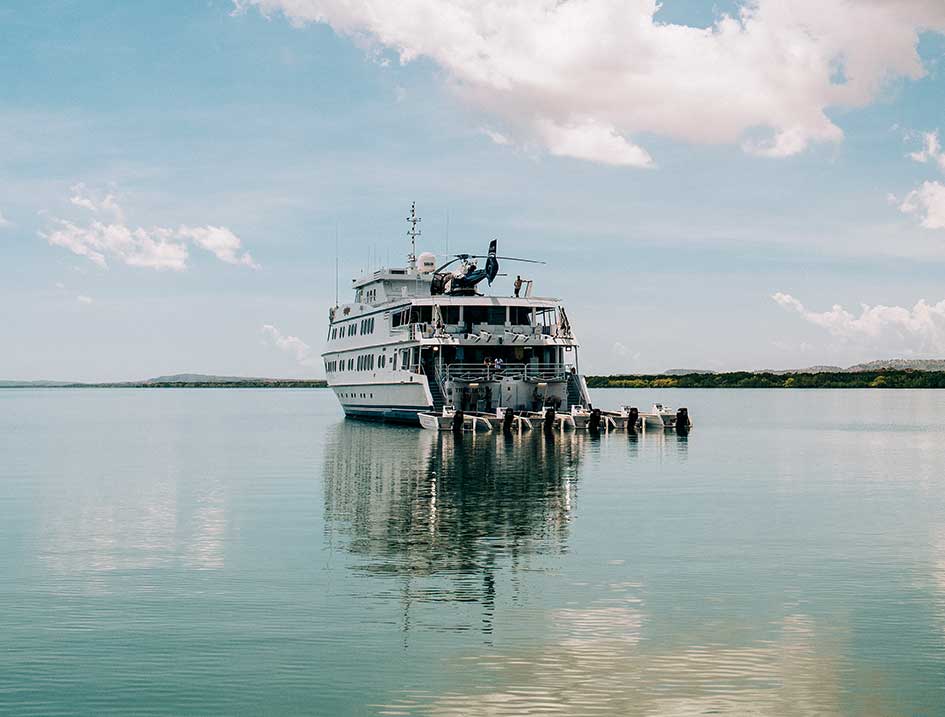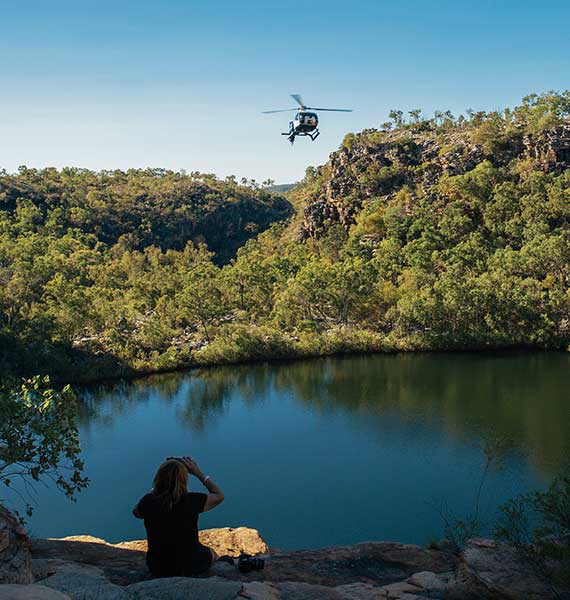 Guest incentives
Early Bird Deposit incentive when making a booking more than 12 months in advance, a reduced deposit of just 10%* is applicable, with the deposit balance (15%) becoming due 12 months prior to departure. The standard 25% deposit applies to all bookings within 12 months of departure. Please note that deposits are always based on the gross fare.
Club Artisan incentives
Artisan a 10% incentive applies to all repeat bookings.
Master Artisan – an increased incentive applies to guests who are booking their fourth repeat cruise. Please contact our sales team for more information.
Please note maximum commission payable on repeat bookings may be reduced.
Singles Policy cabin accommodation is based on double occupancy. Sole occupancy can be requested on the basis of 2 fares less 20%. If your client is willing to share – a single berth fare is applicable. This option is available ONLY in the Ocean Class twins. A same sex roommate may be assigned.
Brand copy
Use the copy below to help you promote the True North [150 words]
The adventure difference starts here!
An adventure aboard the multi-awarded TRUE NORTH is not just another expedition-cruise!
We curate activity-based itineraries that are designed to satisfy the world's most discerning travellers. We specifically exclude sea-days and feature unparalleled access to stunning coastal environments and, unequalled opportunity to truly experience the destination. Our itineraries are intended to be life changing and our guests often remark "that is the best holiday that I have ever had!"
The TRUE NORTH is purpose-built to access wilderness areas – big ships cannot go where we go! Multiple adventure boats take guests away in small groups to experience wilderness up-close and the luxury of numerous tenders also means that guests have greater opportunity to do "what they want, when they want"! And, to add another dimension to adventure, most itineraries feature an onboard helicopter.
Daily activities can include snorkelling, diving, fishing, hiking, picnics, natural history, cultural activities and scenic helicopter flights.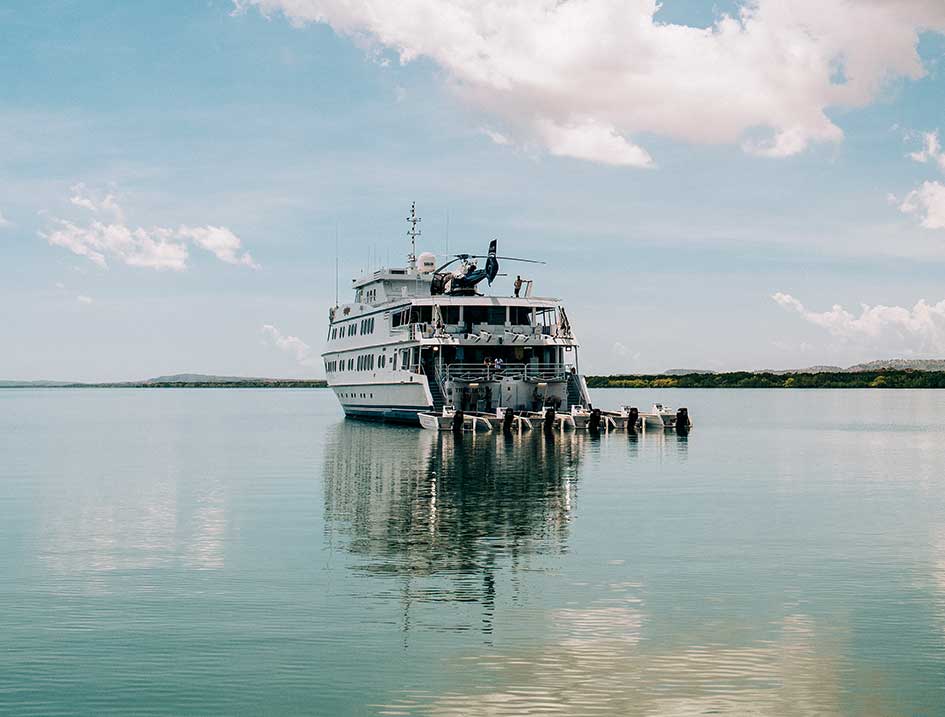 Image Galleries
Click and download images in the below galleries for media use –
Please note that the images provided remain subject to copyright and are provided exclusively for the purpose of promoting True North Adventure Cruises and its products.
No other use is authorised without the express permission of True North Adventure Cruises.
Indonesia & West Papua Gallery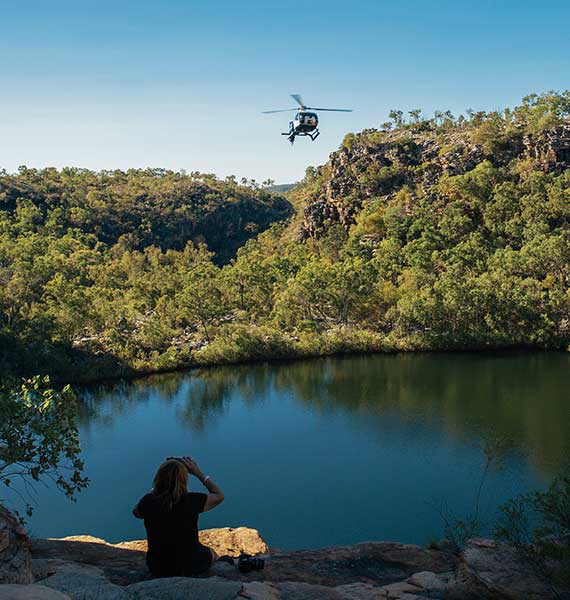 Resources
Sample Itineraries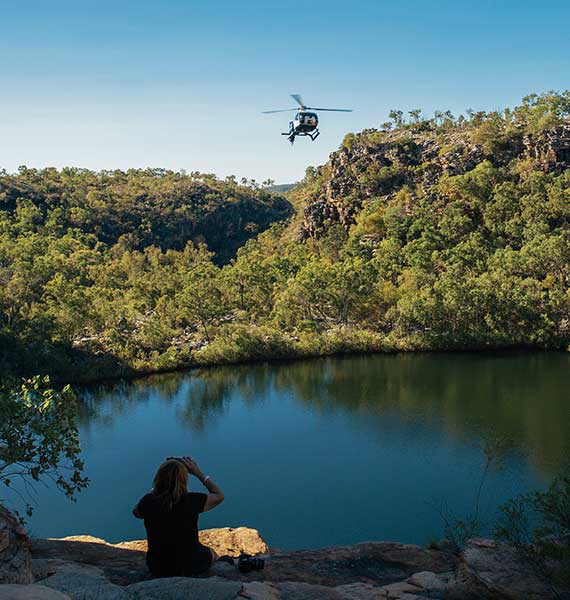 Sample menus & wine lists
Webinars
Agent report card
Firstly many thanks for allowing Penny and I the wonderful opportunity to experience True North.
True North is truly one product where the hype/reputation matches the product in fact exceeds the expectation. As you both know I have been fortunate enough to literally have done almost everything that money can buy in Australia and I would put True North up there with the very best in fact this would now make my all-time favourites list. I can only imagine how amazing the Kimberley and other trips are. It is a testament to Craig's vision and the professionalism of the company as to how well presented the vessel is and how seamlessly the product is delivered. No stone was left unturned and the staff and activities were exceptional (particularly the staff) and everything was delivered with a smile and no fuss. In short I would like to congratulate you both on a truly world class experience and must say I feel very fortunate to have been able to experience such a product.
Again thanks for the opportunity and we will be telling all our clients with even greater gusto, how exceptional the True North is.
Drew Kluska
Managing Director
THE TAILOR
21st of September 2012
The TRUE NORTH is a superb luxury cruising experience. The casual but elegant atmosphere on board, coupled with the utterly charming and hospitable personalities of the crew, lend the entire ship experience a sense of personal character that becomes as valuable as the destination visited. From the no-shoes policy to the gourmet dinners, the ship and the crew effortlessly straddle a fine line of making guests feel both at home and pampered at the same time – no easy task!
The ship itself is lovely and comfortable, the rooms perfectly sized and beautifully appointed. The common spaces are spacious and lend themselves to both group gatherings as well as the opportunity for some quiet time, if desired. Onboard the ship, the crew keeps the areas and rooms spotless, constantly fussing (in a good way) to keep the ship in top form. This is done with smiles on their faces – remarkably with no trace of exhaustion or resentment despite long days of service. The crew I met on both TRUE NORTH experiences is perhaps what sets the travel experience apart the most from other small cruise experiences that I have experienced. Their clear love of the destinations visited (particularly the Kimberley, which they know so well) practically glows. Shore excursion experiences are enhanced when the crew joins the travellers, enjoys themselves so thoroughly, and invites the travellers to join them in swims, mud baths, and small walks to see favourite rock art etc.
The overall effect for the traveller aboard the TRUE NORTH is that of being a guest onboard their home, welcomed to their part of the world. I feel that particularly for the American market this is an extraordinarily special opportunity to experience Australia's beautiful sites and its true warmth and character in a manner that would be difficult to duplicate elsewhere. In fact, I find that many weeks after this trip, I am left with a sense of nostalgia, of missing the entire experience of being on the TRUE NORTH – a sensation I have rarely experienced on the numerous trips that I have taken. The sense of community coupled with the spectacular destination are a winning combination.
Lauren Bruck Simon.
Director of Travel,
Harvard Museum of Natural History
25th May 2011
DECADENT DIRECTOR NEGLECTS DUTIES!
While one Global Gypsies Director was working hard leading a 4WD tour through the Kimberley, the other one was shirking her duties & relaxing in pure decadence on the Kimberley waterways! Yep, Jan spent a glorious week on the luxurious 50m cruise vessel TRUE NORTH & reckons it was the best (non-Gypsy!) holiday she's ever had!
There were two Kimberley itineraries to choose from – "Islands" or "Gorges". Jan chose the latter & flew to Kununurra to begin her adventure. From there a bus drove the clients to Wyndham jetty where we were welcomed by the friendly crew armed with canapes & bubbly. For the next week we cruised lazily south along the coastal wilderness ending up in Hunter River & then a flight to Broome.
The boat can cater for 36 pampered guests in comfy cabins & suites; there's also a dining room; bar-lounge; sundeck; activities area & sports deck. Each day there was so much to do it was difficult to choose – walks, fishing, cruises, nature talks – even art classes with accomplished artists Mark & Mary Norval!
When it comes to describing the TRUE NORTH experience, it's a case of "How do I love thee? Let me count the ways!". Here are my favourites.….I loved the feeling of being on the open sea yet knowing we were hugging the shore in calm water; I loved sitting on the sundeck at dawn & dusk; taking excursions in the tenders; the heli flight & BBQ picnic at Eagle Falls; freshly caught fish & other culinary delights prepared by the talented chef; learning to sketch (I wasn't too bad!); fresh oysters we chipped off the rocks & swilled down with champagne on a pristine beach; the happy smiles, enthusiasm & professionalism of all the crew; the engine room (neat as a pin & twice as shiny!); spotting a big croc; admiring ancient rock art; getting drenched under King George Falls; attending the moving Dawn Service on Anzac Day read by Captain Brad; feeding tawny nurse sharks at the aft of the vessel; and being gently rocked to sleep each night by the waves.
All in all it was a wonderful experience & one I'd highly recommend.
GLOBAL GYPSIES TOURS & TRAINING
4th August 2011
 Contact
True North 
PO Box 654
Broome 6725
Western Australia, AUSTRALIA
In Market Representatives
Australia
Telephone: (08) 9192 1829
Fax: (08) 9192 1830
Email: experiences@truenorth.com.au
International
Telephone: (+61 8) 9192 1829
Email: sales@truenorth.com.au