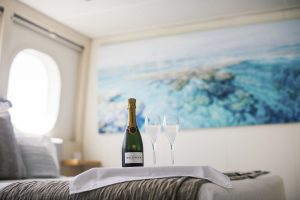 Welcome Aboard
Your adventure begins amidst the tropical charm of Darwin. One of our crew members will escort you aboard our chartered aircraft for your short flight to Biak.
Biak is also where we will welcome you aboard the magnificent TRUE NORTH.
Enjoy a welcome aboard cocktail as we set sail on a journey through the very heart of the 'Coral Triangle' – the world's most bio-diverse marine region.
West Papua's coastal areas encompass more than 275,000km2 of land and sea including the Cenderawasih Bay Marine Park – the largest marine park in Indonesia and, setting for one of the most unique animal encounters on the planet!
Enjoy a welcome aboard cocktail as we cruise to Misool Island and then watch the sun set in a different land before indulging in an equally stunning dining experience!