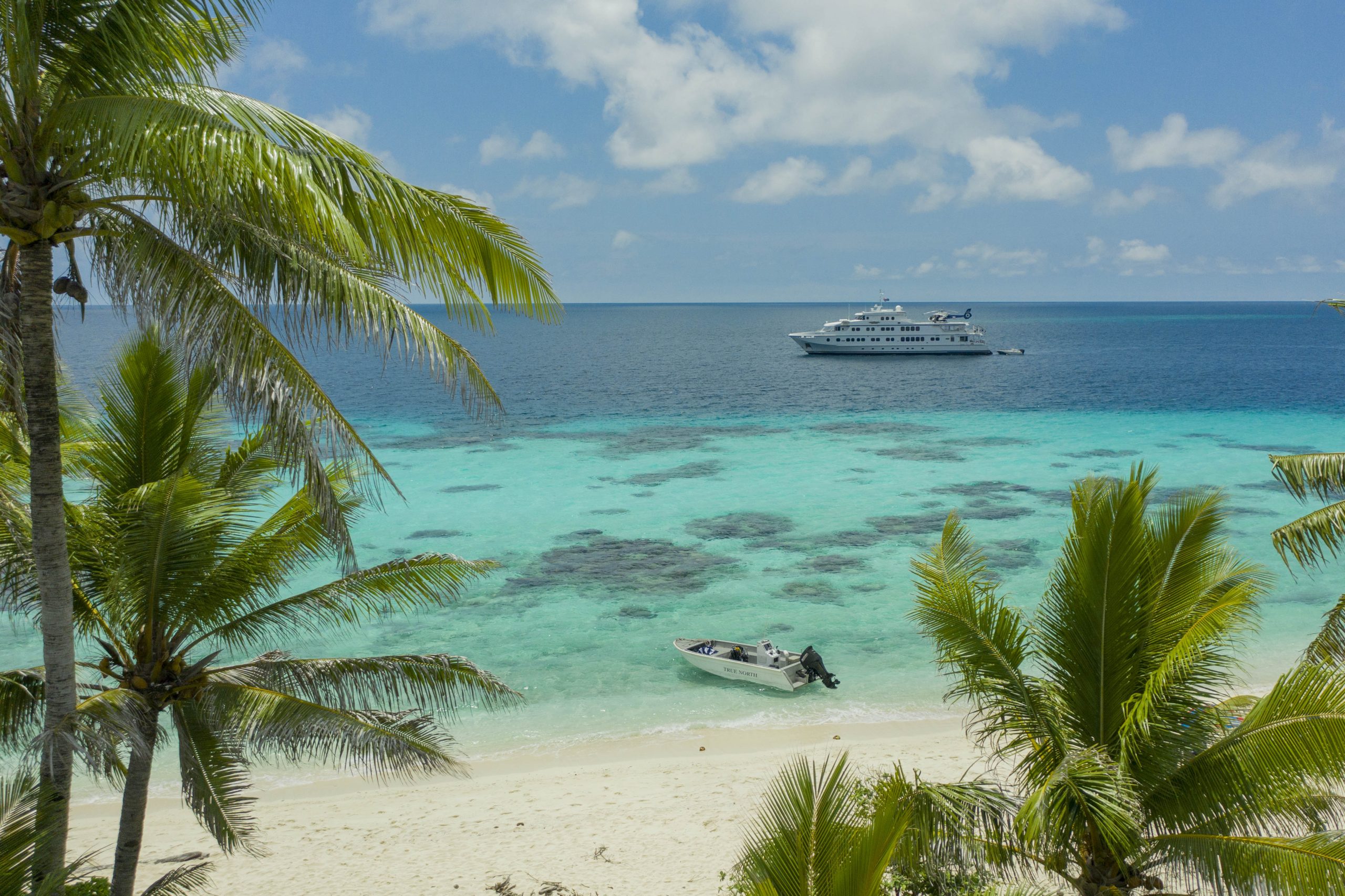 Melanesia Cruise 2023
A rare opportunity to explore the acclaimed Louisiade Archipelago
One of the great island arcs of the South Pacific stretching some 400km along the northern rim of the Coral Sea. Plus the mysterious Trobriand Islands, spectacular Bougainville and much, much more!
Return charter flights ex Cairns ARE INCLUDED in the tariff. This itinerary is provided as example only – prevailing conditions, local arrangements and indeed, what we discover on the day, may cause variation. Helicopter flights can be purchased additional to the indicated tariff as a package or individually.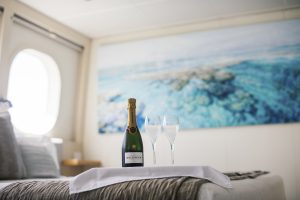 Welcome Aboard
In the wake of turbulent times very few tourists have journeyed to the island of Bougainville. The more intrepid are only recently rediscovering the island's mysterious charms and, your time aboard the TRUE NORTH is bound to embody the spirit of adventurous travel.
Begin your quest with a short flight in a chartered private jet, to the seaside village of Alotau in Papua New Guinea. Here your floating boutique hotel awaits and it's time to settle into your cabin and to enjoy some welcoming refreshment as we set sail for the Louisiade Archipelago.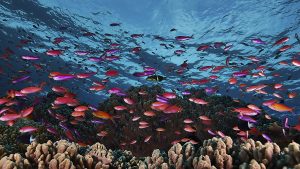 Deboyne Islands
Wake this morning at the stunning Deboyne Islands. During World War II the Japanese used the atoll briefly as a seaplane base. It was quickly discovered and bombed by Australian aircraft and several ships and planes were either sunk or ditched in the surrounding lagoons. Time to don mask and snorkel and to drift over the shallow wrecks. The adventure boats will also venture outside the lagoons on fishing and diving excursions. A visit to Panepompom Island provides opportunity to experience idyllic archipelago life. The 'locals' will welcome you on the beach, treat with impromptu singing (and laughing) and then invite all to stroll amongst their huts. Our crew will also take the opportunity to deliver appreciated resources to the local school before the adventure boats are away again. In the afternoon the ship's helicopter will provide breathtaking orientation to the Calvados Chain especially distinctive Panasia and Duchateau Island. Here the islands are steep sided and 'Jurassic Like'. Fishing, diving and snorkelling will be on the agenda or perhaps you would prefer a short hike to a picturesque cave on exotic Panasia!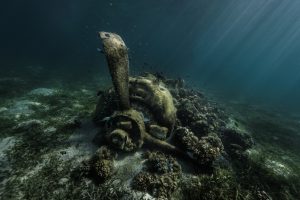 Rossell Atoll
Today we visit Rossell Atoll where a SCUBA dive at the aptly named "Fish City" is likely to be an early cruise highlight. The site reliably produces large numbers of schooling fish including big mackerel, parrot fish, batfish, trevally, coral trout, tuna and snapper.
We will also visit nearby Sudest Island (also known as Vanatinai Island). The island features a wooded mountain range that runs the length of the island with Mount Riu reaching 806 metres near the island centre. Sudest was once the site of a gold rush that peaked in 1889 - gold was found in nearly all of the island's water courses. At Rambuso Village on the island's north coast – we visit a picturesque spot where a sparkling creek cascades out of the jungle and into the ocean.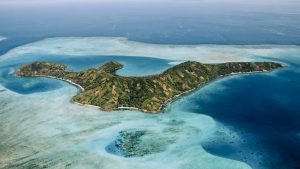 Egum Atoll
A day set aside for exploring beautiful Egum Atoll which lies between the D'Entrecasteaux, Woodlark and Trobriand Island groups. A visit to the main village includes a delightful experience with the local school children. Enjoy fishing, snorkelling and diving and conclude the day with beach drinks on your 'very own' palm-fringed beach!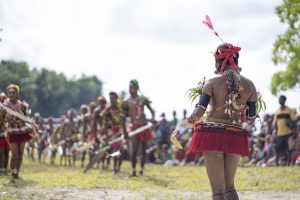 Trobriand Islands
The first European visitors to the Trobriand Islands came in 1793 aboard the French ship Esperance and the ship's navigator, Bruni d'Entrecasteaux, named the islands after his first lieutenant, Denis de Trobriand. Even today, the island's residents are somewhat infamous for their local customs which include a very relaxed attitude to sexual encounters. Most villages have a special hut called a bukumatula which is used for extramarital encounters and babies are thought to be the result of magic without any link to sex and pregnancy. Yams and banana leaves are traditional local currency.
Join the crew on a fascinating visit to one of the main villages where the locals will entertain with a cultural sing-sing and showcase handmade wood carvings. There may also be opportunity to join in a sporting event with a twist – cricket, Trobriand style!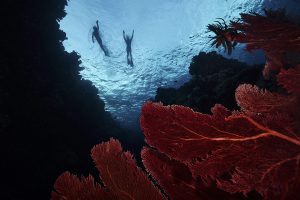 Woodlark Island
Woodlark Island is a small island with a population of about 6000. The island is surrounded by coral reef and there will be plenty of opportunities to fish, snorkel, dive and sightsee in this remote and picturesque location. Meeting the locals is also a highlight.
In the afternoon we will visit the northern side of the island where dense jungle meets the ocean and hangs overhead as you sit in the atoll's crystal clear waters. Woodlark is also home to an extensive creek system that will beckon the explorers on-board.
Bougainville
After an overnight steam from Woodlark, wake this morning ready for the impressive scenery of Bougainville! The island is covered in thick jungle and the dormant volcano of Mount Balbi rises to 2685 metres.
Take a heli-flight over Mount Bagana. Although Mount Balbi rises taller, Mount Bagana is one of the most active volcanoes in Papua New Guinea. We will also overfly Benua Cave – an impressive sinkhole located on the west coast of the island. Benua is the largest 'cavern' in the world and contains tall stalagmites.
The underwater environment along the west coast of Bougainville is also a treasure trove of tropical fish species making snorkelling and diving equally enticing activities. The visibility is exceptional and there are more opportunities to discover wartime wrecks in shallow water.
In addition to the stunning scenery, you will also find the Bougainville locals to be incredibly friendly and keen to showcase their arts and crafts.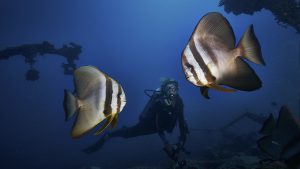 West Bougainville
Another day off magical Bougainville!
In the early morn snorkel or dive over more relics from an era past. West Bougainville features some known fish 'pressure points' which often produce exceptional species diversity. There will also be opportunity to tackle light game species in the blue water.
And then something special is on the agenda today. The chance to join a 'famous' TRUE NORTH heli - picnic albeit one that is a little different to the norm! Land in a clearing midst dense jungle with towering canopy and join a short walk along a jungle track. Then picnic TRUE NORTH style adjacent to a picture-perfect waterfall and swimming splendour!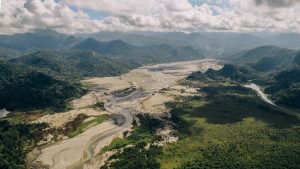 North Bougainville
After two days exploring the west coast of Bougainville it's now time to turn our attention to North Bougainville. This includes the bustling town of Buka which is actually located on its own island only separated from the main island by a narrow passage. Take to the air today for a stunning heli-flight as your pilot circumnavigates Buka Island. The day is also filled with snorkelling and diving in and sightseeing around the many surrounding atolls. In the afternoon we'll visit a marketplace on Buka.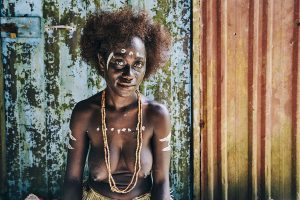 East Bougainville
Today we explore the eastern side of Bougainville and encounter distinctive cultural display. Hear stories of the island's infamous civil war and squeeze in one last day of snorkelling and diving.
Visit colourful Pok Pok village and see a bamboo windpipe sing-sing. Fly over the nearby volcanic lakes and the also infamous Panguna mine site before finishing the day with sunset drinks on a ubiquitous palm-fringed beach.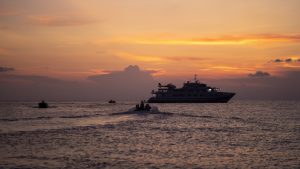 Return to Cairns
The chefs will prepare one final breakfast as you look back on your South Pacific impasto. A voyage filled with culture, character and the very nature of Papua New Guinea - a world far from tourism en masse! After breakfast we will provide transfer to the airport at Buka for your charter flight back to Cairns. And, we will already be looking forward to our next adventure together!

Impossible to beat – wonderful crew, scenery & outings. To all the boys & girls aboard, you made it for us!!! Thanks heaps!
Sue Bell

Thank you all for a most incredible experience. Each & every member of the crew has displayed a great attitude, consistently courteous, helpful & with a sense of fun. So many smiles!!! We have truly appreciated this wonderful opportunity to see this amazing part of our country and in such style! We will be back in December!
Ian & Maureen Maxwell

An absolutely wonderful holiday never to be forgotten. The people & Crew, the standard of service & the sights are just wonderful. See you again in October
Jennifer and Dennis

We have travelled the globe by land, sea, air and this voyage has topped it all. Incredible, a big thank you to True North. Spreading the joy and love.
Yvonne & Ulrich

What a wonderful trip! Truly one of a lifetime. The crew, accommodations, food etc… incredible. Sam and I hope to be back again before too long.
Judy & Sam Coats

The most amazing experience. We have loved every second of our trip. Your crew are exceptional and we could want for nothing. We'll definitely be back.
Lisa & Julian Iuliano

Another wonderful trip, thank you to all.
Bob Mostyn & Louise Burney

Well above expectations. Just great!
Peter & Edith Ryba

What a great cruise of discovery, absolutely amazing! Real dragons, beautiful snorkelling, great walks and interesting villages and a wonderful crew that made each day eventful and interesting. Thanks!
Jack & Barbara Clark

Very friendly! Very helpful! Unique!
Martha Barr

Well True North you have done it again! Amazing destinations with beautiful people welcoming us with their "sing sing", happy faces and big wide smiles. Some great snorkelling. Thanks to the crew – the best crew in the world!
Jack & Barbara Clark

This cruise was amazing, it should be called 'Melodies of Melanesia'.
Ken & Lesley Bretherton

Once again - addicted. Great cruise - I can't wait for our next hit, thanks True North.
Larry and Di Mitchell
send us a message
We'd love to meet you.
Experience the adventure
True North Tales
Time to Book Ahead
Hear from someone who truly knows about the value of booking ahead. "Cheggers" has travelled on the TRUE NORTH more than anyone else!
True North Sails into 30 Years
True North Adventure Cruises - has sailed into 30 years of continuous operations. The now revered adventure-cruise operator first cruised Western Australia's remote Kimberley coast during 1987 when founding director Craig Howson commenced fishing type charters along a coastline that was and still is largely inaccessible from land.
The Helicopter
Adding another dimension to the adventure, most cruise options on the TRUE NORTH feature an on-board helicopter! Carrying guests in air conditioned comfort, the ship's helicopter provides unique opportunity to witness grandeur; unique opportunity to fish billabongs that have never been fished; unique opportunity to discover your very own wilderness!
Myles Pollard's Fishing Adventure
There is nothing better than a day out on the water, especially when the fish are biting! Fishing on-board the TRUE NORTH is a much-favoured activity both with guests who have never picked up a rod before and, with those who have "caught them all!" Our guides encourage everybody on-board to "give it a go" and the TRUE NORTH's multiple adventure boats never fail to bring back a swag of 'fishing tales'! Stories about the ladies who out-fish the boys are pretty common, humorous equipment failures also come to note on a regular basis, then there are the 'birthday fish', the 'monster fish' and of course, the ones that got away! Our guides have seen and heard it all! Watch the video to find out more about actor Myles Pollard's fishing adventure!
TRUE NORTH Impresses Again
The TRUE NORTH has once again impressed on the world stage coming second in the 2020 Traveller Made Brand Storytelling competition. Traveller Made is Europe's largest travel consortium and its members represent the very best in luxury travel providers and suppliers. The group's inaugural Brand Storytelling competition was an opportunity for leading travel brand's to showcase "the story behind their brand" and, the competition attracted entries from some of the world's most respected travel brands. In such esteemed company, True North's marketing team was especially pleased to receive this additional acknowledgement.
Adventure En Plein Air
West Australian artist Jacob 'Shakey' Butler joined the TRUE NORTH earlier this season and discovered the Kimberley's raw beauty. As the artist in residence, Jacob set up his canvas on remote beaches, beside freshwater billabongs and on-deck surrounded by pindan-coloured gorges. Watch the video above to hear Jacob describing how the Kimberley inspires the art of adventure.
Catriona Rowntree Talks With Craig Howson
A commonly asked question is "When is the best time to see the Kimberley?" And the answer is "The Kimberley is always at its best!" However certain times of the year can make it easier to satisfy particular interest. For example, if you would like to see plenty of whale action then departures in August and September are definitely for you! From late July humpback and southern right whales reach the Kimberley after swimming-up the west coast to reach breeding grounds in the north and it's very common for guests to get great views of whales breaching and basking on the surface.
enjoy exciting activites
The True North Experience
We curate activity-based itineraries that are designed to satisfy the world's most discerning travellers. We specifically exclude sea-days and feature unparalleled access to stunning coastal environments and, unequalled opportunity to truly experience the destination.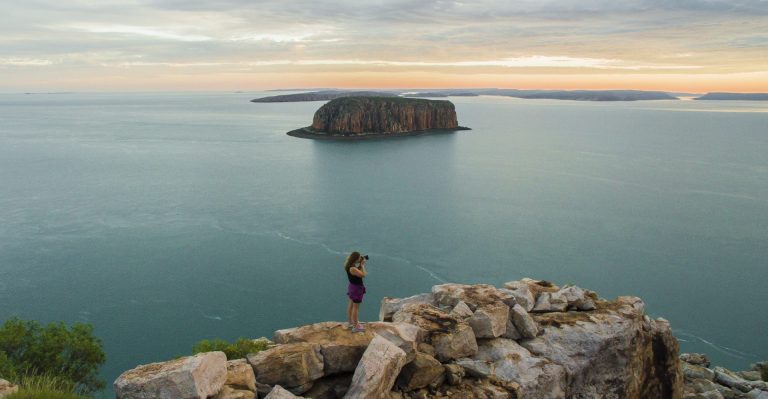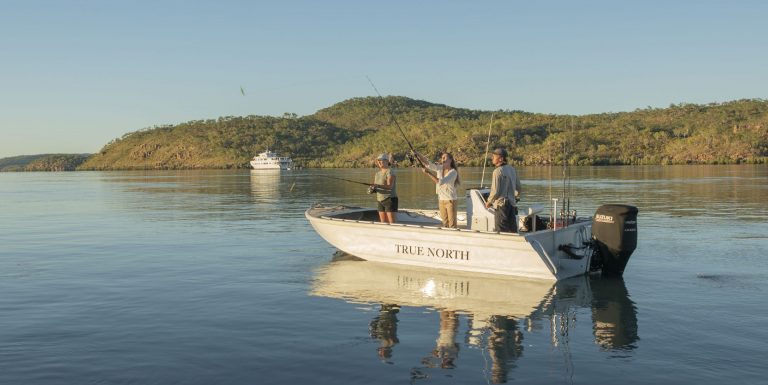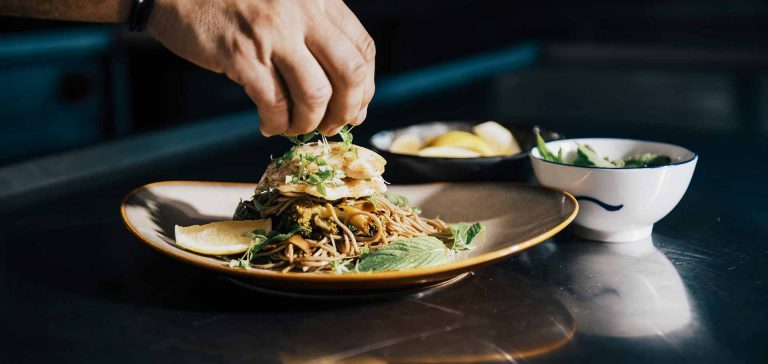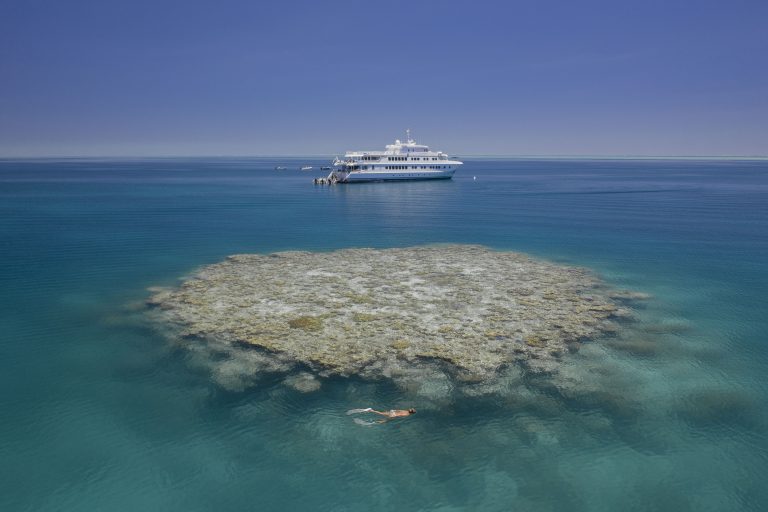 Download Itinerary
We'd like to ask few things first