dining aboard the True North
Modern Australian Cuisine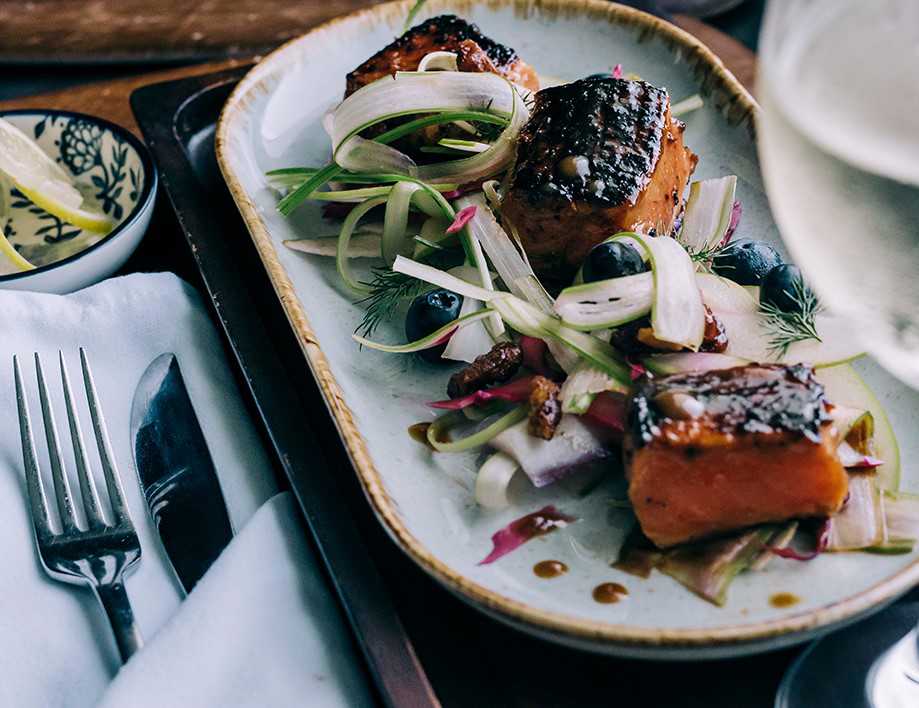 The platform for dining on-board
The TRUE NORTH is sustainable, organic and very Australian cuisine. Our menus are also destination inspired and feature the very best of locally sourced ingredients. Modern technique is used to showcase alongside more traditional methods.
The galley delivers continuously evolving dishes drawing from an array of different cuisines to ensure that each dining experience is unique to every itinerary.
the oldest art known to mankind, oysters and champagne
A 'Farm to Table' event with a difference – intriguing rock-art points to a nearby harvest of plenty. See the story panels and ponder how life once was. Then join gatherers of more recent times and indulge in succulent oysters collected in the gallery's early morning light. Sample straight from the sea washed down with champagne or savour for a Kimberley sunset and oysters on the bow.
A crowd-pleaser TRUE NORTH style. Kilpatrick with corn-fed black pig pancetta. Roasted with organic maple syrup until candied and crisp and dressed with home brewed tamarind tomato ragout – then slowly grilled in the shell. Naturals – lightly seasoned with Murray River sea salt, black pepper and citrus juice. Kimberley Sunsets drizzled with salmon roe, sour cream, lemon juice and vodka.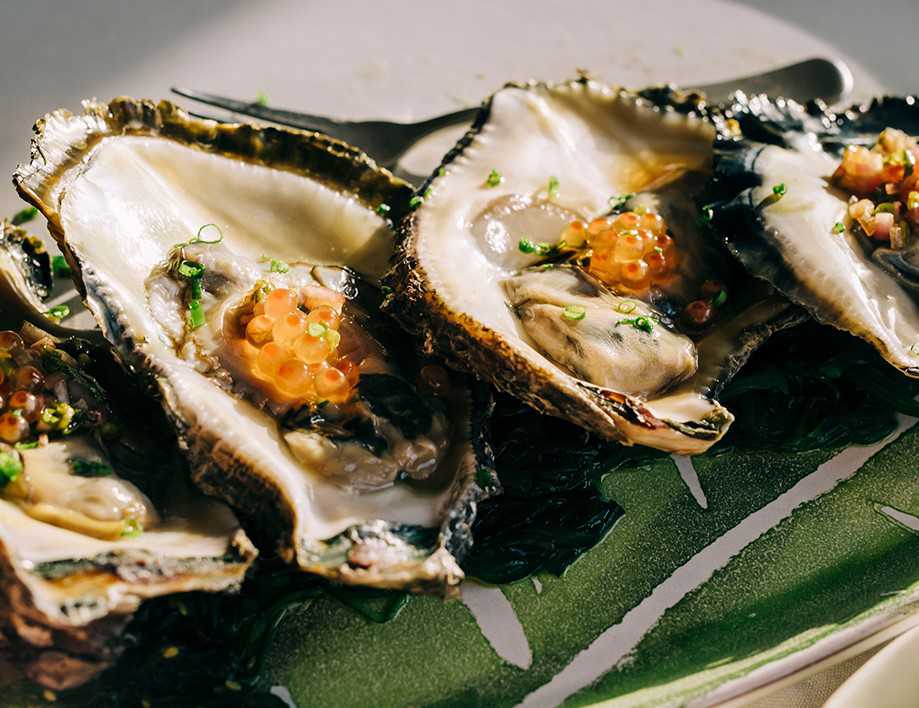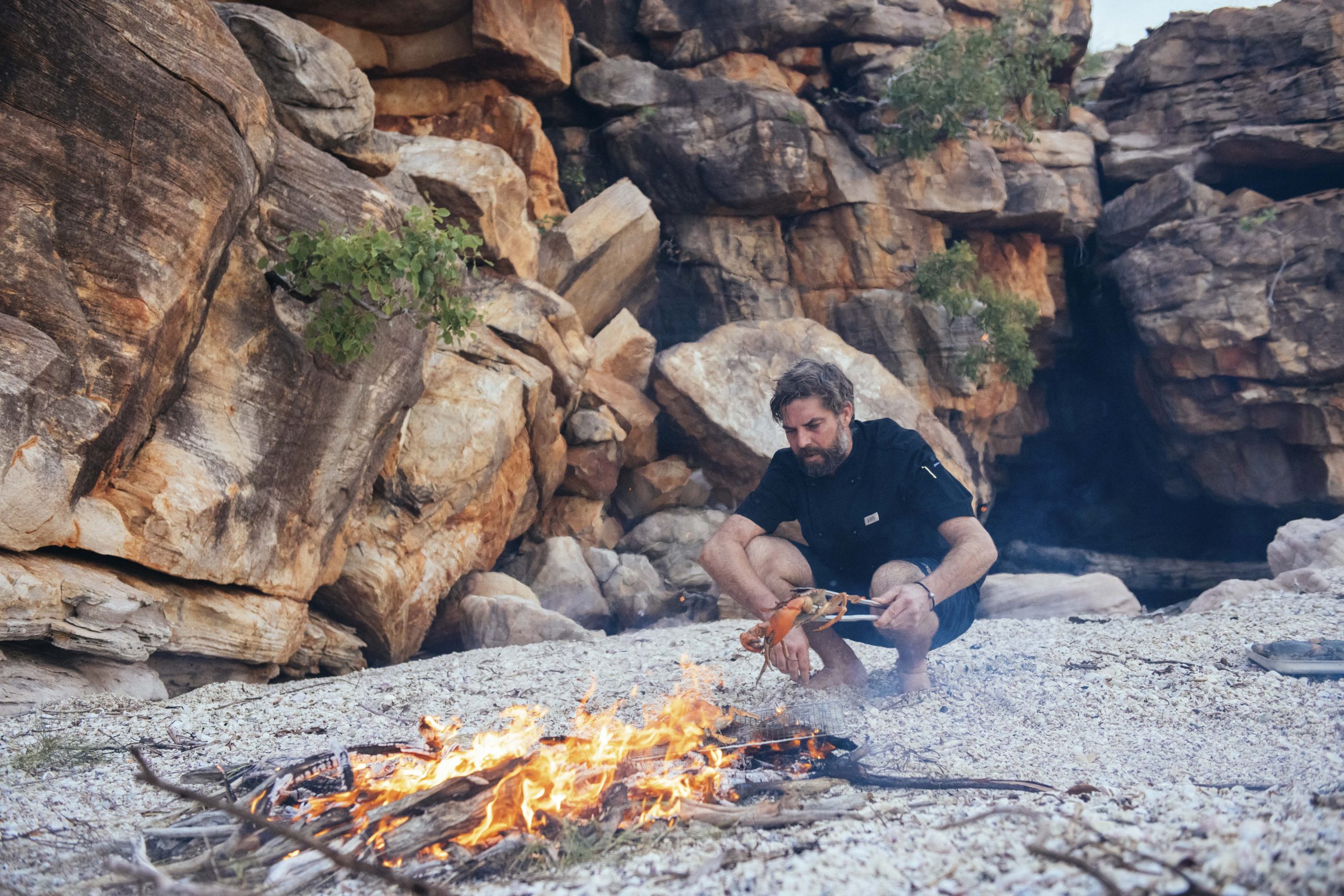 fish with the chef
It's not very often that you find an opportunity to accompany your chef as he or she hand-picks the evening's fare. It's even more-unique to stand side by side as you negotiate with an un-negotiable mud crab, or an aerial barramundi or a marauding mackerel. Hear their stories, witness skill beyond the galley and, make your own contribution to the menu. Land the catch of the day and then stay alongside as the chef demonstrates the processes involved – from the sea to your plate, a dining experience that practices what TRUE NORTH preaches – sustainable, organic and very Australian.
And the food style is to "let the fish do the talking" – only highlighting with ingredients that accentuate the natural sweetness and flavours of the fillet. Perhaps for lunch – seared barramundi, Broome mango & mud crab millet, roasted macadamias and mint salad.
chat with the chef
Sunset drinks on the beach are always a feature of a TRUE NORTH itinerary. And here waits yet another opportunity to spend time with masters of Australian cuisine. As the chef prepares fish in the smoker and sizzles mud-crabs in the coals – share the flavours of the day and drink-in the stunning colour of days-end.
Delicate finger-mark bream smoked with Raft Point lemongrass mixed with melaleuca paper-bark and red wine oak chips. Freshly caught mud-crab baked on red gum coals and served ceviche on the beach.
Then spend some time again when the chefs introduce the five component cheese board served mild to most robust and complemented with fine Australian wine. Benefit from personal tasting notes and learn history and technique.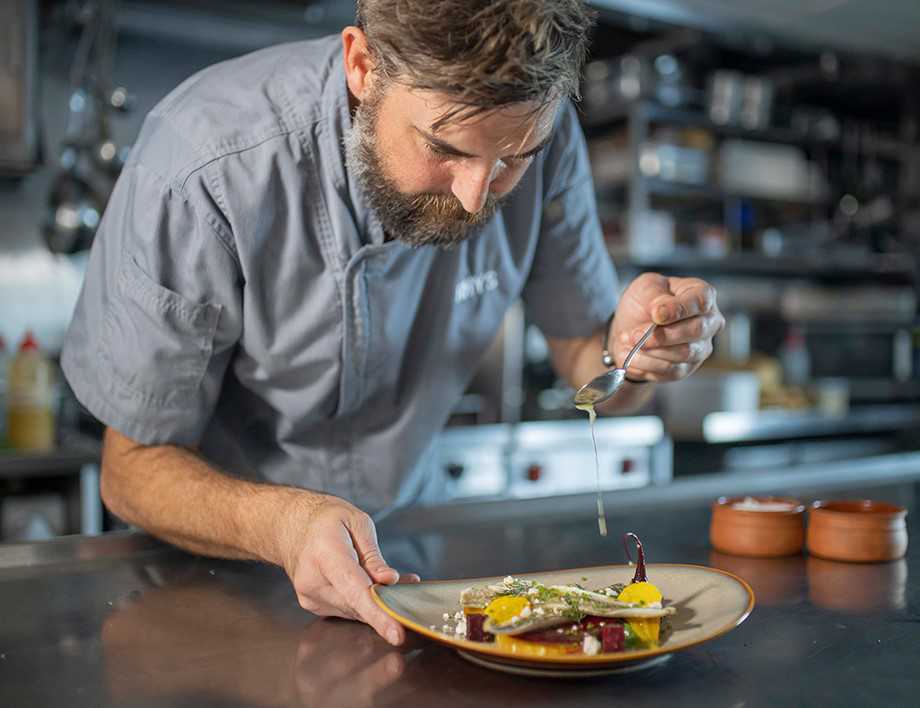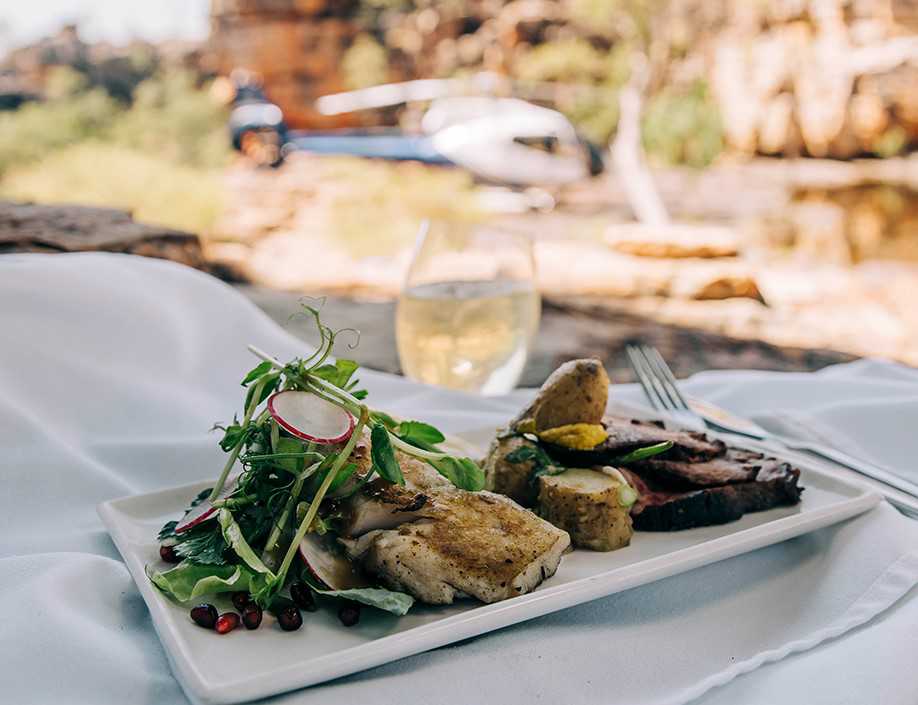 take away something more
The galley door is always open and guests on the TRUE NORTH are always encouraged to spend time with the chefs. You might encounter freshly prepared breakfast items like jams, marmalade, artisan honeys, or oil infused bread rolls made daily for the lunch and dinner settings. See butchery or fish mongering, jus and stock creation, curing, smoking, gently pressing and marinating with a Cryovac machine or cooking with a thermo regulated water bath. Watch them roll pasta, discuss how they prepare sashimi or simply take a photo to remind just how much you indulged whilst on-board the mighty TRUE NORTH.
The proof is in the pudding!
​Take a seat next to a fellow-adventurer as the last of day's light dances on a horizon never obscured. Invitation is extended by hand-crafted marri and immaculate settings whilst in the galley the chefs ready to plate what they started to prepare no less than 72 hours previous.
They have brined shoulders of lamb, cooked sous-vide with goose fat and herbs, slowly roasted and then chilled, pressed and portioned ready to serve.
Confit garlic and thyme roasted lamb rumps sliced medium-rare, resting on wild mushroom potato puree and sticky lamb jus. With peppery watercress, yellow bean and hazelnut salad to finish.
Later, double-skin glasses are placed before one and all – topped with a disc of tempered white chocolate and five dots of burnt raspberry coulis. A drizzle of warm Kimberley honey then reveals cold-pressed seasonal nectarines and vanilla bean from Papua New Guinea.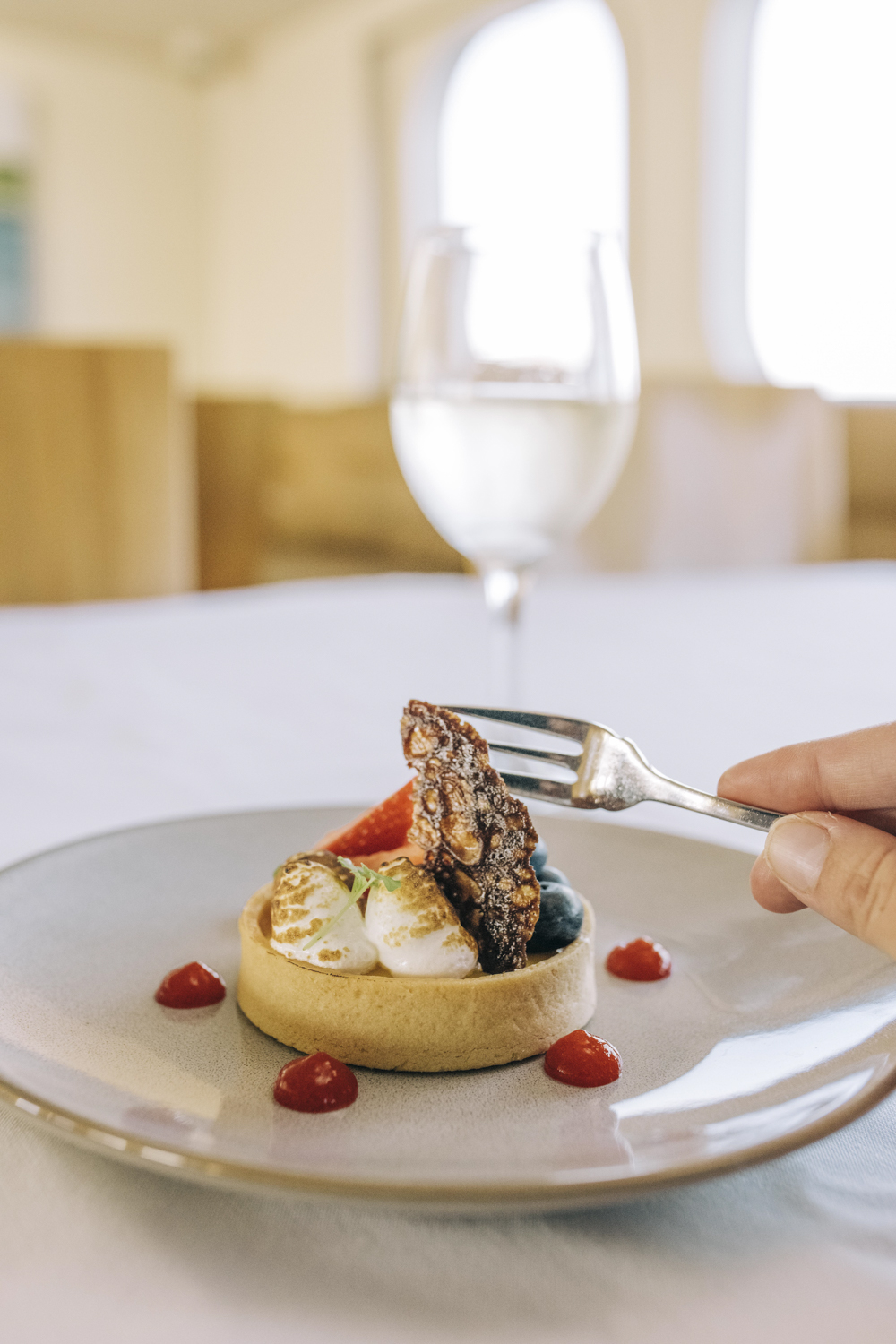 Experience the adventure
True North Tales
Time to Book Ahead
Hear from someone who truly knows about the value of booking ahead. "Cheggers" has travelled on the TRUE NORTH more than anyone else!
True North Sails into 30 Years
True North Adventure Cruises - has sailed into 30 years of continuous operations. The now revered adventure-cruise operator first cruised Western Australia's remote Kimberley coast during 1987 when founding director Craig Howson commenced fishing type charters along a coastline that was and still is largely inaccessible from land.
The Helicopter
Adding another dimension to the adventure, most cruise options on the TRUE NORTH feature an on-board helicopter! Carrying guests in air conditioned comfort, the ship's helicopter provides unique opportunity to witness grandeur; unique opportunity to fish billabongs that have never been fished; unique opportunity to discover your very own wilderness!
Myles Pollard's Fishing Adventure
There is nothing better than a day out on the water, especially when the fish are biting! Fishing on-board the TRUE NORTH is a much-favoured activity both with guests who have never picked up a rod before and, with those who have "caught them all!" Our guides encourage everybody on-board to "give it a go" and the TRUE NORTH's multiple adventure boats never fail to bring back a swag of 'fishing tales'! Stories about the ladies who out-fish the boys are pretty common, humorous equipment failures also come to note on a regular basis, then there are the 'birthday fish', the 'monster fish' and of course, the ones that got away! Our guides have seen and heard it all! Watch the video to find out more about actor Myles Pollard's fishing adventure!
TRUE NORTH Impresses Again
The TRUE NORTH has once again impressed on the world stage coming second in the 2020 Traveller Made Brand Storytelling competition. Traveller Made is Europe's largest travel consortium and its members represent the very best in luxury travel providers and suppliers. The group's inaugural Brand Storytelling competition was an opportunity for leading travel brand's to showcase "the story behind their brand" and, the competition attracted entries from some of the world's most respected travel brands. In such esteemed company, True North's marketing team was especially pleased to receive this additional acknowledgement.
Adventure En Plein Air
West Australian artist Jacob 'Shakey' Butler joined the TRUE NORTH earlier this season and discovered the Kimberley's raw beauty. As the artist in residence, Jacob set up his canvas on remote beaches, beside freshwater billabongs and on-deck surrounded by pindan-coloured gorges. Watch the video above to hear Jacob describing how the Kimberley inspires the art of adventure.
Catriona Rowntree Talks With Craig Howson
A commonly asked question is "When is the best time to see the Kimberley?" And the answer is "The Kimberley is always at its best!" However certain times of the year can make it easier to satisfy particular interest. For example, if you would like to see plenty of whale action then departures in August and September are definitely for you! From late July humpback and southern right whales reach the Kimberley after swimming-up the west coast to reach breeding grounds in the north and it's very common for guests to get great views of whales breaching and basking on the surface.