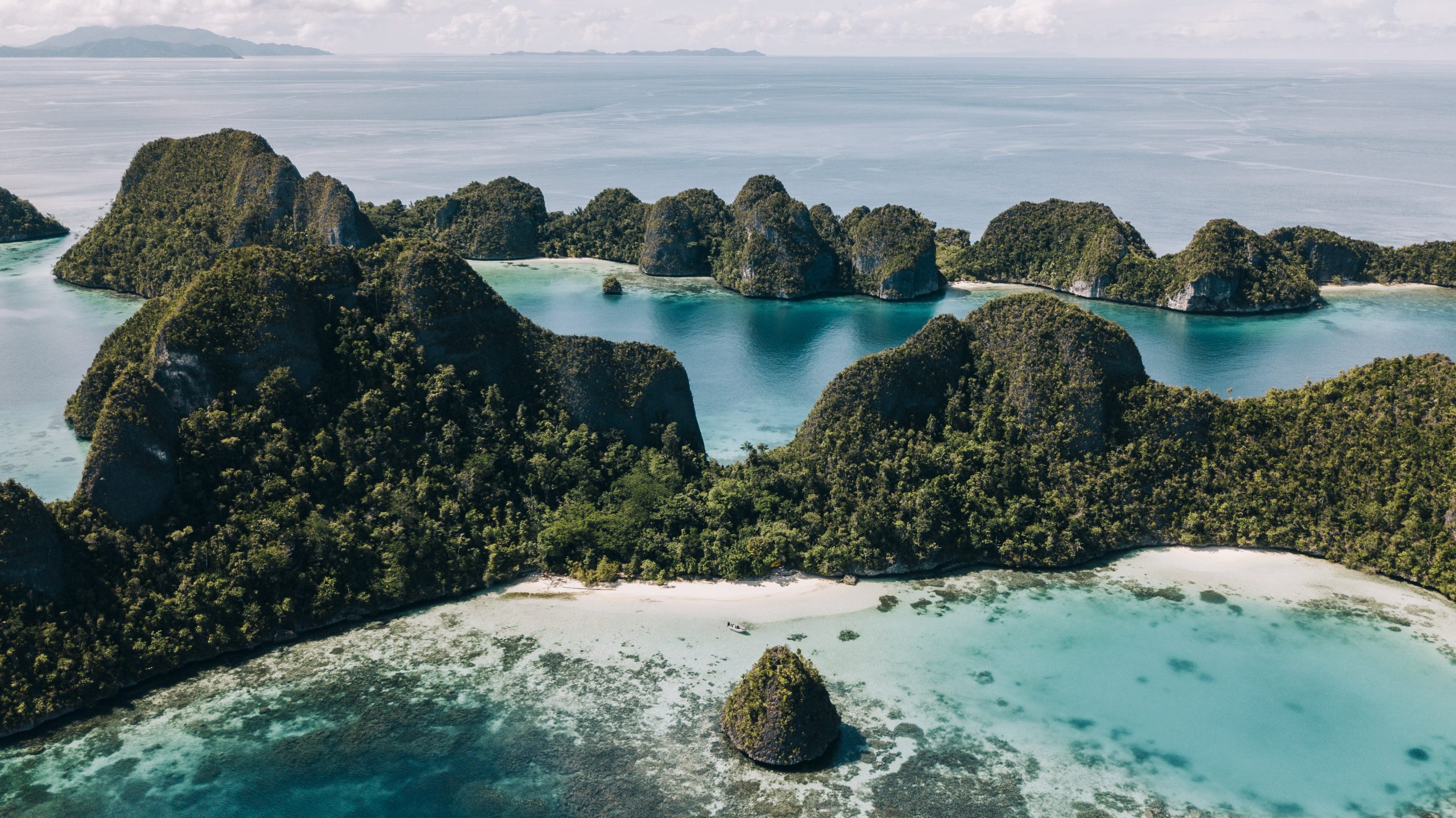 Raja Ampat Cruise 2023
A breathtakingly beautiful archipelago
Explore a breathtakingly beautiful archipelago consisting of more than 1500 islands, cays and shoals. See the exotic Wilson's bird of paradise, cross the equator and take part in a manta ray convention! Snorkel through caves and take guided walks through the jungle! Perhaps it doesn't get any better than this!
Return charter flights ex Darwin ARE INCLUDED in the tariff. This itinerary is provided as example only – prevailing conditions, local arrangements and indeed, what we discover on the day, may cause variation.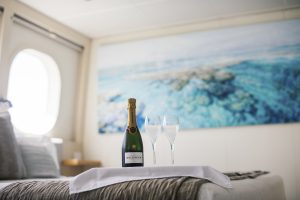 Welcome Aboard
Your adventure begins amidst the tropical charm of Darwin.
After collection from your hotel, our attentive crew members will escort you onboard our chartered aircraft for the short flight to Ambon – gateway to one of the world's last frontiers, West Papua!
Ambon is also where we will welcome you onboard the magnificent TRUE NORTH.
Enjoy a welcome aboard cocktail as we begin our journey to the Banda Islands and watch the sun set in a different land before indulging in an equally stunning dining experience!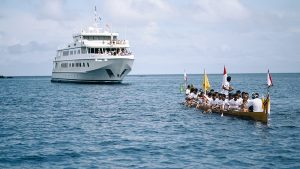 Banda Islands
Today we explore the fabled Banda Islands. Steeped in history and the evolutionary birthplace of nutmeg and mace, Banda is at the epicentre of Indonesia's 'Spice Islands' and was a Holy Grail for European, Arab and Chinese spice traders up until the late 1800's.
So valuable in fact were these islands that in 1667, Holland traded New Amsterdam (the quaint island now known as Manhattan) to the British for tiny Run Island – an acquisition that completed their monopoly of Banda nutmeg! Traditional war canoes will lead us into Banda harbour before we join a guided tour of Banda Neira Island featuring a nutmeg plantation and a fascinating historic museum. Back on-board our guest biologist will introduce the area's intriguing natural history before you head-off in the adventure boats for a scenic tour or perhaps your first opportunity to snorkel and dive on sunken lava flow. Then join guest and crew alike for sunset drinks in historic Fort Belgica which overlooks Banda harbour and the still active volcano Gunung Api.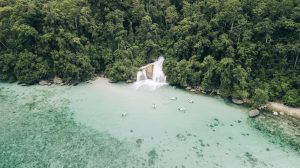 Fak Fak Coast
It's time to explore the intriguing Fak Fak Coast. Start with a fishing trip to the Bomberai Peninsula or indulge in a scenic tour in the adventure boats through the hidden lagoons – lookout for hornbills and other Papuan birdlife. And don't forget your snorkel and your SCUBA tank – the area is also renowned for its aquarium like qualities.
Enjoy a refreshing swim under the beautiful Mommon Waterfall – where chilling freshwater thunders down lush jungle slopes into the warm waters of the sea. In the afternoon explore Sebakor Bay and its spectacular system of water-filled caves. More snorkelling and diving is also possible but make sure you're back in time for the chef's much-lauded wine and cheese appreciation evening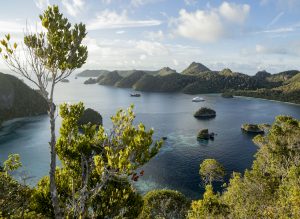 The "Four Kings"
Wake up and revel in the fact that you're now in Raja Ampat – the "Four Kings" – a global epicentre of marine biodiversity! You'll want to maximize every possible minute in the water – snorkelling and diving on breathtaking reef with rainbows of soft corals and huge shoals of fish is a testimony to the efforts of those who protect the SE Misool Marine Park. The park's dive and snorkelling sites are some of the most iconic in all of Raja Ampat – marvel at the huge number of sea fans in the Wayilbatan Channel, the massive schools of fish off "Nudi Rock" and the spectacular underwater scenery at "Boo Windows".
In the afternoon you will have a chance to visit the Misool Eco Resort before heading over to Kalig Beach for spectacular sunset drinks, wear your swimmers if you would like to try the stand-up paddle boards or, if you think you might enjoy a leisurely kayak before your sunset cocktail!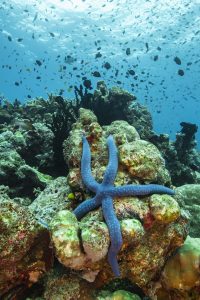 Misool Island
This morning we continue our adventures at Misool Island. The waters surrounding this island teem with fish life, over-sized sea fans and, feature the underwater caverns of Farondi Island. Enjoy an opportunity to get your heart racing on a hike up to 'Harfat Peak', this recently constructed track consists of 290 steps which lead to heavenly panoramic views over the rugged Karst islands and its shallow turquoise lagoons.
Over lunch we will steam to one of the prettiest anchorages in Raja Ampat – the Mesempta Karst Channels. Then we're off for a unique float through the sacred Tomolol cave system – a truly awesome adventure. In the late afternoon join your favourite adventure boat for a 'TRUE NORTH Raft Up', enjoy a cool beverage and delicious nibbles as we travel through the picturesque Karst Islands – don't forget your camera!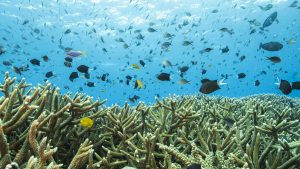 Cape Kiri
It's an early start today as the shore parties head into Sawingkrai Village and trek through the jungle to see the magnificent red bird of paradise. Cape Kri is our mid-morning location – a long and narrow island that offers more of Raja Ampat's best diving and snorkelling.
In fact, the abundant variety of fish seen at Cape Kri will likely astound! It was here that the TRUE NORTH's specialist guide, ichthyologist Dr. Gerry Allen, smashed his record for the total number of fish species recorded on a single tank dive – 374 species!
Alfred Russel Wallace was a British natural scientist and geographer who voyaged extensively through Raja Ampat from 1854-1862. He is best known for independently conceiving the theory of evolution through natural selection and his paper on the subject was jointly published with some of Charles Darwin's writings in 1858. This afternoon you will glide in the comfort of our adventure boats through the winding channel that bears his name. This narrow salt-waterway is flushed by strong currents, producing a vibrant habitat for marine life, while on either side of the channel, the equatorial jungle looms over the water, replete with birds and butterflies, tree ferns and orchids.
It is a tropical ecosystem at its most magnificent and it is easy to see how it may have helped to inspire the great scientist to perceive new insights into the evolution of life on Earth.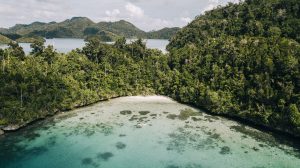 Wofoh Island
Wake to the stunning scenery of Wofoh Island – enjoy a breath-taking dive on the black coral forest, snorkel over the lush coral gardens or simply laze on the gorgeous white sand beach (watch out for falling coconuts!) Later in the morning we'll set off to the rocky islets of Bougainville Strait and if we're lucky we can take part in a manta ray convention! Plankton rich currents often attract large numbers of manta rays to Eagle Rock – jump in and have a swim with these gentle giants of the sea!
This afternoon we will arrive at the Equator Islands for a unique opportunity to swim or snorkel across the equator! Our nearby anchorage will provide us with an afternoon of fishing, snorkelling and diving or take a sightseeing expedition to view spectacular rock formations, caves and blowholes.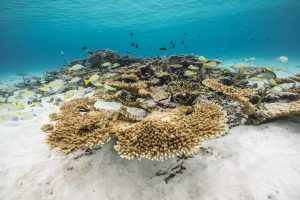 Fam Island
This morning TRUE NORTH will be anchored at the spectacular Fam Group of Islands. We will visit the charming village of 'Fam' where we will be welcomed by the local school children. Perhaps you may like to purchase some locally sourced coconut oil!
The adventure boats will offer scenic tours around beautiful Penemu Island which boasts even more opportunity for beachcombing, snorkelling and diving. Moray eels, sea snakes and nudibranchs have all been spotted in this area! For those feeling energetic, takeon the 300 uphill steps at Pianemo Island. Once at the top, enjoy spectacular panoramic views of the Karst Islands from the highest peak on the island!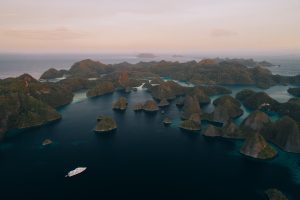 The Wayags
More unique experiences are in store! You'll hardly believe your eyes as you emerge from your cabin and gaze upon the mind-blowing "karst beehive" islands of Raja Ampat's 'poster child' – the Wayag Archipelago. Enjoy a snorkel on breathtaking reef before we wander through the maze of lagoons in the adventure boats.
In the afternoon we visit the Wayag Research Station where you will have the opportunity to swim with some black tip reef sharks, or view from the jetty if you prefer! Tonight, let your hair down at the TRUE NORTH Equator Party!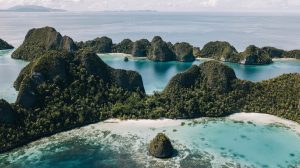 Wayag Beach Party
After the previous night's festivities wake and look forward to a second day in the Wayags! Another breathtaking day of snorkelling, diving and sightseeing! Plus we've got a new activity in mind today – get ready for our "Wayag Beach Party". Select your place in the sun (or under a shady palm tree) and let the crew entertain with a sumptuous beach picnic and all manner of aquatic toy! Bizarre island formations, an azure sea, sparkling beaches fringed with palm trees and in the background, dense Papuan jungle – two days in the stunning Wayag's is never enough!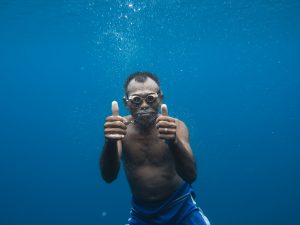 Mapia Atoll
Mapia Atoll is a remote and exquisite coral atoll seldom visited by tourists. Located north of the equator and lying basically in the middle of nowhere, the atoll presents classic opportunity to indulge in tropical ocean splendour.
Vertical walls rise several thousand feet from the ocean floor and come alive with brilliant soft corals, gorgonians, sponges, myriads of tropical fish and prolific green and hawksbill turtles. Recently our guests spotted 21 turtles during a 45 minute dive!
The area also has an enviable reputation for light game fishing. Snorkel, dive and fish to your hearts content!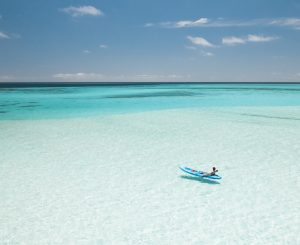 Ayau
Next we visit Ayau – one of the largest atolls in eastern Indonesia.
This remote and very beautiful atoll was colonized by Papuan fishermen from Biak Island (to the east) over 100 years ago. The Ayau people are skilled at all means of hunting and gathering – from collecting edible worms from powdery-white sand beaches to spearfishing amidst the coral splendour. The atoll is surrounded by crystal clear water that is frequented by large pods of dolphins.
The outer reef drops sharply to over 1000m and clouds of beautiful fish carpet the reef walls. The adventure boats will be busy as we snorkel and dive at several sites around the atoll or you can head off to the big-blue (outside the Ayau Marine Park) to try your luck at some deep-water trolling for wahoo, sailfish and tuna! We'll also enjoy a visit to the quaint village of Reni.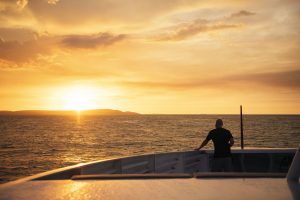 Return to Darwin
Enjoy breakfast on-board before a private car transfer to Biak Airport and your chartered flight back to Darwin.

Impossible to beat – wonderful crew, scenery & outings. To all the boys & girls aboard, you made it for us!!! Thanks heaps!
Sue Bell

Thank you all for a most incredible experience. Each & every member of the crew has displayed a great attitude, consistently courteous, helpful & with a sense of fun. So many smiles!!! We have truly appreciated this wonderful opportunity to see this amazing part of our country and in such style! We will be back in December!
Ian & Maureen Maxwell

An absolutely wonderful holiday never to be forgotten. The people & Crew, the standard of service & the sights are just wonderful. See you again in October
Jennifer and Dennis

We have travelled the globe by land, sea, air and this voyage has topped it all. Incredible, a big thank you to True North. Spreading the joy and love.
Yvonne & Ulrich

What a wonderful trip! Truly one of a lifetime. The crew, accommodations, food etc… incredible. Sam and I hope to be back again before too long.
Judy & Sam Coats

The most amazing experience. We have loved every second of our trip. Your crew are exceptional and we could want for nothing. We'll definitely be back.
Lisa & Julian Iuliano

Another wonderful trip, thank you to all.
Bob Mostyn & Louise Burney

Well above expectations. Just great!
Peter & Edith Ryba

What a great cruise of discovery, absolutely amazing! Real dragons, beautiful snorkelling, great walks and interesting villages and a wonderful crew that made each day eventful and interesting. Thanks!
Jack & Barbara Clark
send us a amessage
We'd love to meet you.
Experience the adventure
True North Tales
Time to Book Ahead
Hear from someone who truly knows about the value of booking ahead. "Cheggers" has travelled on the TRUE NORTH more than anyone else!
True North Sails into 30 Years
True North Adventure Cruises - has sailed into 30 years of continuous operations. The now revered adventure-cruise operator first cruised Western Australia's remote Kimberley coast during 1987 when founding director Craig Howson commenced fishing type charters along a coastline that was and still is largely inaccessible from land.
The Helicopter
Adding another dimension to the adventure, most cruise options on the TRUE NORTH feature an on-board helicopter! Carrying guests in air conditioned comfort, the ship's helicopter provides unique opportunity to witness grandeur; unique opportunity to fish billabongs that have never been fished; unique opportunity to discover your very own wilderness!
Myles Pollard's Fishing Adventure
There is nothing better than a day out on the water, especially when the fish are biting! Fishing on-board the TRUE NORTH is a much-favoured activity both with guests who have never picked up a rod before and, with those who have "caught them all!" Our guides encourage everybody on-board to "give it a go" and the TRUE NORTH's multiple adventure boats never fail to bring back a swag of 'fishing tales'! Stories about the ladies who out-fish the boys are pretty common, humorous equipment failures also come to note on a regular basis, then there are the 'birthday fish', the 'monster fish' and of course, the ones that got away! Our guides have seen and heard it all! Watch the video to find out more about actor Myles Pollard's fishing adventure!
TRUE NORTH Impresses Again
The TRUE NORTH has once again impressed on the world stage coming second in the 2020 Traveller Made Brand Storytelling competition. Traveller Made is Europe's largest travel consortium and its members represent the very best in luxury travel providers and suppliers. The group's inaugural Brand Storytelling competition was an opportunity for leading travel brand's to showcase "the story behind their brand" and, the competition attracted entries from some of the world's most respected travel brands. In such esteemed company, True North's marketing team was especially pleased to receive this additional acknowledgement.
Adventure En Plein Air
West Australian artist Jacob 'Shakey' Butler joined the TRUE NORTH earlier this season and discovered the Kimberley's raw beauty. As the artist in residence, Jacob set up his canvas on remote beaches, beside freshwater billabongs and on-deck surrounded by pindan-coloured gorges. Watch the video above to hear Jacob describing how the Kimberley inspires the art of adventure.
Catriona Rowntree Talks With Craig Howson
A commonly asked question is "When is the best time to see the Kimberley?" And the answer is "The Kimberley is always at its best!" However certain times of the year can make it easier to satisfy particular interest. For example, if you would like to see plenty of whale action then departures in August and September are definitely for you! From late July humpback and southern right whales reach the Kimberley after swimming-up the west coast to reach breeding grounds in the north and it's very common for guests to get great views of whales breaching and basking on the surface.
enjoy exciting activites
The True North Experience
We curate activity-based itineraries that are designed to satisfy the world's most discerning travellers. We specifically exclude sea-days and feature unparalleled access to stunning coastal environments and, unequalled opportunity to truly experience the destination.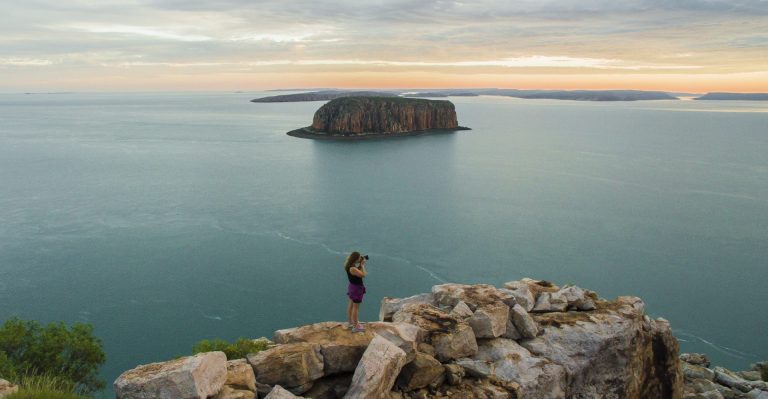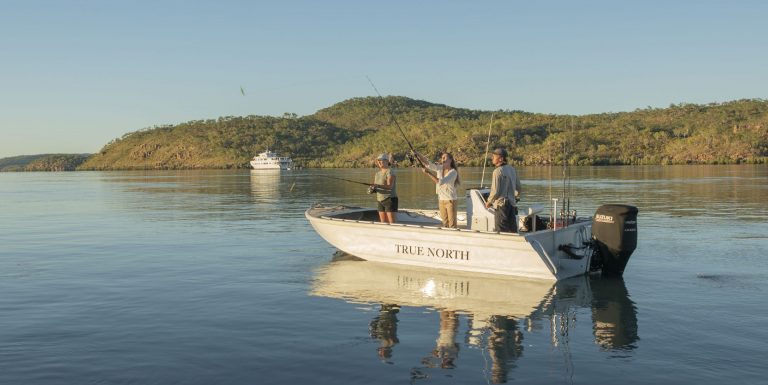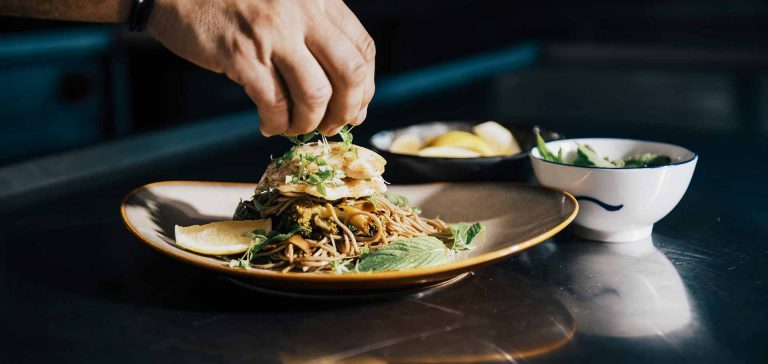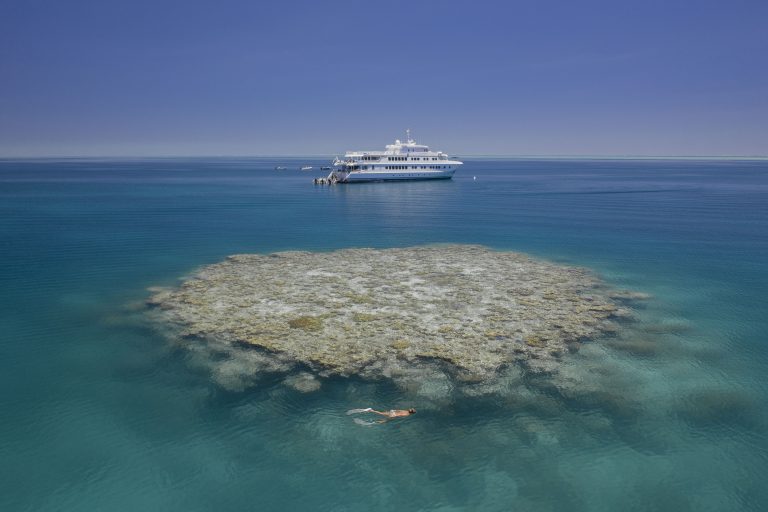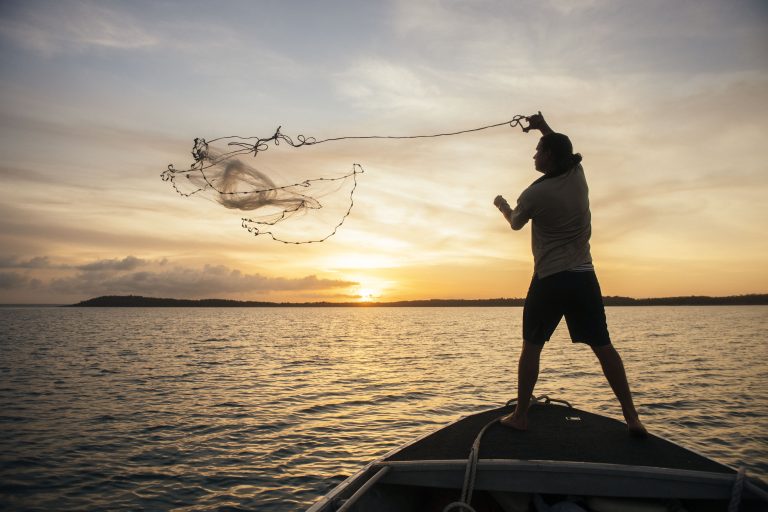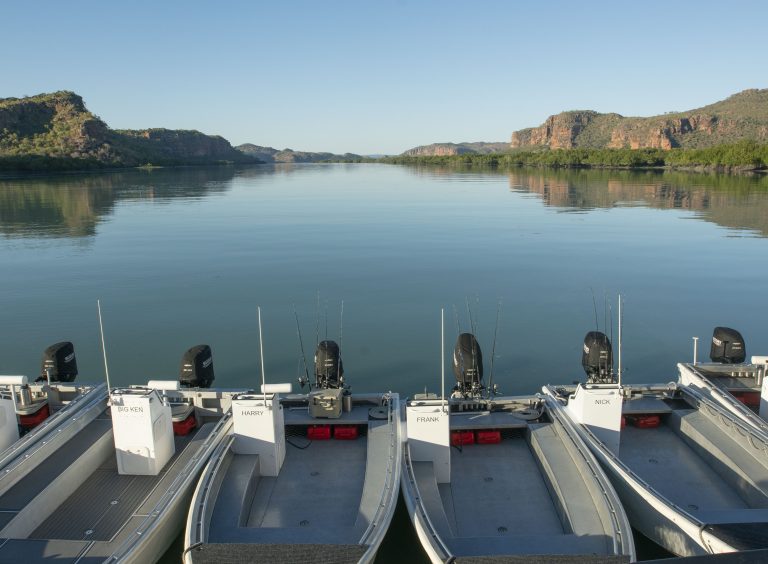 Download Itinerary
We'd like to ask few things first