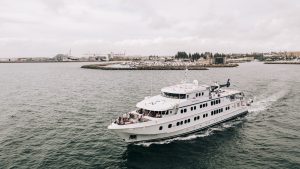 Welcome Aboard
Your adventure cruise begins in Perth – capital of the sprawling state of Western Australia.
Occupying the entire western third of the Australian continent, Western Australia is Australia's largest state but despite its vastness, the state has just 2.3 million inhabitants representing only 10% of the nation's population.
The capital is a modern and vibrant city featuring many attractions; in fact Perth was ranked eighth in The Economist's 2010 list of the World's Most Liveable Cities. Not a bad starting point for your adventure on the 'still wild west coast'.
Join your fellow adventurers on-board the magnificent TRUE NORTH for a welcome aboard cocktail party and the first of many sumptuous dining experiences as we begin the overnight cruise to the Abrolhos Islands.