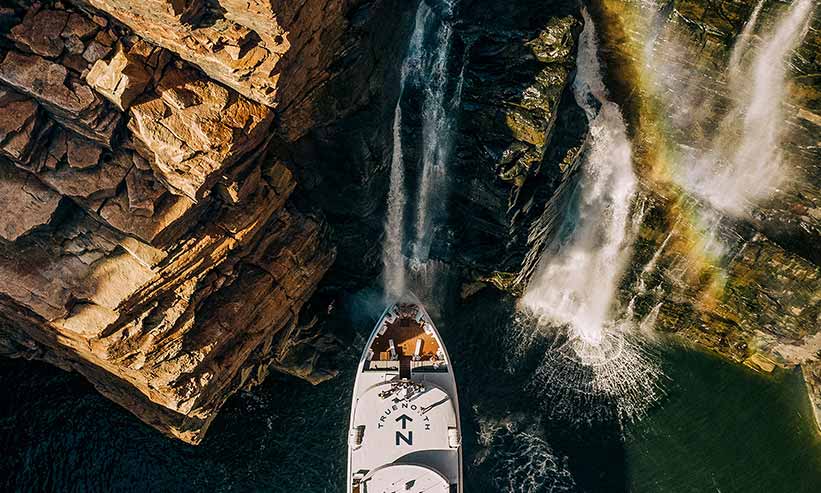 Kimberley Coast Cruises 2022 & 2023
The very best of two destinations
An adventure that combines the very best of two equally stunning destinations – the Kimberley coast and the Rowley Shoals! In the beginning your vista will be framed by layers of ancient geology and then your every moment will be awash in the vibrant colours of a coral wonderland. See all of the coastal icons and then immerse yourself in one of the world's most-rare habitats!
This itinerary is provided as example only – prevailing conditions, local arrangements and indeed, what we discover on the day, may cause variation. Helicopter flights can be purchased additional to the indicated tariff as a package or individually.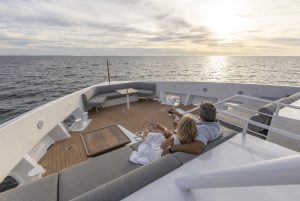 Welcome Aboard
Join our coach transfer in Kununurra – your "welcome aboard" the magnificent TRUE NORTH will be in the frontier town of Wyndham. Embarkation is at 1700 – time for a cocktail with your fellow adventurers before departing at approximately 1830. Dinner is served shortly after leaving port and then it's an overnight steam to the King George River.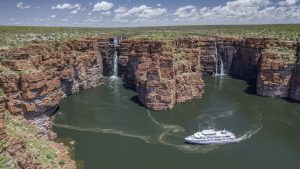 The King George Falls
As soon as the tide is high enough, we'll cross the sand bar at the mouth of the mighty King George to reveal a breathtaking river vista. Our journey upstream will take us to the very 'jewel in the crown' – The King George Falls. Here we anchor at the base of the Twin Falls and you will find endless places to explore. Take the helicopter to the top of the falls for a Kimberley highlight. In the afternoon discover the wreck of the Koolama and take a stroll in Tranquil Bay.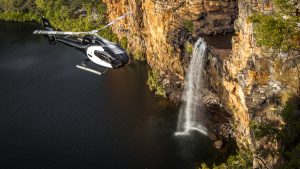 Eagle Falls
Today you will have an opportunity to see the "Bradshaws" – ancient rock art that pre-dates other examples of Aboriginal culture. In fact, they are possibly the oldest 'paintings' known to man. The heli-picnic at Eagle Falls is always a 'big hit' - another breathtaking helicopter flight and, TRUE NORTH's mouth-watering fare alongside a picture-perfect waterfall in remote far-north Western Australia! The tenders will be busy exploring the local beaches and rivers and, we also visit an isolated site in the rainforest where a lone bomber crashed during WWII.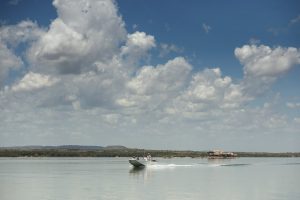 The Mitchell Falls
The Mitchell River is renowned for big barra and even bigger crocs! The adventure boats will head up river to scenic Surveyors Creek – a great place for a swim (no crocs here!) The fishers will stalk the elusive barramundi and there will be more opportunities for helicopter flights over ancient land including the spectacular Mitchell Falls! Then, join the crew for cocktail hour before experiencing another unique dining experience.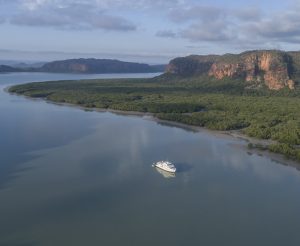 The Hunter River
Wake this morning in the magnificent Hunter River. The Hunter is about as far away as you can get in Australia – a stunning river system that is lined with dense mangrove forests and surrounded by rainforest encrusted mountains.
And, the Hunter has it all - fishing, mud crabbing, birdwatching and simply exploring "where few have been before!" Join one of our adventure boats for a closer look, it's a challenging hike to Jackson Falls and, there's even more splendour from the helicopter! In the afternoon we will sail into Prince Frederick Harbour and enjoy sunset drinks on picturesque Crystal Beach – enjoy delicious hors d'oeuvres as you watch the sun descend on another action-packed day in the Kimberley!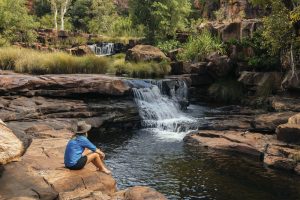 Melaleuca Falls
Be amongst the first on deck and join an early morning fishing expedition, see more stunning rock art or join the ship's naturalist in one of the adventure boats – all before a breathtaking helicopter flight to another picnic to remember – this time at beautiful Melaleuca Falls! Then join us for our pearl and diamond party! Enjoy a glass of bubbly whilst trying on exquisite pieces created by the artistes at Allure, Jewels of the Kimberley and Kimberley Fine Diamonds.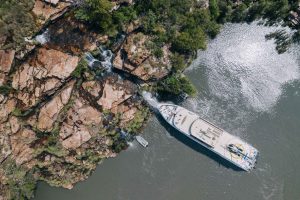 King Cascade
The scenery will astound and there are some not to be missed fishing spots as the TRUE NORTH graces the majestic Prince Regent River.
At King Cascade we manoeuvre the TRUE NORTH right under the falls. Then it's time for more 'adventure in the tender' – a chance to stretch the laces on your hiking boots and an opportunity to swim in yet another picture perfect billabong, or perhaps you'd like to venture further upriver to visit the spectacular 'Amphitheatre' waterfall. And the helicopter will be popular again when the first group of intrepid explorers returns from Jurassic Park!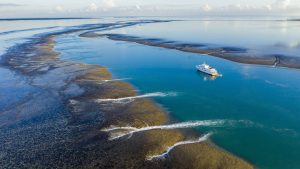 Montgomery Reef
It's time for some hot fishing action at Three Ways. Then join guest and crew alike for a moderate walk to Ruby Falls and be rewarded with a refreshing swim in the large natural rock pool.
You will probably be enjoying lunch as we weigh anchor and set sail for Montgomery Reef! Montgomery is a unique ecosystem that must be seen to be believed – and see it you will – as 140 square miles of coral reef rises out of the ocean right before your very eyes! Water cascades from the reef as the tide falls exposing a privileged glimpse of another world! Turtles, dugong, manta rays and every imaginable sea creature abound, and the helicopter again puts all in perspective!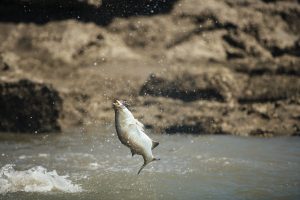 The Charnley Gorge
Even more high adventure today – the opportunity to 'ride the tide' through spectacular Charnley Gorge, to where the salt meets the fresh – is one of the Kimberley's most hand-picked experiences! This is especially so if you then get a chance to sight-cast ravenous barra as they wait for the tide to spill into their billabong home away from home!
Jacks, fingermark and threadfin will also be on the 'list' before returning to the TRUE NORTH for your overnight cruise to the magnificent Rowley Shoals!
Clerke Reef
We will arrive early at glorious Clerke Reef.
Sample the fruit platter and maybe indulge in a cooked breakfast before discovering the atoll's huge lagoon and extensive outer reef. Snorkelers and divers will marvel at the crystal-clear waters teeming with life – clouds of fish and corals of every imaginable colour and shape. There will be plenty of opportunity for beachcombing on Bedwell Island, relaxed snorkelling in tropical waist deep water, world-class SCUBA diving on the outer reef or perhaps some "catch and release" lagoon fishing using eco-friendly tackle. Our qualified and experienced crew will be on-hand to personally introduce everyone to the delights of this pristine environment. When you're not on excursion, relax on-board TRUE NORTH and indulge in our renowned cuisine – the alfresco bar and lounge will definitely be 'the spot' to witness your first spectacular Rowley sunset.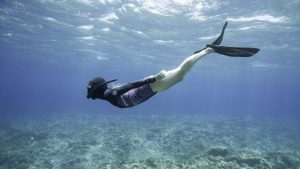 Nature's Aquarium
Start the day with a visit to the Aquarium! Forget the Great Barrier Reef – this is world-class snorkelling at its very best! Even if you've never put your head under water before – this is an absolute must. The water is only waist deep however the experience is literally "out of this world"! Brilliantly coloured corals, giant clams and more than 600 of the world's most beautiful fish species at your fingertips! Don't forget your underwater camera!
After another sumptuous lunch we'll "crank-up the action" with something unique – high-speed snorkel drifts through the outer reef! Again our friendly crew members will be on hand to ensure that everyone gets to try this once-in-a lifetime experience – as many times as you like! Our anchorage tonight is in the "swimming pool like" waters of Clerke Lagoon – 300 kilometres off the coast of Australia!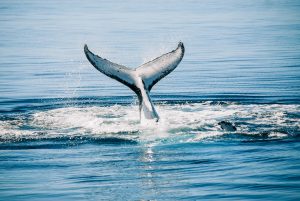 Close Encounters
Another day in paradise and now it's time to experience the thrill of snorkelling on the outer reef!
Outer reef snorkelling is a totally different experience – the sheer coral walls will take your breath away!
Close encounters with humpback whales, manta rays and sailfish are also on the agenda. Finish the day with sunset drinks on the beach and one of our famous Island Parties! Then it's back to the ultimate comfort of TRUE NORTH and another perfect night in Clerke Lagoon – 360° stars reflected in a glassy ocean!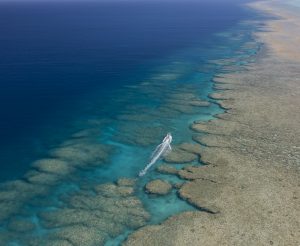 The Outer Reef
By now you will be addicted to snorkelling on the outer reef and your wish is our command! We'll spend the entire day exploring the outer reef of this remote and untouched wilderness.
Then all too soon, it's time for our overnight steam to Broome. Re-live what is guaranteed to be an experience of a lifetime as the Rowleys merge into a blazing western sky! Join the crew at the Captain's Party and then enjoy "the best sleep of your life".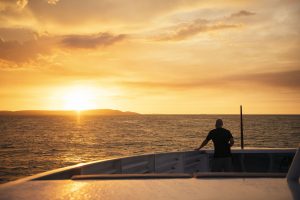 Transfer to Broome
Early morning arrival in Broome in-time to disembark at 0800 hours and transfer to the airport or your accommodation.

An amazing journey, we feel so privileged to have been able to enjoy the sensational Kimberley and to be treated with such enthusiasm and care by the wonderful crew.
Jan & Mike

Impossible to beat – wonderful crew, scenery & outings. To all the boys & girls aboard, you made it for us!!! Thanks heaps!
Sue Bell

Thank you all for a most incredible experience. Each & every member of the crew has displayed a great attitude, consistently courteous, helpful & with a sense of fun. So many smiles!!! We have truly appreciated this wonderful opportunity to see this amazing part of our country and in such style! We will be back in December!
Ian & Maureen Maxwell

An absolutely wonderful holiday never to be forgotten. The people & Crew, the standard of service & the sights are just wonderful. See you again in October
Jennifer and Dennis

The most amazing holiday ever! A true education on the spectacular Kimberleys. Thanks so much to all and we love your passion!!
Jan & Mike Bolton

We have travelled the globe by land, sea, air and this voyage has topped it all. Incredible, a big thank you to True North. Spreading the joy and love.
Yvonne & Ulrich

What a wonderful trip! Truly one of a lifetime. The crew, accommodations, food etc… incredible. Sam and I hope to be back again before too long.
Judy & Sam Coats

Yes a Lovely, Exciting adventure and we Australians should all experience this part of our wonderful Country. Thank you True North staff!
Judy Rose

Well what can I say…. The trip just blew me away!!! It was such an amazing time and definitely the icing on the cake after my 32nd travel through Australia! The route, the scenery, the combination of boating, boat excursions and heli-flights – all along with the most amazing scenery, hardly any other tourists, the beautiful boat, the amazing lovely knowledgeable crew and the great group of guests – it was almost too much to take in – all of my senses awakened and my heart and soul took in all this beauty and experiences – a once in a lifetime trip!
Clare Walker

Never seen the Kimberley Coast before, True North made it possible to access remote passages and fiords of the remote western Australian coast line. The on board helicopter was a seamless transport to see the Kimberley coast from above and gave a complete magnification of the journey, as well as permitting access to the remote indigenous cave art consented by local indigenous communities. The Montgomery Reef over 100 kms long is a powerful natural wonder that rises from the sea as the 11 metre tide drops. Both at water level at the Cruise ship and from the helicopter this amazing sight will be my highlight along with the major waterfalls enroute which we encounter as a cooling natural rainfall in the 30 degree daytime. The compact cruise ship True North boasted hotel room comfort. Food was restaurant quality embellished by the catch of the day. I loved the spacious lounge and forward deck. Finally, the major stand out was the genuine staff service culture and friendliness, I think very hard to beat. A genuinely unique experience. Highly recommended.
George Savvides

Words fail us … this trip was breathtaking from the mighty Kimberley to the stunning coral. All capped off by the best crew. Thank you to all!!
Josh & Steph Bovell

The most amazing experience. We have loved every second of our trip. Your crew are exceptional and we could want for nothing. We'll definitely be back.
Lisa & Julian Iuliano

Another wonderful trip, thank you to all.
Bob Mostyn & Louise Burney

Well above expectations. Just great!
Peter & Edith Ryba

Thank you all for a most incredible experience. Each & every member of the crew has displayed a great attitude, consistently courteous, helpful & with a sense of fun. So many smiles!!! We have truly appreciated this wonderful opportunity to see this amazing part of our country and in such style! We will be back in December!
Ian & Maureen Maxwell

The best 'truly Australian' travel experience there is. Thank you to every one of you- you should be very proud of True North.
Ilana & Tony

We love your 'backyard'. It is a beautiful part of Australia & the True North & Crew were outstanding
David & Janine

The most amazing holiday ever! A true education on the spectacular Kimberleys. Thanks so much to all and we love your passion!! Xxx
Jan & Mike Bolton
send us a message
We'd love to meet you.
Experience the adventure
True North Tales
Time to Book Ahead
Hear from someone who truly knows about the value of booking ahead. "Cheggers" has travelled on the TRUE NORTH more than anyone else!
True North Sails into 30 Years
True North Adventure Cruises - has sailed into 30 years of continuous operations. The now revered adventure-cruise operator first cruised Western Australia's remote Kimberley coast during 1987 when founding director Craig Howson commenced fishing type charters along a coastline that was and still is largely inaccessible from land.
The Helicopter
Adding another dimension to the adventure, most cruise options on the TRUE NORTH feature an on-board helicopter! Carrying guests in air conditioned comfort, the ship's helicopter provides unique opportunity to witness grandeur; unique opportunity to fish billabongs that have never been fished; unique opportunity to discover your very own wilderness!
Myles Pollard's Fishing Adventure
There is nothing better than a day out on the water, especially when the fish are biting! Fishing on-board the TRUE NORTH is a much-favoured activity both with guests who have never picked up a rod before and, with those who have "caught them all!" Our guides encourage everybody on-board to "give it a go" and the TRUE NORTH's multiple adventure boats never fail to bring back a swag of 'fishing tales'! Stories about the ladies who out-fish the boys are pretty common, humorous equipment failures also come to note on a regular basis, then there are the 'birthday fish', the 'monster fish' and of course, the ones that got away! Our guides have seen and heard it all! Watch the video to find out more about actor Myles Pollard's fishing adventure!
TRUE NORTH Impresses Again
The TRUE NORTH has once again impressed on the world stage coming second in the 2020 Traveller Made Brand Storytelling competition. Traveller Made is Europe's largest travel consortium and its members represent the very best in luxury travel providers and suppliers. The group's inaugural Brand Storytelling competition was an opportunity for leading travel brand's to showcase "the story behind their brand" and, the competition attracted entries from some of the world's most respected travel brands. In such esteemed company, True North's marketing team was especially pleased to receive this additional acknowledgement.
Adventure En Plein Air
West Australian artist Jacob 'Shakey' Butler joined the TRUE NORTH earlier this season and discovered the Kimberley's raw beauty. As the artist in residence, Jacob set up his canvas on remote beaches, beside freshwater billabongs and on-deck surrounded by pindan-coloured gorges. Watch the video above to hear Jacob describing how the Kimberley inspires the art of adventure.
Catriona Rowntree Talks With Craig Howson
A commonly asked question is "When is the best time to see the Kimberley?" And the answer is "The Kimberley is always at its best!" However certain times of the year can make it easier to satisfy particular interest. For example, if you would like to see plenty of whale action then departures in August and September are definitely for you! From late July humpback and southern right whales reach the Kimberley after swimming-up the west coast to reach breeding grounds in the north and it's very common for guests to get great views of whales breaching and basking on the surface.
enjoy exciting activites
The True North Experience
We curate activity-based itineraries that are designed to satisfy the world's most discerning travellers. We specifically exclude sea-days and feature unparalleled access to stunning coastal environments and, unequalled opportunity to truly experience the destination.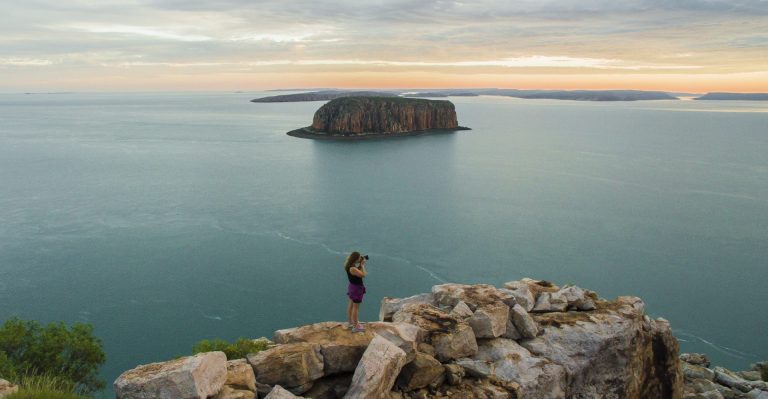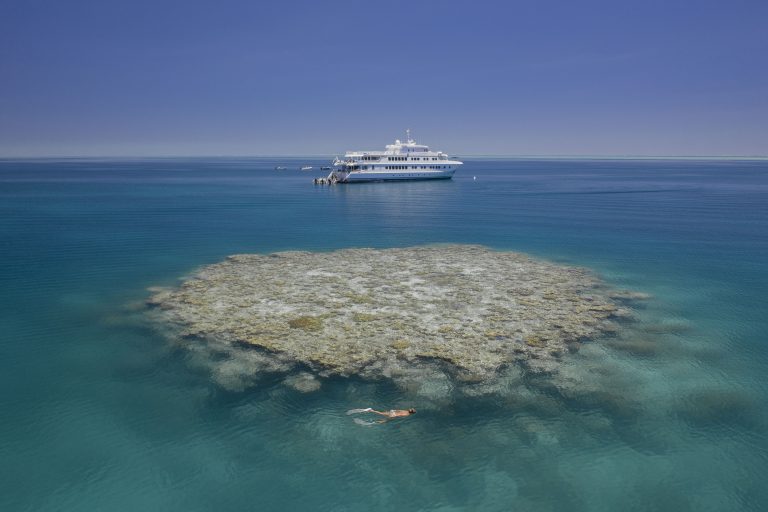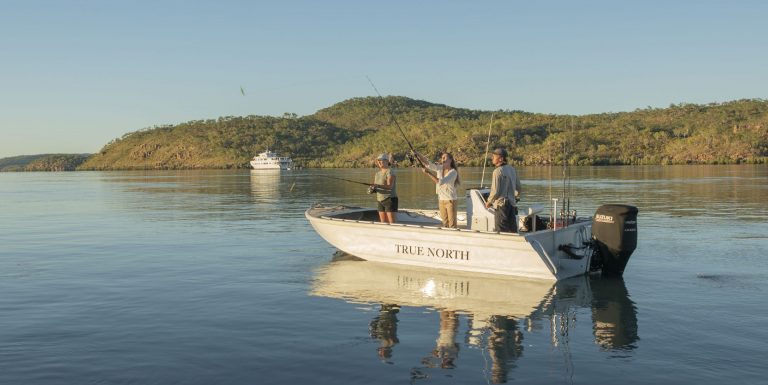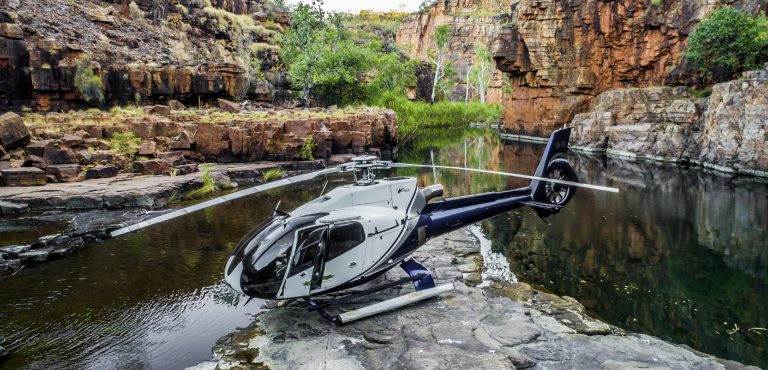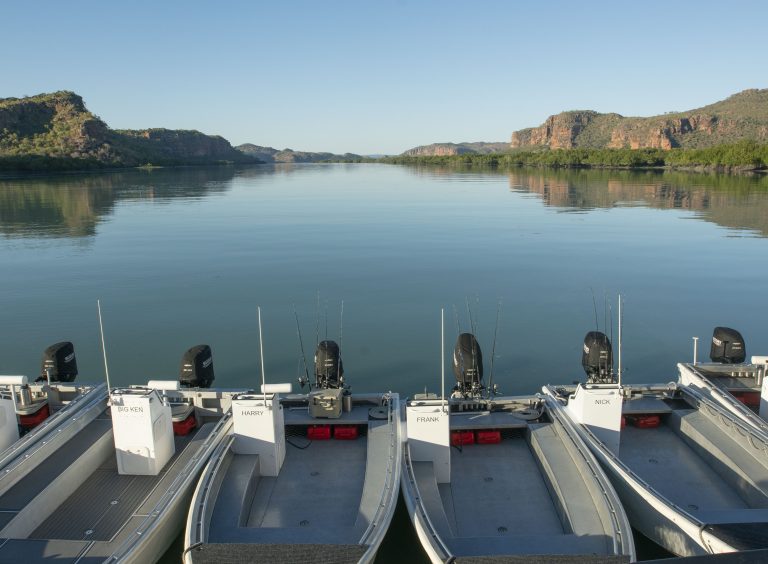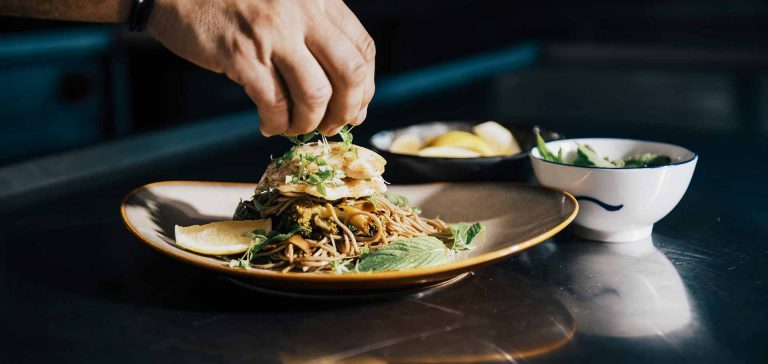 Download Itinerary
We'd like to ask few things first