Even today it's a familiar cry around Perth.
"Let's head down south for a few days."
For generations folks from Perth have escaped city life almost on a whim – road-tripping to uncrowded beaches on WA's south and south-west coast.
In the 50's and 60's it started as a family adventure staying at the basic but always cosy beach shack just behind the dunes. Surfing was also becoming popular and long before racks, the boards would often end-up strapped precariously to the roof of the car. Fishing was another popular pursuit – off the beach at first but increasingly there was a boat involved and when the wind wasn't quite right – towering forests of jarrah and karri provided spectacular distraction.
And the wine was pretty good as well.
The Bussell Family planted table grapes way back in the 1800s and over ensuring years vineyards appeared in both the Great Southern and South-West regions. However, in the late 60's – things really stepped-up a notch in the Margaret River area. And the rollout proved to be quite an impressive one – Vasse Felix (1967), Moss Wood (1969), Cape Mentelle (1970), Cullen (1971), Sandalford (1972) and Leeuwin (1974). In-time reputations grew and the area is now widely regarded as one of the best wine regions in Australia.
Today "heading down south" is even more convenient and the dazzling array of pristine natural landscapes endures.
The beaches are still uncrowded, the forest is just as breathtaking and, the region's reputation for all things wine has improved with every harvest.
And the wine industry has also been a catalyst for so much more.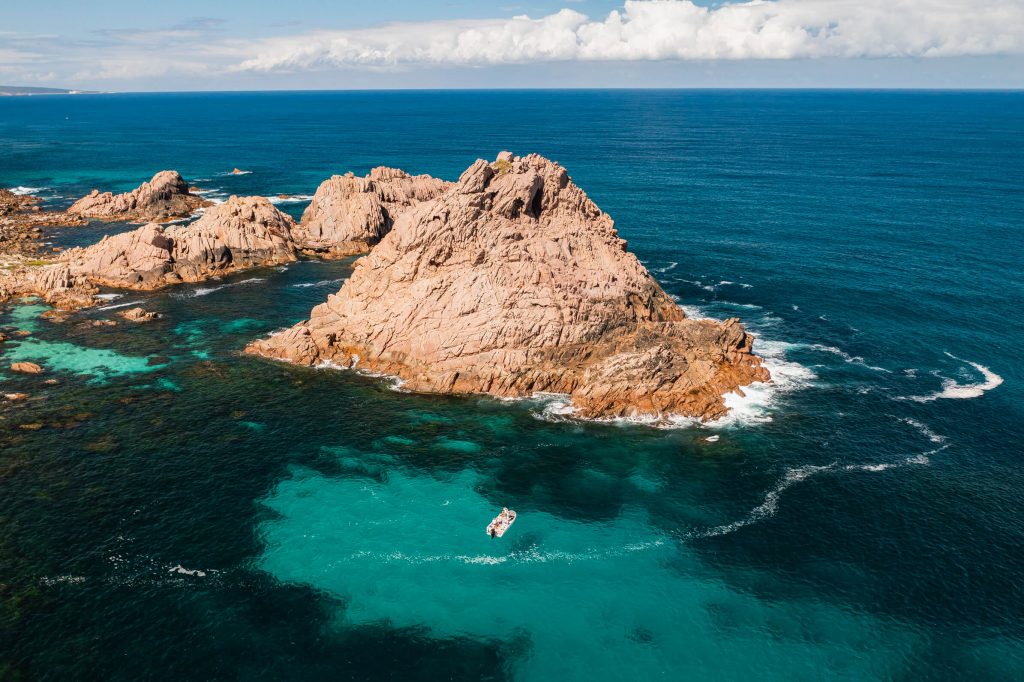 With the cellar doors came restaurants set in stunning surrounds and accommodation options equal to every taste. A welcoming sense of community has been preserved but there is now also a quiet-confidence and sense of style. Sleepy little coastal towns have evolved into sophisticated destinations offering much more than just sun and surf. The dining options now extend well-beyond the wineries and there is deserved reputation for paddock to table and ocean to table experiences. There are also numerous attractions including the National Anzac Centre – fittingly located at Albany where in 1914, 40,000 Australians and New Zealanders departed for The Great War. Albany is also home to the Historic Whaling Station which provides fascinating insight to a different regard. The Tree Top Walk delivers a unique perspective of the karri forest and Busselton's 1.8km jetty is another must-do walk. The south-west is well-known for its limestone caves and the whole region has spawned a fascinating array of providores who welcome opportunity to showcase their wares including brewers, distillers, the makers of chocolate, cheese, and ice cream and the growers of olives, cherries, avocados and truffles. Art is also an important regional flavour and there are many galleries and craft centres.
Road trips are still popular but if you really want to appreciate everything the area has to offer – then the TRUE NORTH has all the bases covered.
For a start you can forget about coping with traffic. Guests on our Adventure South-West Cruise from perth join the TRUE NORTH in Esperance after a short flight from Perth. And right there the TRUE NORTH advantage continues. The TRUE NORTH is the perfect vehicle to discover the many islands of the Rechereche Archipelago and a highlight for sure, is opportunity to fly over stunning Lake Hillier in the ship's helicopter.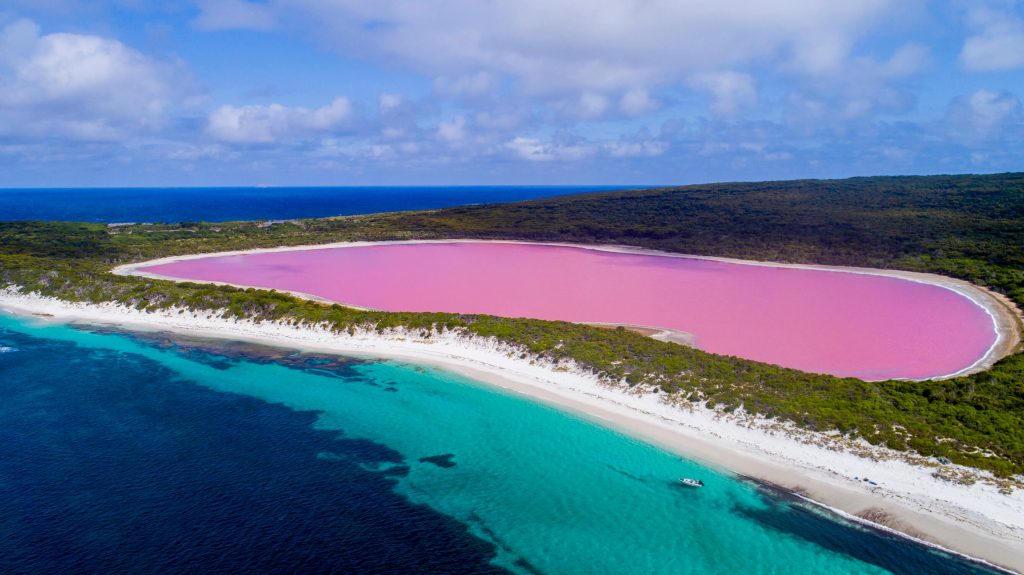 The TRUE NORTH's adventure boats also provide a convenient option for those wishing to 'wet a line' or perhaps snorkelling for abalone might be on the agenda.
And being on the TRUE NORTH really sets you apart when it comes time to visit the Bremer Canyon.
Marine scientists only became aware of this biological hotspot a few years ago but it is now firmly entrenched as one of the must-do experiences when visiting this part of the world. It's possible to see all sorts of marine fauna but the highlight is up-close encounters with hunting orcas and guests on the TRUE NORTH experience these exceedingly rare encounters without needing to leave the comfort of their home away from home.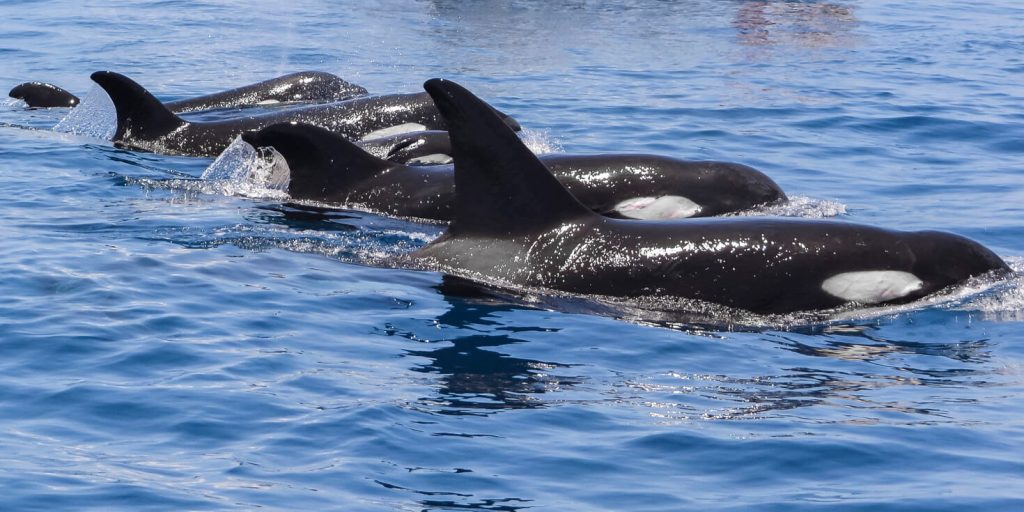 Guests on the TRUE NORTH are still in-front when the ship calls into Albany – no need to make any arrangements, visits to the ANZAC Centre and the Whaling Station are included in your itinerary.
Next, it's time to sample the Margaret River Wine region and again, no need for any arrangements, you don't even need a reservation for lunch. Guests on the TRUE NORTH are treated to a luxury coach ride through the karri forest to our featured winery and, to an exquisite dining experience that will showcase the very best in local fare.
Spending time on the beach is a favourite thing to do when visiting Dunsborough – one of WA's favourite seaside resorts. During the summer season things can get pretty busy around here however the TRUE NORTH crew make it seem like you have the place to yourself. They will find that perfect stretch of beach, set up the deck chairs and even serve refreshments as you drink-in the sunset.
Swimming with dolphins is another pretty special thing to do and the TRUE NORTH's adventure boats will deliver guests directly to this experience – again, no need to make a single arrangement.
And last but not in the least, it's party time at Perth's favourite island playground – Rottnest Island. Make no mistake – there will not be a single room available on the island but that's not something our guests need to be concerned with! Guests on the TRUE NORTH can go ashore anytime they like and equally, return to the comfort of the TRUE NORTH whenever they like.
Time to disembark in Fremantle – you've ticked all the 'Down South' boxes in comfort and style.