19 – 20 October 2019
The Weekend Australian – Natasha Dragun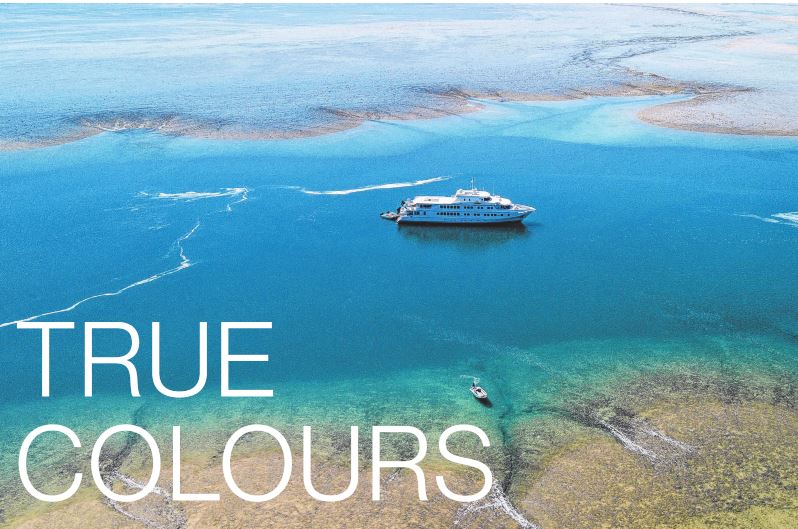 Cruise ships have a way of arousing fierce loyalty in their passengers. Guests develop an emotional connection to a vessel that has offered shelter, sustenance and comfort over the course of many days at sea. But the loyalty to luxury expedition ship True North seems to border on infatuation. Of the 34 guests on my late-August sailing through the northwest Kimberley, 27 are repeat customers; one gentleman has sailed on the ship 25 times.
"I don't really like cruising," one passenger tells me as we set off. Our 14-day itinerary will glide from Wyndham to Broome in Western Australia, with a side stop over the kaleidoscopic reefs of the Rowley Shoals. "But I love this," she whispers. "True North is a beautiful ship. But really, the whole experience is just so anti-cruise."
Anti-cruise is right. There are no bulging buffets, no queues, no casinos, no enforced inactivity (most days we're off the boat by 7.30am). And there's no formal attire, either. In fact, no shoes at all.
That's not to say there aren't high standards on board. The decor across the 164 footer's 18 air conditioned cabins and public spaces — a restaurant, bar, reading nook — is like a snapshot of the countryside we're traversing, all cream and ochre with pops of azure. There are plenty of nice touches as well: rain showers stocked with Grown Alchemist amenities, high staff-to-guest ratios, satellite Wi-Fi. Chefs prepare meals with flair, putting together pretty plates revolving around the daily passenger fish haul, whether that's tuna or barramundi, fingermark or mud crabs.
As comfortable as it is, "it's not about the ship", insists True North's founder and managing director, Craig Howson. "It's about the experiences, the destinations."
There are no roads and little development in this corner of northwest Australia, one of the world's last true wilderness areas. It's so
vast and untouched that really the only way to explore it is by sea. That's exactly what Howson set out to do when he launched the pioneering company 32 years ago. "Back then, much of the rugged coastline was uncharted," Howson says. "Today, there's not a whole lot of the Kimberley I haven't seen, maybe a creek or two."
His knowledge of the area and commitment to marine services earned him an Order of Australia in 2016. It's also the reason True North is able to navigate to the best waterholes for swimming, the most scenic lookouts for sunsets, the ultimate gorges for catching big barramundi, and the mooring spots other boats don't know exist, or can't reach. Howson holds the kind of intel you want when traversing an area spanning more than 420,000sq km.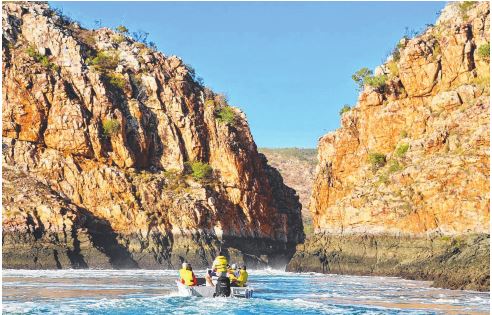 We wend through gorges and along rivers for which the shallow-drafted ship was purpose-built, its shape and technology, and skilled captain, affording us unusual proximity to land. In the wet season, it even pulls under waterfalls so guests can sit on deck for an outdoor shower.
But the past 12 months have been the driest anyone can remember, and even King George Falls have stopped flowing when we arrive on day two. This anomaly, we are told, is an attraction in its own right. These twin, 100mhigh falls normally blow your hat off with their spray. In the absence of water, we're able to stand high on cliffs, right where the tumble normally takes place. The soaring sandstone ridges here date back 1.8 billion years (to put that in perspective, the Earth is 4.5 billion years old), and their geological swirls and striations make you feel completely insignificant, in a good way.
While True North lacks the frou-frou of most cruise ships, it has something much better: a helicopter. In the morning, we chopper to the top of the waterfalls, spotting dugong and dolphins as we rise. Then in the afternoon we round-trip from the base to the same spot, rewarding our efforts with oysters chipped off the rocks and shucked while we wait for tenders.
You could do a sightseeing helicopter ride every day you're on board. Sometimes there are multiple options: a chopper chariot to a hidden waterhole for a barbecue lunch and swim, perhaps; a lift to a fishing hole no one else can reach; a clifftop trip for champagne, just as the sun sets over the most westerly part of the country. If you can bear to leave your cabin's high-thread count sheets behind, there's even heli-camping, which sees beds set up under a blanket of dazzling stars.
When not in the sky, passengers' days are spent in tenders, fishing and croc-spotting. "Don't think about swimming; don't even hang your hand over the side of the boat,"warns the ship's naturalist, sensing our eagerness to slip into the jade-hued Mitchell River on day three. "For every saltwater crocodile sunning itself on the banks, there are hundreds more lurking below."
For fear of salties, there's little time allocated for hanging out on beaches either, of which there are plenty across the Kimberley's 2600 islands. There are a few exceptions. On Jar Island, we pause on the bone-white sand to be welcomed to country by the local indigenous community. Then we fossick through caves to discover spectacularly well-preserved Gwion Gwion Aboriginal rock paintings, some more than 30,000 years old. Australia's indigenous communities created so many artworks here that the Kimberley is considered the world's largest al fresco gallery.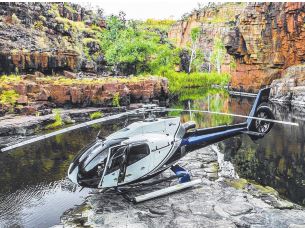 While there's something hypnotic about the routine of life aboard True North — eat, explore, chopper, repeat — each day none- theless offers surprises of the scenic and adventure kind. Take the afternoon we tie all six tenders together to create a single raft, then turn off the motors and drift while wine is poured and scallop sashimi is passed around. Or the morning spent on the banks of the Hunter River, clambering over boulders towards a waterhole (normally waterfall) that Howson "discovered" in his early days of exploration here. We share the freshwater pool with a snake. "It's just a python," our guide tells us with the cool nonchalance only other Australians can understand.
We have another only-in-Australia moment on our heli-picnic to Eagle Falls, a triple-tiered waterfall where champagne corks pop and barramundi sizzles on barbecues. The group thinks nothing of taking a dip with a freshwater crocodile, which True North staff have nicknamed Lamb Chop.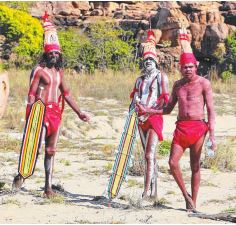 On day six we spend an hour enjoying a bird's-eye view of the Prince Regent Nature Reserve's Jurassic-landscapes, gobsmacked by the gorges and pancake-like rock formations that pimple the land. At one stage, our helicopter drops to a limestone overhang to give us a close-up of yet more Gwion Gwion art, then we rocket skyward to see sunlight glittering like flecks of silica over the surface of a stream.
The sea can seem to vanish and then come flooding back in along parts of the Kimberley coast, with tides of more than 11m — the second biggest in the world — recorded in Talbot Bay around Horizontal Falls. Every morning, the ocean squeezes through two gaps in the ridges of the McLarty Range, building up on one side of the narrow cliff passage, pushing through at rapid speeds to create the appearance of a waterfall turned sideways. Then in the afternoon, it reverses, and the flow surges back out through the chasm. One day is allocated to experiencing the phenomenon first hand. Massive spring tides mean we can only tackle the first breach of the falls, our tenders revving over froth resembling toothpaste, skidding around enormous eddies creating watery sinkholes.
The tides are not quite as large at Montgomery Reef on day seven, but they offer drama of a different kind. Between Camden Sound and Collier Bay, the 420sq km reef system emerges from the sea at low tide, water cascading from the reef top and bringing marine life with it. Our guide calls it a "sushi train for birds", which bob along the bottom of the cascade like fat snorkellers, waiting for the smorgasbord to be delivered. As the reef empties, the channel fills with a huge number of marine animals, from sawfish and dugongs to six species of threatened turtles, whose beaks popping up then ducking for cover make the entire scene look like a giant game of Whac-A-Mole. From the air, the channel transforms into an azure artery, with offshoot pools brimming with a gasp-inducing number
of manta rays performing rhythmic twirls while they feed.
Stepping back on to the rooftop helipad 15 minutes later, it's all I can do but pick my jaw off the floor. "I told you this is not a cruise," says Howson, seeing my expression of awe. "It really is a true adventure."
More to the Story
While the Kimberley is True North's signature cruise, the line also operates short itineraries to the Rowley Shoals (pictured), a chain of three coral atolls 300km west of Broome. This year, the two journeys were united for the first time, "so passengers can wash the red dust of the Kimberley off with a swim", says Craig Howson. The ship navigates through a 15m-wide passage in Clerke Reef, amid three atolls, and moors over a lagoon the colour of an Ice Mint.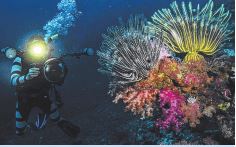 After more than a week of avoiding the water, we spend the next three days doing our best not to get out of it: drift snorkelling with reef sharks, purple-lipped clams and iridescent blue starfish; throwing out lines for marlin and sailfish; swimming to powder white sand islets; and scuba diving through immense coral gardens with shimmering schools of tropical fish. We are welcomed here by a pod of breaching humpbacks; we dip our heads below the surface to hear their songs, emerging with goosebumps.
Howson, a dive master, surfaces next time. He's done hundreds of scuba expeditions around the world, but he's beaming like this is his first deep-water encounter. "I've been coming here for three decades, and I still get as excited as a child when I return," he says.
In the Know
True North's 13-night Coast and Coral itinerary begins in Wyndham and ends in Broome, with stops along the King George River, Mitchell River, Hunter River, Prince Regent River, Montgomery Reef, Horizontal Falls and Rowley Shoals. From $22,995 a person, twin-share, including daily activities, meals, guides and more. Helicopter rides and alcoholic beverages are additional. The ship's other itineraries visit Indonesia (Komodo and West Papua), Papua New Guinea and various ports around the Australian coast, including the Rowley Shoals as a standalone destination.