Much has been made recently about the negative impacts of big ship cruising.
Even before the onset of Covid19 the cracks were appearing.
In trending destinations around the globe there was already a broader disdain towards mass tourism. But events in Venice were especially polarising public opinion about the monster cruise ships that constantly dwarfed the city's historic facade and, flooded it's famous canals with a never-ending sea of day-trippers.
Questions too were being asked about the ecological impacts of these ocean-going goliaths. People who lived close to ports frequented by large cruise ships were starting to see a correlation between port calls and illness and, there were instances of big ship operators being called to account for deliberately concealing the pumping of waste products into the sea.
Elevated levels of anti-social behaviour on cruise ships were also coming to attention.
And in the very early days of the pandemic – it seemed that a disposition for transmitting virus might be the final nail in the coffin when it came to sailing with thousands as your companions.
Almost overnight the big ships were gone. Tied-up indefinitely and in some instances, no doubt intentionally in obscure locations around the world.
But not gone forever. As we emerge from an unprecedented period of restricted travel that has devastated all forms of global tourism, the big ships are once again starting to bellow from their impressive, if in size alone, smoke stacks.
There is no doubting that we are creatures of habit and many who have always revelled in the convenience of big ship cruising will once again join the throng.
However, the sailing may not be as plain as it was before.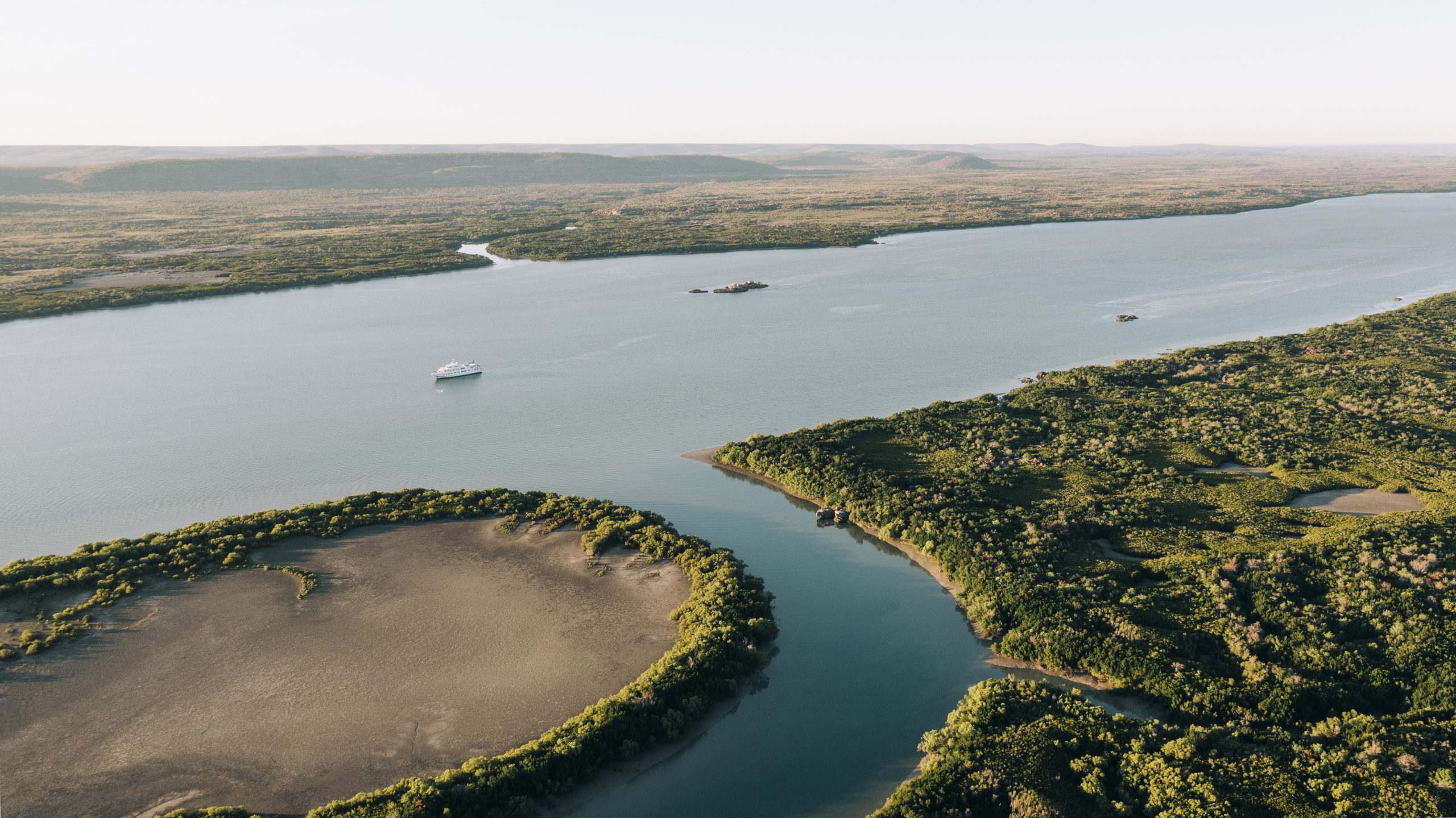 Enter: Adventure Cruising
As a community, perhaps we might have learnt some lessons from the Covid nightmare. Perhaps amidst all the upheaval we have learnt to think more about how our actions impact on others. Perhaps thinking travellers might start to seek out tourism experiences that are both more sustainable and, more likely to have positive impact not only on the traveller, but also on the people that the traveller encounters.
There may be real opportunity for the tourism industry to lead us down a new path. In fact, there are already examples of travel companies moving in this direction and increasingly travellers might explore credentials in this area before they decide to make a purchase.
And when it comes to cruising – there are already options that present as strong alternatives to traditional big ship cruising.
Expedition cruises have been around for a while and they do tick some of the boxes. They tend to be conducted on smaller ships and the very nature of an expedition cruise means that they tend to avoid high-traffic destinations. However, expedition ships still frequently carry several hundred guests. This means that they can still be very dependent on shore-based infrastructure and often they feature destinations that can only be accessed following extended periods at sea e.g. an Antarctica cruise or a Galapagos explorer.
A more fitting alternative to the post-Covid era is the adventure cruise.
Adventure cruising is more likely to appeal to the post-Covid traveller for a number of reasons.
Smaller and more intimate
Not unlike expedition cruises, adventure cruises often feature less-travelled destinations. However, adventure cruise ships also tend to be much smaller – which means they can be less dependent on shore-based facilities and more likely to feature operations that exclude extended periods at sea. Their smaller size also means a smaller group size – often less than 50 guests. Right up-front this means that they present less of a virus risk when compared to more-crowded options but the small group advantage doesn't stop there.
A small group cruise is a much more intimate affair. It's very much about sharing the experience with the people that you travel with and, with the people that you encounter.
Guests travelling on the TRUE NORTH for example, often remark that being onboard is like being invited to spend time at a friend's holiday home. Very early on in the itinerary – everyone knows each other by name and not just the names of fellow guests, the crew as well.
Crew involvement
Unlike the crew on big ships, crew on the TRUE NORTH are encouraged to interact with guests. Of course they know when to stay in the background but they will also uniquely chaperone every experience providing timely assistance and genuine company. They will bait your hook and carry your SCUBA tank and they will also join you for dinner and entertain in the ship's lounge. And not forgetting that they will also prepare fine meals of distinction, maintain your cabins with a renowned degree of attention and, safely navigate ship, boat and helicopter to each destination. Guests on the TRUE NORTH never fail to recognize the outstanding involvement of the crew – they are one of the reasons that an adventure on the TRUE NORTH is not just another expedition cruise!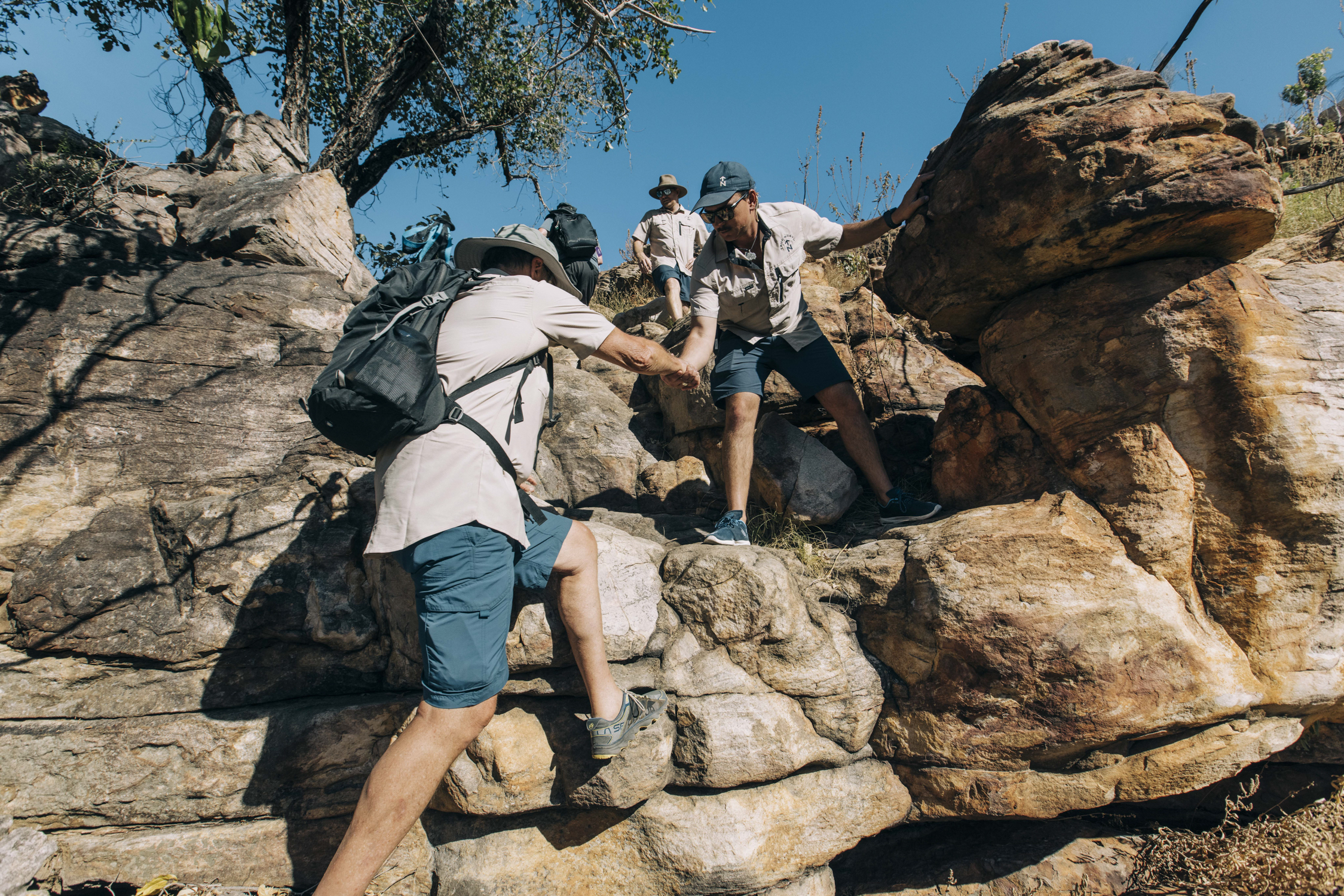 Cultural interaction
The small group also enhances cultural interaction. In Indonesia and Papua New Guinea for example, it is very common for the TRUE NORTH to visit small villages – perhaps sometimes it might be a village of less than 50 people. Imagine what it might be like to visit such a place in the company of hundreds. To be able to visit a small village where in some instances life has remained relatively unchanged – with perhaps only the others in your adventure boat, is one of the truly remarkable experiences afforded to guests on the TRUE NORTH. Far from being over-whelming – such visits provide opportunity for positive encounters and even community nourishment. Guests on the TRUE NORTH often bring small gifts or even more importantly, they often assist crew members to distribute school supplies, sporting equipment, farming implements and other essential items such as mosquito nets.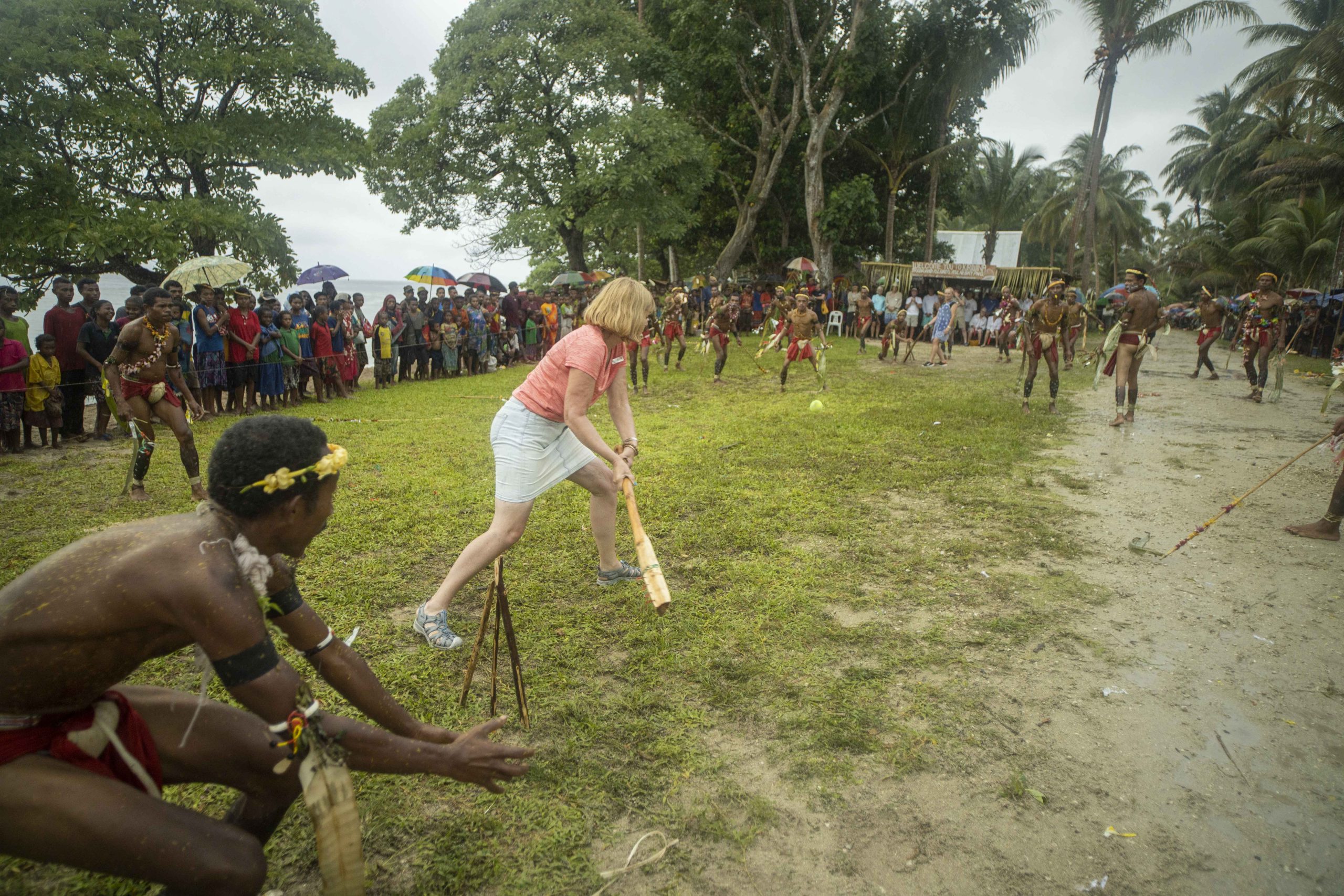 Explore waters less travelled
And a small group is equally important when visiting areas where there are no people – it just doesn't make any sense to take a crowd with you when you are experiencing wilderness.
A small ship cruise also allows those onboard to access areas that cannot be accessed by bigger ships. The TRUE NORTH's shallow draft enables comfortable access to shallow coastal areas and rivers but the adventure doesn't stop there.
Choose your adventure
The TRUE NORTH also carries 6 dedicated adventure boats and, a ship's helicopter. This additional resource enables guests to explore even further afield and, provides much greater opportunity for guests onboard the TRUE NORTH to do what they want, when they want!
Each night the adventure director outlines the itinerary options for the following day. This normally happens before the evening meal and typically guests will discuss their options over dinner. Then all they need to do is indicate their preferences at the ship's office before retiring for the evening. The next day guests embark on shore excursions as scheduled and pretty much everyone goes in different directions doing different things all day long. This is a major difference when it comes to adventure cruising. Expedition cruises generally make arrangements for all guests to join a single activity and there might only be 2 activities per day – perhaps guests on an Arctic cruise might walk on the sea ice in the morning and then see polar bears in the afternoon. But it's a very different story onboard an adventure ship like the TRUE NORTH. Because of the small group and because of the high number of excursion vehicles – not everyone needs to do the same thing at the same time and multiple activities can be offered in a single day. The emphasis is very much about being off-ship.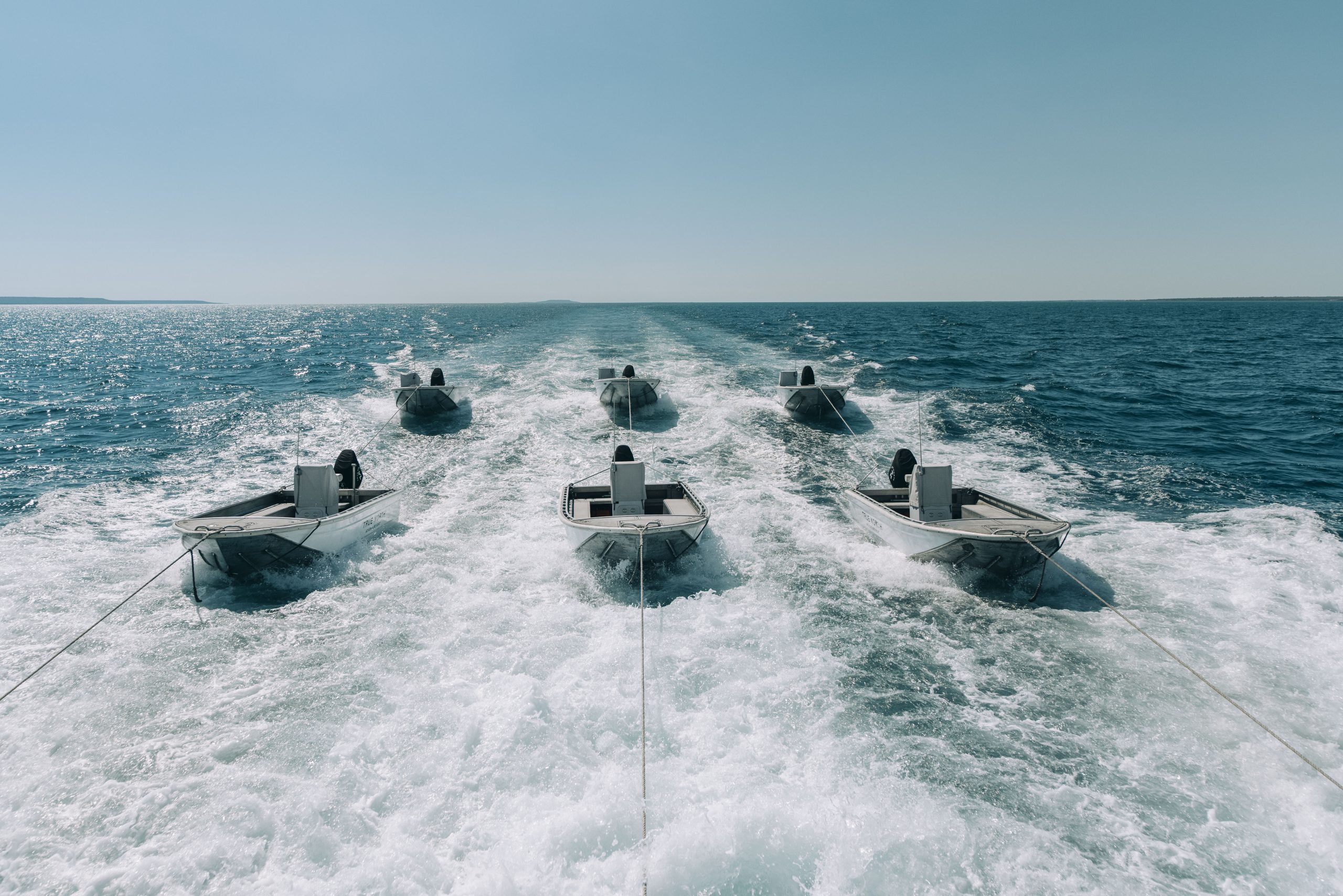 The adventure is real
Adventure cruises also offer guests more opportunity to participate in tangible experiences such as fishing, diving and snorkelling. And on the TRUE NORTH there is the added dimension of scenic flights in the ship's helicopter. The helicopter can also be utilized to provide unique activities such as heli-fishing or heli-camping and for personalised excursions such as sunrise and sunset flights.
Operating in this fashion allows guests on an adventure cruise ship like the TRUE NORTH much greater opportunity to truly experience the destination.
Flexible itineraries
The nature of adventure cruising also provides greater opportunity for tailor-made itineraries. Tailor-made to suit particular interests or tailor-made to suit the prevailing conditions. Adventure cruises do not run to a rigid schedule – if the wind is from the wrong direction, or if the tide is not perfect – an adventure cruise itinerary can be adjusted to suit, adjusted to ensure that everybody onboard is afforded maximum opportunity to experience the destination.
In fact not knowing what's around the corner can be one of the most rewarding aspects of adventure cruising.  We can't necessarily say what you will be doing each day. Because it's up to you. With six dedicated adventure boats and an onboard helicopter at your disposal – you can choose if today is the day that you catch your first barramundi or, perhaps you might choose to fly to an otherwise impossible‑to‑reach spot that others don't even know about.
And maybe that's what we all need more than anything else after Covid………….just a little bit of adventure!
Your next adventure awaits
Choose your adventure – click on the following link to access our adventure cruise itineraries.