Even among seasoned cruise aficionados, a look of befuddlement accompanied by "where is that?" was commonplace when discussing our cruise adventure along the coast of the Kimberley, a treasured destination of Northwest Australia.
A perennial best-kept secret, the region would continue to find cruise-travel headlines elusive were it not for the vision of True North Adventure Cruises.
Visiting this isolated parcel of the country is an immersion into a dramatic landscape of waterfalls, rugged wilderness, and deserted beaches lapped by the aquamarine waves of the Indian Ocean. The area's remote accessibility becomes a non-factor with a niche 10-day cruise experience that diverges from the subdued adventures found aboard larger ships and ventures into authentic encounters of the awesome kind.
The storied outpost of Broome is the point of embarkation for this journey of adventure aboard the stunning 36-passenger True North. First appearances mean a lot, and this sleek yacht-looking vessel does not disappoint. Graced with casual elegance fulfilling the promise of a gold-standard cruise product, True North is built for access to places larger craft would never attempt. With incredible locations far removed from roads and people, it is expeditionary cruising at its best.
The first morning finds early risers anxiously absorbing the beauty of Cockatoo Island, followed in the afternoon by witnessing one of the greatest wonders of the natural world: the Horizontal Waterfalls of Talbot Bay. This natural phenomenon produces amazing Mother Nature–action as the daily surge of reversing tides forges its way between narrow, solid stone gaps carved by wind and sea. The True North's adventure boats challenge the gushing rapids head on, a thrilling initiation into adventure cruising.
Sailing along the picturesque coastline, Crocodile Dundee–style adventures await at every turn as guests assume the role of backwater explorers, venturing into tranquil bays and rivers that escape the cacophony of urban bustle. What makes this cruise experience so unique is the daily roster of personalized adventures that are waiting for discovery, the type of things that dreams are made of.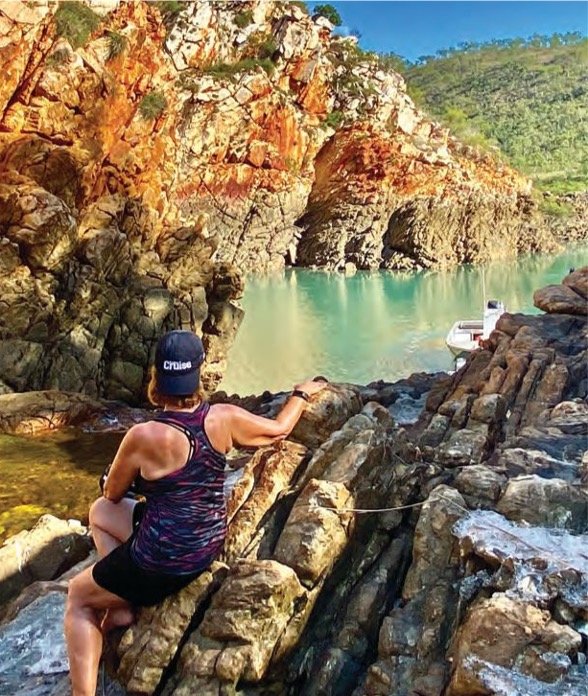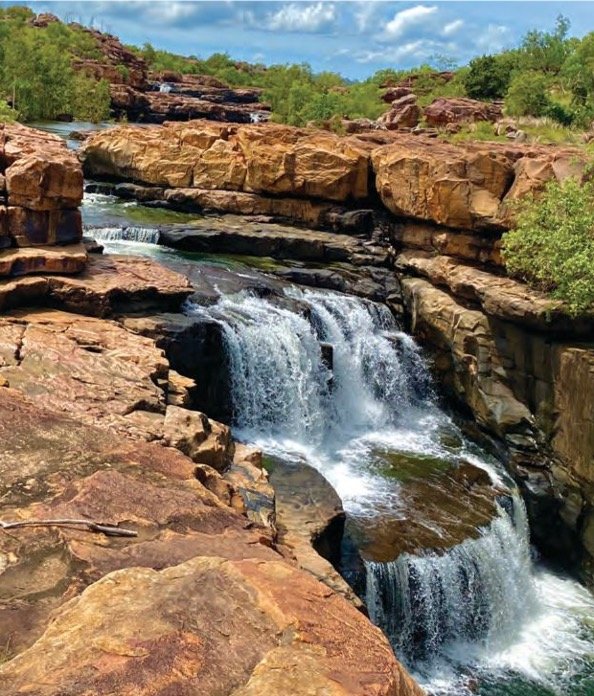 Fancy an invigorating climb up a natural staircase of boulders to a remote waterfall for a refreshing dip in a pond at the top? Consider it done! Wish you could take a shower under a thundering waterfall, go fishing for trophy barramundi, or hunt for mud crabs? Wish granted! Want a prepared picnic under a canopy of hanging king ferns … or freshly collected oysters at low tide chased by champagne bubbly on the beach? Of course!
Fantasizing about a helicopter flight that lands on the top of a spectacular waterfall? Wait — what?!? Thrill-seekers will be astounded by True North's very own onboard helicopter, poised for adrenaline-laced reconnaissance missions into the above and beyond. A diverse menu offers options like fly-in fishing, amazing aerial flight-seeing, and, for the ultimate experience, a landing on top of the magnificent King George Falls, Kimberley's iconic spectacle.
The daily agenda of activity requires little forethought as everything is perfectly executed, narrated, and curated by willing and competent staff that impart fascinating insight into the region's history and billion-year-old rock formations. The guides are experts in pointing out critters, crocs, and birds as you explore the rugged habitat of the Kimberley on the six exclusive adventure boats. While the rousing and seemingly never-ending activities deserve significant merit, it's the vessel itself that succeeds in conveying luxurious convenience with casual class, barefoot comfort, and a five-star ambience.
Resembling a fashionable living room, the vessel's lounge is a natural gathering point for sharing the escapades of the day. Pre-dinner happy hours feature creative appetizers complemented by daily cocktail specials and regional wines. The congenial dining room sports family-style tables surrounded by large windows that expose the passing cinema of the region. Hearty breakfasts fuel the body for the daily outings, and full-service lunch and dinner are both expertly prepared by heralded chefs using in-season, locally sourced ingredients. Each individual of the cruise staff shares their passion for the area and displays genuine interest in accommodating every whim of their guests, making this a true once-in-a-lifetime event.
In spite of recent fires that devastated parts of Australia, the Kimberley was fortunate to escape the tragedy, and the unbreakable spirit of the region remains intact, standing ready to reveal the spectacle of nature's grandeur. True North's is a cruise experience that displays two attitudes, adventurous enough to fall into the expeditionary niche yet doused with significant elements of upscale travel, an enviable departure from normal. Discovering places far removed from destinations choked by overzealous tourism is a welcome departure from normal. It's an experience that will create a shift in your cruise perspective — not what cruising is, but what cruising should be.
July 2020
Porthole Cruise Magazine – Steve Leland