As a young fish and wildlife officer – I thought all my dreams had come true when I was posted to Broome.
Let's face it – if you are going to be a wildlife officer in Western Australia, it doesn't get much better than Broome.
Sure, Broome is a pretty nice spot to live – never more than 10 minutes away from beautiful Cable Beach. But if you are in the wildlife business – being stationed anywhere in the Kimberley Region was always going to be pretty close to the ultimate opportunity.
Unfortunately, it was an opportunity that came about under tragic circumstances.
In 1987 Ginger Meadows was taken by a saltwater crocodile in the Kimberley's Prince Regent River.
The event was all the more shocking because Ginger was an American tourist enjoying a holiday adventure. Her death made headlines around the world – not exactly the headlines that Australia's then-fledgling tourism industry was craving. So there was a pretty significant wash-up – a coronial enquiry and lots of recommendations. One of those recommendations was that a wildlife officer should be stationed in Broome and I was lucky enough to get the job.
So Ginger's terrible misfortune was my good fortune. And heading to the Kimberley as a young wildlife officer was the start of a lifelong adventure.
So what's the big deal about Kimberley wildlife?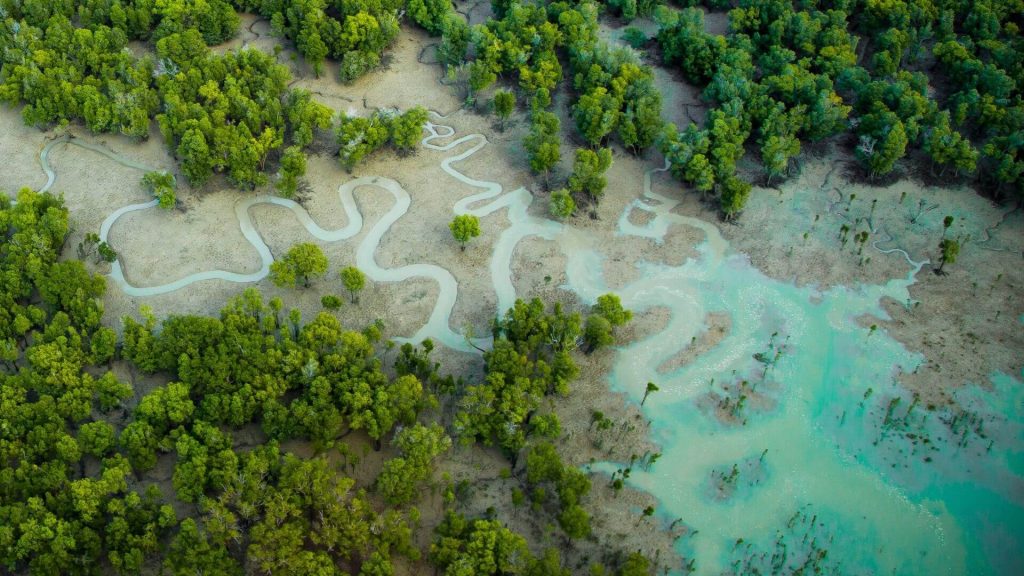 For a start, the region is a vast and sparsely populated area of more than 400,000 square kilometres. Although large tracks of land have been utilised by the cattle industry – many areas of the Kimberley, especially along the region's remote north coast, remain relatively undisturbed and support varied landscape and ecology.
And, the region's flora and fauna is often distinctive and sometimes endemic.
Kimberley Wildlife: Flora
On the plant side of the equation – the Kimberley is dominated by open woodlands that are characterised by the iconic boab tree and equally recognisable river gums.
But there are also pockets of rainforest, recently described vine thickets and 19 different species of mangrove.
You certainly see plenty of mangroves when you are on the TRUE NORTH. They are very common on the Kimberley coast and they are a mainstay of fascinating habitats. Rich in both marine and terrestrial fauna – they are a boon for the fisherman onboard but equally appealing to those with even just a passing interest in nature. They are birdwatching paradise and the ever-present mud is always alive with intriguing creatures such as mudskippers and fiddler crabs.
The TRUE NORTH's unique shallow draft also provides convenient access to the Kimberley's other plant communities – when cruising up one of the region's many river systems you can easily see boabs and gums and of course, the helicopter treats with up-close encounters as well as stunning aerials.
Kimberley Wildlife: Fauna
Saltwater Crocodiles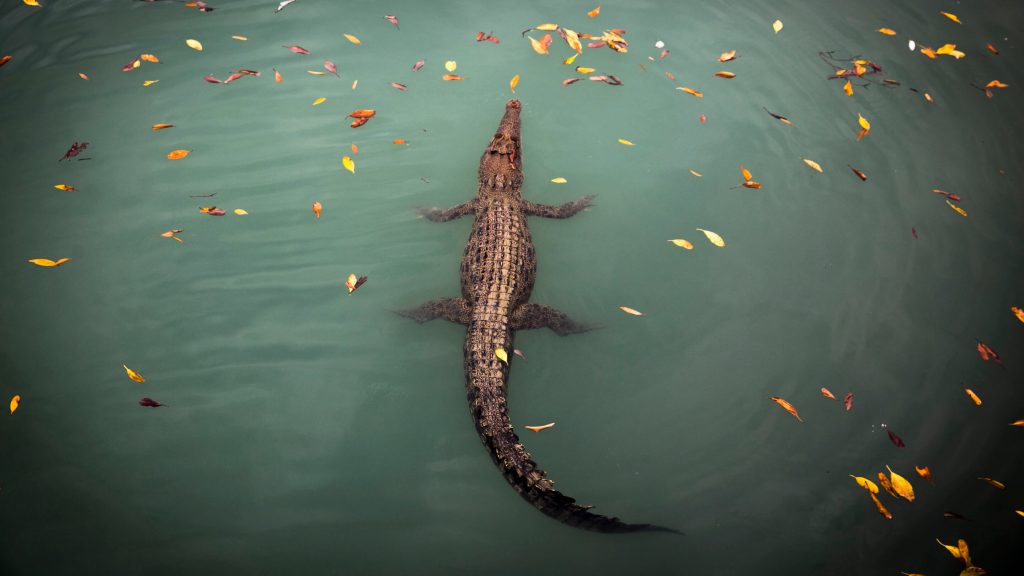 When it comes to fauna – the saltwater crocodile is easily the region's most infamous resident and, even all these years later, I still feel pretty fortunate to have worked so closely with this species. Back in the day it was boots and all! We trapped and even harpooned problem crocs (for relocation) and I have always found them to be fascinating creatures.
But I'm not alone. Most travellers who come to the Kimberley are keen to see a croc.
It's relatively easy to see the freshwater species – they can be seen in just about any decent body of Kimberley freshwater. But 'salties' tend to be a bit harder to spot. For a start, they are mostly found in estuarine environs (although they also do quite well in freshwater). And they tend to be a fair bit more wary than their more plentiful and much less aggressive cousins.
But you do see them when you are on the TRUE NORTH. Sometimes they reveal themselves on a riverbank. At other times a curious individual might swim close to the stern of the TRUE NORTH. But more often than not – they just 'appear.' Far enough away to support their repute for having outlived the dinosaurs but close enough to make you appreciate the TRUE NORTH's rigid-hulled tenders.
Other Reptiles
Other reptiles are common too. Snakes are normally pretty adept at keeping out of our way but Mitchell's water monitor is often seen around billabongs and streams. Ta ta lizards are easy to spot, and the more-observant might see a large sand monitor or even a frill neck lizard from the helicopter.
Green turtles can be very common but it's also possible to see hawksbills and flatbacks.
Mammals
Flying foxes are another iconic Kimberley species! Also known as fruit bats – they are the largest of all bats. But it's not just their size that makes them hard to miss. They are extremely social animals and a fruit bat colony can easily number in the thousands. They are also pretty noisy and, a tad on the nose! A visit to a big fruit bat colony is not something you will forget in a hurry.
Interestingly, kangaroos are not overly common in the Kimberley. There are no red or grey kangaroos but we do see euros and lots of wallabies – in fact, nine species of wallaby are known to occur.
There are other mammals and the list can be quite intriguing. For example dingoes, bilbies, echidnas, the golden bandicoot and the northern quoll.
Marine Life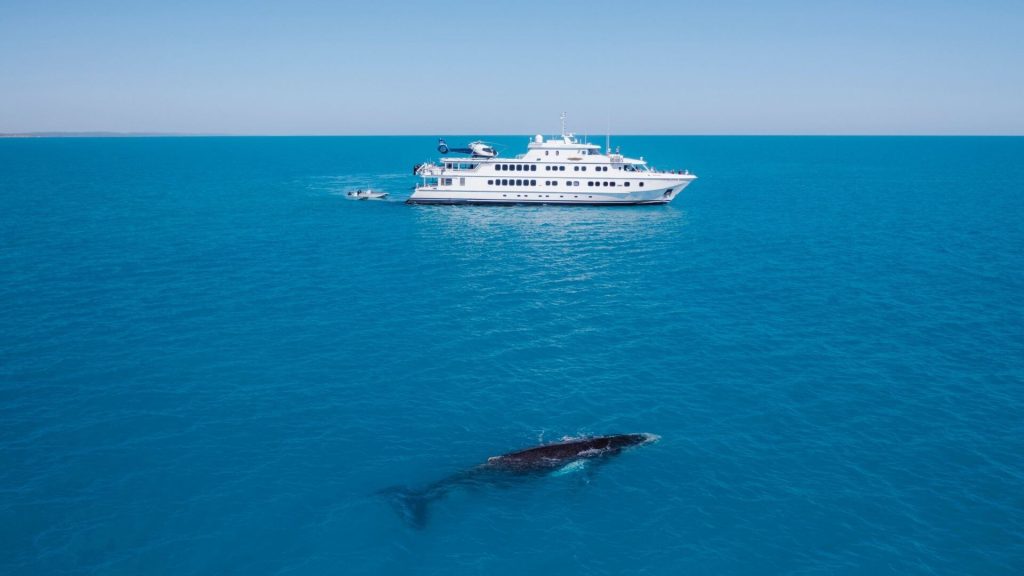 It would be remiss not to mention the biggest mammal of all. The humpback whale is not the biggest whale but it is the biggest critter in the Kimberley. Each year they migrate north to give birth and guests on the True North are often treated to seeing mother and calf.
Dolphins are also frequently seen with bottlenose and spinners being the most commonly encountered. Spotting a snubfin dolphin can be a highlight.
Birds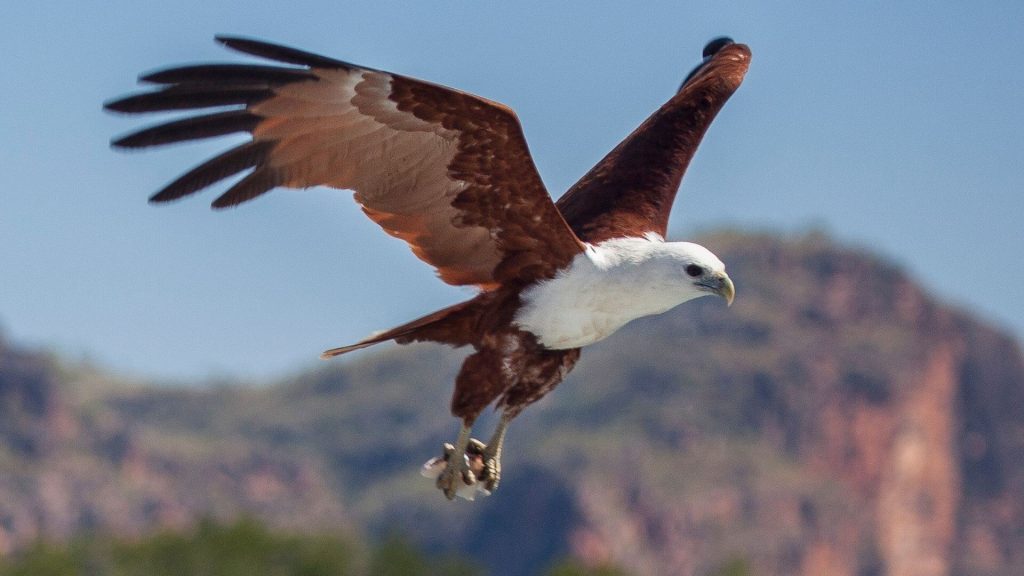 The Kimberley is also well known for its avian fauna. It's easy to list my favourites. Gouldians, of course, but a bunch of other finches as well, and red-tails would be my favourite cockatoo. But Major Mitchells, northern rosellas and red wing parrots are also special.
Then there are the birds of prey; eagles, harriers, hawks and kingfishers, plus jabirus and brolgas, bush turkeys, babblers and bronze wings, spinifex pigeons, the beautiful rainbow bee-eater and countless varieties of what we sometimes used to call 'LBBs' (little brown birds).
Seabirds such as boobies and terns are hard to miss when you're on a boat and not forgetting that the Kimberley (especially Broome's Roebuck Bay) is renowned for its wader birds.
See the Kimberley wildlife yourself
Because guests on the TRUE NORTH spend most of their day being involved in off-ship activities – wildlife encounters are part of every day of every itinerary. The ship's naturalist also schedules dedicated wildlife excursions and, when you are relaxing onboard – don't forget to make some time available to attend one of our entertaining natural history presentations.
Being on the TRUE NORTH is not like being on a natural history expedition. It's not our intent to lecture, but our knowledgeable guides are always on-hand to ensure that discovering the Kimberley's fascinating wildlife is just one of the many fun things to do!
Explore our Kimberley Cruise itineraries and explore the Kimberley's unique wildlife for yourself.
Peter Trembath was True North's inaugural general manager.