Australia's Kimberley region is one of the world's last true wilderness frontiers. Natasha Dragun explores its rivers, reefs and gorges aboard the luxury expedition ship, True North.
The day begins with a whisper, the wings of a sacred kingfisher skimming the Hunter River for the briefest of seconds. The quiet is heavy, making everything else in the world seem insignificant. Or maybe that's due to the surrounding immensity, our boat a speck between russet-hued sandstone escarpments dating back 1.8 billion years – almost half the age of the Earth. On the river's banks, fiddler crabs looking like overripe oranges scurry among mangrove apples. Beneath, sharks and enormous saltwater crocodiles remind me that, despite the muggy morning and cool water, this is not a place to swim. In this isolated moment, it feels like we have the entire planet to ourselves.
Western Australia's remote Kimberley region is so vast and untouched by humans that it's considered one of the world's last true wilderness areas. Across 42,517 square kilometres there are 30 rivers, hundreds of tidal tributaries, and just as many gorges, freshwater lagoons, waterfalls, powdery beaches and jaw-dropping reef systems. Needless to say, the best way to see it all is by boat.
A handful of small sightseeing ships navigate these waterways, but pioneer bragging rights go to True North, or rather its owner, Craig Howson.
Howson launched the company 32 years ago, bringing avid fishers north from Perth while charting rivers and 'discovering' far-flung waterfalls and swimming holes in the process. The quality of his transportation has improved over the decades, but the experience hasn't changed much – it's still about going places and doing things that few others can.Howson's sole ship, True North is not for those who cruise for the indulgence of bulging buffets and Broadway-style  entertainment. This ship is for passengers who don't mind being dusted by the reds of the Kimberley while scrambling over boulders; who are more energised by early morning adventures than by lolling around on a poolside sunbed. Which is not to say that all this exploring can't be done in serious style.
The ship has capacity for just 36 passengers in spacious rooms with bathrooms almost as big. Guests pad between decks barefoot, lingering at the bar for canapés before a three-course meal heroing whatever was hauled in that day – fingermark, tuna, lots of barramundi. In the evenings, there's a migration to the bow to gaze at the glowing band of the Milky Way arching overhead. Early mornings offer kingfishers and dragonflies humming, as the sun creates a bruised aura around the boat. We're typically off True North by 7.30am, strapped into tenders bound for fishing and crabbing expeditions, waterfalls or wildlife-laden estuaries. Between explorations we make the most of the boat's coolest feature: a helicopter.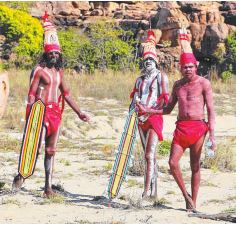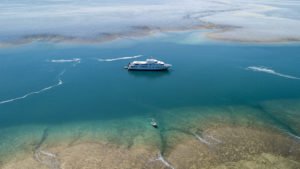 With True North moored on the King George  River on day one, the six-seat chopper lands us on the lip of King George Falls,  which have, for the first time anyone can remember, stopped flowing. Far
below we see silhouettes of dugongs and manta rays, dancing through the olive-green water. On day six we follow the Prince Regent River, our skilful pilot taking us through gorge after gorge, occasionally dropping to hover next to 30,000-year-old Aboriginal rock art. Other mornings our aerial chariot lands on shady perches where barbecues sizzle and champagne corks pop. Some guests disappear on helifishing expeditions; other jettison to a ridgetop to watch the sun set over the country's west.
The Kimberley's remarkable pull comes into full focus when we reach Talbot Bay, home to the second-biggest tides in the world. Every morning, the sea surges through two chasms in the McLarty Range, shifting water levels by 12 metres. In the afternoon, it reverses and flows out the other way. Known as the Horizontal Falls, this spectacular phenomenon has all hearts racing, our tenders bucking, twisting and resisting the froth's fury.
The 10-metre ebb and flow is almost as impressive at Montgomery Reef, Australia's largest inshore reef, in the Camden Sound. Low tide reveals opaline lagoons, sandstone islets and a mangrove island. The outward tidal movement forms torrents of water, which flow into a 'river' cutting through the reef, creating waterfalls over walls of coral. It's hard to know where to look: there are turtles – hundreds of them – black-tipped reef sharks, dugongs and Jurassic salties. It's a spectacle at surface level, but the reef really reveals itself when we swoop above, the lagoon a trippy technicolour smudge, with mantas creating hypnotic patterns.
Over eight days, True North has travelled 1,000 kilometres. For those aboard, it's taken us to another planet.
January 2020
Signature Luxury Travel and Style – Natasha Dragun