Spring 2019
Robb Report – Susan Skelly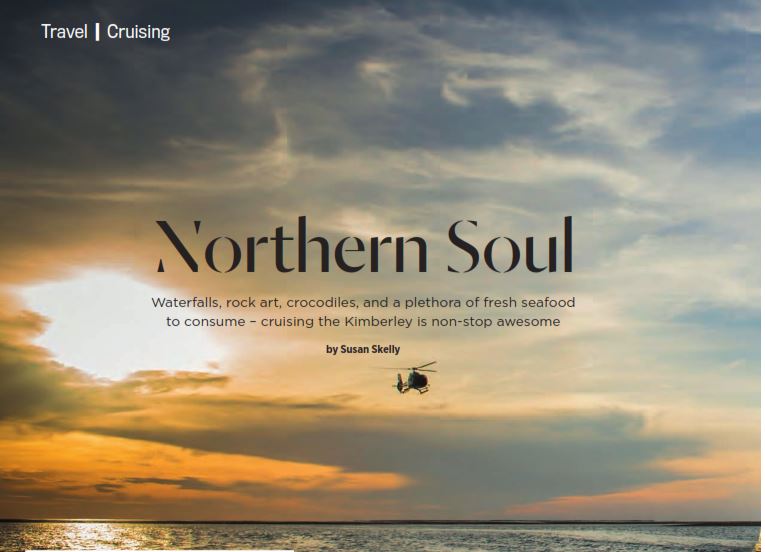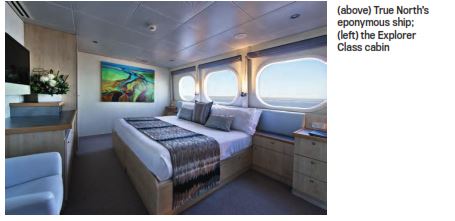 Salty and I are having a telepathic moment. "I'm not your handbag," radios the four-metre long Crocodylus porosus, jaw ajar and neatly  camouflaged among mangroves prickly with roots. My blunt  response: "And I'm not your lunch."
To cruise along Porosus Creek in the Hunter River on north-western Australia's Kimberley coast, is to glimpse many members of Salty's extended family.
There are 23 species of crocodile in the  world and Australia harbours two – Crocodylus porosus and Crocodylus johnstoni, saltwater and freshwater respectively, their numbers between 100,000 and 200,000 with salties able to grow to seven metres.
Crocs might be the most fearsome feature of the Kimberley but they are not necessarily the most awesome.
Because the Kimberley is a last frontier,  a wilderness that is the essence of Australia. First humans are thought to have arrived here between 40,000 and 60,000 years ago.
The region's 420,000 square kilometres are  home to dramatic rock formations, bracing swimming holes, sculptural mangrove ecosystems, fiery sunsets, and an abundance  of rock art.
It's a complicated coastline which remains uncharted in parts. The maps of the 19th century explorer Phillip Parker King have long been the go-to reference. There are 33 major river systems and 2600 islands. Much of the Kimberley, an area as big as Victoria and Tasmania combined, is inaccessible other than by boat or helicopter. Its rock towers can rise to 12 metres. It's also a home to hundreds of bird varieties, a breeding ground for the humpback and southern right whales and a haven for green and loggerhead turtles.
Geology nerds love this place. Along with red basalt, granite and dolerite stand three signature sandstones of about 1.8 million years old – Pentecost, Warton and King Leopold the building blocks of 80-metre cliffs that appear as if the outcome of a battle between  ancient civilisation and Brutalism.
This is also a region that for years paid its way – its currency the  collection of iron ore, gold, diamonds, pearls, zinc, nickel, lead, oil and gas.
One of the best ways to connect with the Kimberley is aboard True North, a 50-metre, 740-tonne adventure cruise ship that can accommodate 36 passengers (18 cabins) in elegant luxury. The seven-night 'Kimberley Snapshot' option, which covers 1200 kilometres from Broome north to Wyndham, might imply a speedy date, but it's one that quickly blossoms into a deep and meaningful love affair.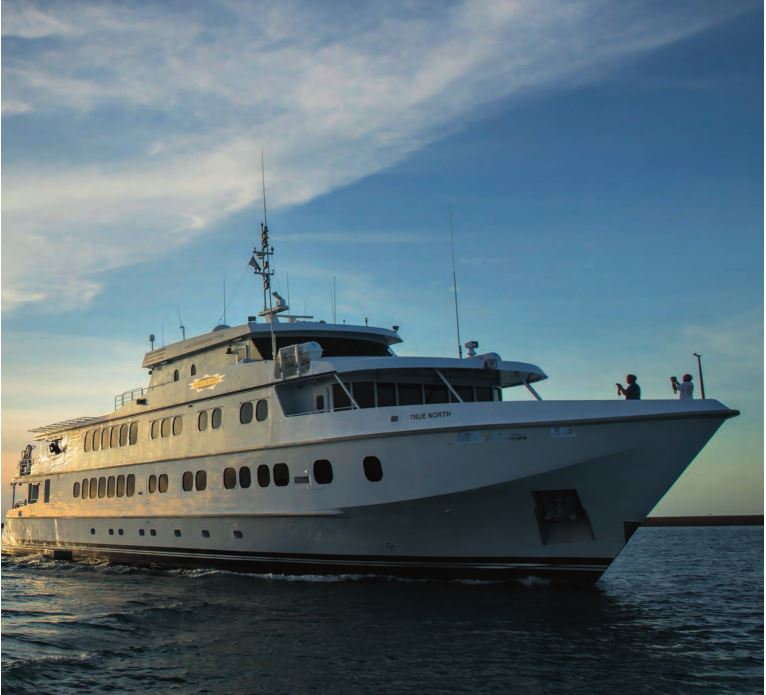 True North can navigate to places larger cruise ships can't. The ship's hardy 90 horsepower tenders – there are six, named for the family of company founder and co-owner Craig Howson OAM – supercharge the action.
There's fishing at least twice daily, expeditions to see indigenous  rock art, rigorous walks, estuary sightseeing, beachcombing, swimming at altitude, picnics beside biblical waterfalls. It helps to be as fit and fearless as the youthful Australian crew who watch us as closely as a female croc watches her eggs.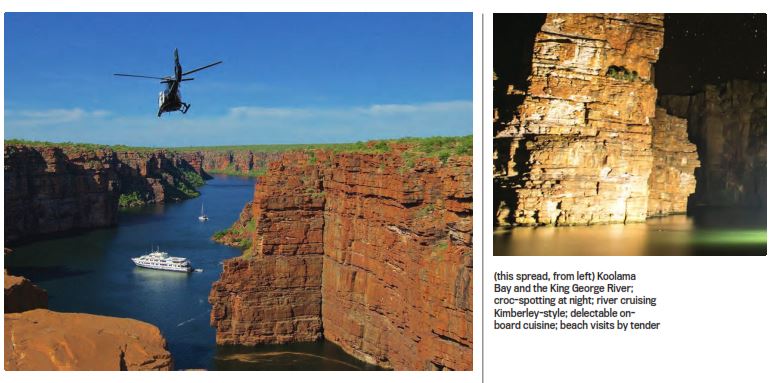 Clamber over rocks, boulders andspinifex at Red Cone Creek, Kings Cascades and Eagle Falls to reach swimming holes that repay the exertion tenfold. These are Nature's most styled-up backyards: pools of the softest, purest water fringed with pandanus palms, eucalypts, acacias and boabs, waterfalls with the health benefits of a Vichy shower, rock shelves for sunning like a lazy lizard.
If the tenders can't deliver, then the chopper will. There's a helipad on the roof of True North for optional Kimberley Wilderness heli flights. Kimberley veteran Alan Carsten pilots his dishy EC130 Eurocopter over the spectacular Montgomery Reef, King George Falls, the Mitchell Falls, the Buccaneer Archipelago and the Hunter and Prince Regent rivers.
He drops by rocky overhangs rich with examples of what he says are "the biggest Wandjinas I know of". We fly over St Andrew Island in the St George Basin where a python delineated by crystal stones stretches out on the ground like a prehistoric Andrew Rogers sculpture.
We follow Camp Creek where the crocodile hunters camped out in the  days before croc farms. "A lot of boots  and handbags came out of this region,"  says Carsten.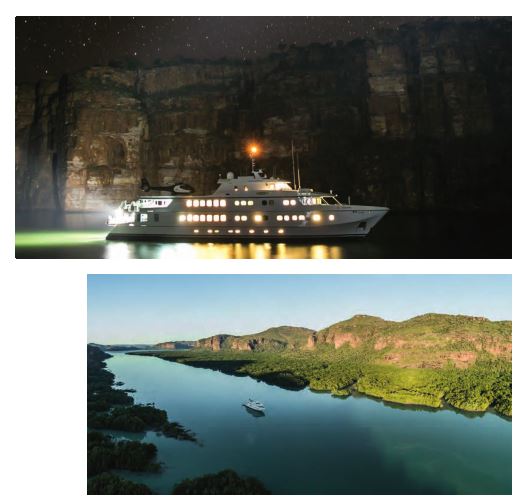 Yes, there is cosseting: sunset drinks, a  good wine list, lectures from the resident naturalist, parties, sleep-outs on deck under the stars, and food with spa cuisine flair. Some of what's plated up we catch ourselves – one afternoon's haul a bounty of barramundi, queenfish, mangrove jack, and a metre-long cod. The next day, two northern bluefin tuna are reeled in.
They all morph into seafood chowder, tuna ceviche, tempura fingers of cod, and a golden broth in which sits a bliss bomb of barramundi.
From netted baskets dropped into mangrove creeks we pull up mud crabs. One net is oddly empty of both bait and crab. A metre or two away on a muddy bank is the thief, a crocodile lying on the green rope that attached the basket to the tree. We don't stop to argue. The crabs that weren't the croc's amuse bouche become ourpre-dinner bar snack, served with aioli and lemon and a Rum Boat cocktail.
There are more than 17 species of mangroves in the Kimberley, all with extraordinary root systems that lodge invisible armies of life. The raft mangrove was prized for the cylindrical trunks that rafts were made from.
Mangroves adapt to a saltwater environment by pumping the salt into leaveswhich turn yellow and drop off. Their soils
are anoxic, or depleted of oxygen, so the root structures allow oxygen intake through the water. Flame-clawed fiddler crabs and mud skippers dance in the sludge.
One of the highlights of our Kimberley itinerary are the Horizontal Falls in Talbot Bay, where the waterflow between two narrow gaps in the cliffs creates frothy, raging whirlpools. Natural historian David Attenborough declared them one of the world's greatest natural wonders.
Another highlight is the Montgomery Reef, 20 kilometres off the central Kimberley coast, which appears to rise from the ocean as the huge tides fall, exposing up to five metres of the reef and creating more horizontal waterfalls. It's a feeding frenzy, the water sequinned with jumping fish. A white eastern reef egret as big as a sea plane is padding over the reef poking at dinner. There's a school of trevally under the boat. Green turtles and loggerheads pop their heads up to see what's going on.
This inland reef system, at 400 square kilometres, is one of the world's largest. There's a coral polyp whose mucous secretions have an SPF of 45, says our marine biologist Chris Mirbach. Now that's evolution!
Mirbach came to Australia from Boston several years ago and fell in love with, first, the Great Barrier Reef and then the Kimberley. What's to love? "The gorges, waterfalls, landscape and the influence of the tides on this unique ecosystem," he offers.
Each new rock art find also excites him. But he's just as fascinated by the dugong (which bulks up on seagrass, can weigh 400 kilos and reach three metres in length), the  white 'ghost bats' of The Bat Crack in the King George River, and the collared, sacred and azure kingfishers, with their turquoise colour-pop.
Patience rewards twitchers, whether the red-headed honeyeater, the swamp heron, the bee-eater, or birds of prey such as the osprey, Brahminy kite, and the whitebellied sea eagle.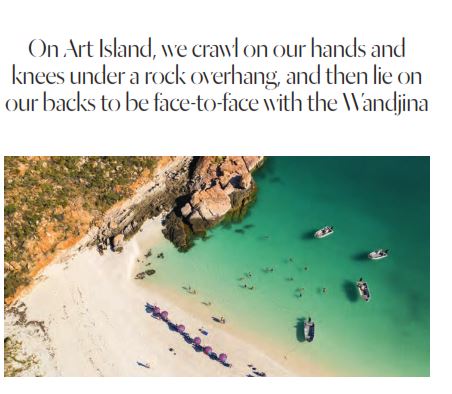 Much of the Kimberley is a canvas for Indigenous art including the Bradshaws, or Gwion Gwion, and the Wandjina.
The Bradshaws, named for the English pastoralist Joseph Bradshaw, who first saw them and sketched what he saw,  are possibly the oldest art on the planet. "Looking at some of the groups," he wrote, "one might think himself viewing the painted walls of an Egyptian tomb."
Using a light sensitive method called optically-stimulated luminescence (OSL), applied to sand grains found within mud wasp nests, researchers have been able to date Indigenous artwork at around 17,000 years old.
The Bradshaws have elongated figures with dresses, tassels, sashes, bags and  weapons, painted in a range of ochres from red to mulberry to tan. They appear as both big panels and solitary figures. The Wandjina, with their large, haloed heads and no mouth, are more recent. The oldest scientifically dated Wandjina is 1700 years old but most are younger than 500 years and "refreshing" is common.
On Art Island, we crawl on our hands and knees under a rock overhang, and then lie on our backs to be face-to-face with the Wandjina.
There are tens of thousands of such artworks throughout the Kimberley. Even cruising in the tenders along the river, we see rock art.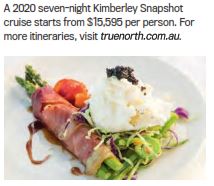 Meandering along the King George River, after a shower under a rainbow wrapped King George Falls, it's hard to know which way t o look. An osprey struggles with an overly ambitious catch. A peregrine falcon high above the cliffs is being provoked by a cheeky young white-bellied sea eagle. There's a crocodile working up a tan on a Koolama Bay beach.
The Kimberley is living the life.
A 2020 seven-night Kimberley Snapshot cruise starts from $15,595 per person. For more itineraries, visit truenorth.com.au.