Sir David Attenborough once described the Horizontal Waterfalls as one of the world's greatest natural wonders. And when it comes to the world's greatest natural wonders – David Attenborough is a pretty reliable authority!
The Horizontal Waterfalls are located in Talbot Bay on the Kimberley Coast of Western Australia. The bay is part of the Buccaneer Archipelago – a group of close to a thousand islands which are included in the recently created Lalang-gaddam Marine Park.
Natural Phenomenon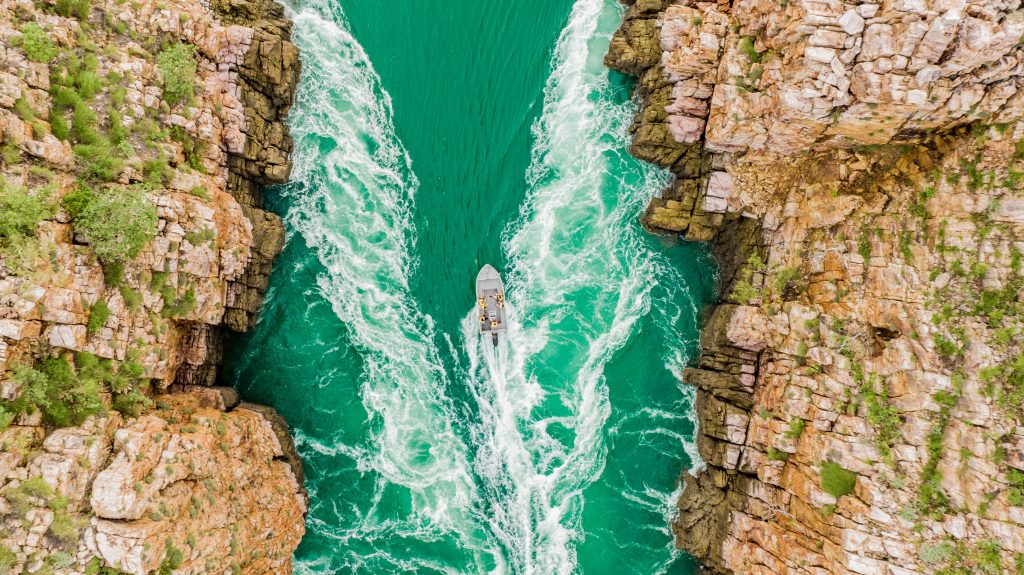 Also known as the Horizontal Falls or the Horries, they are a natural phenomenon formed by the region's powerful tides. The falls are formed when water pours horizontally through two narrow gorges during tidal flows of up to 10 metres. The seaward gap is about 20 metres while the landward gap is about 10 metres and the natural phenomenon is created as seawater builds up faster on one side of the gaps than the other, creating a waterfall up to 4 metres. With each change of the tide, the direction of the falls is reversed.
The falls are surrounded by turquoise water and are visually spectacular. They feature in scenic flights that depart from Broome and Derby however they can also be experienced up-close in an exhilarating fast boat ride.
The falls are included in all of the TRUE NORTH's Kimberley itineraries – The Kimberley Waterfalls, The Kimberley Snapshot, Coast & Coral and of course, The Kimberley Ultimate.
Opportunity to truly experience the Horizontal Waterfalls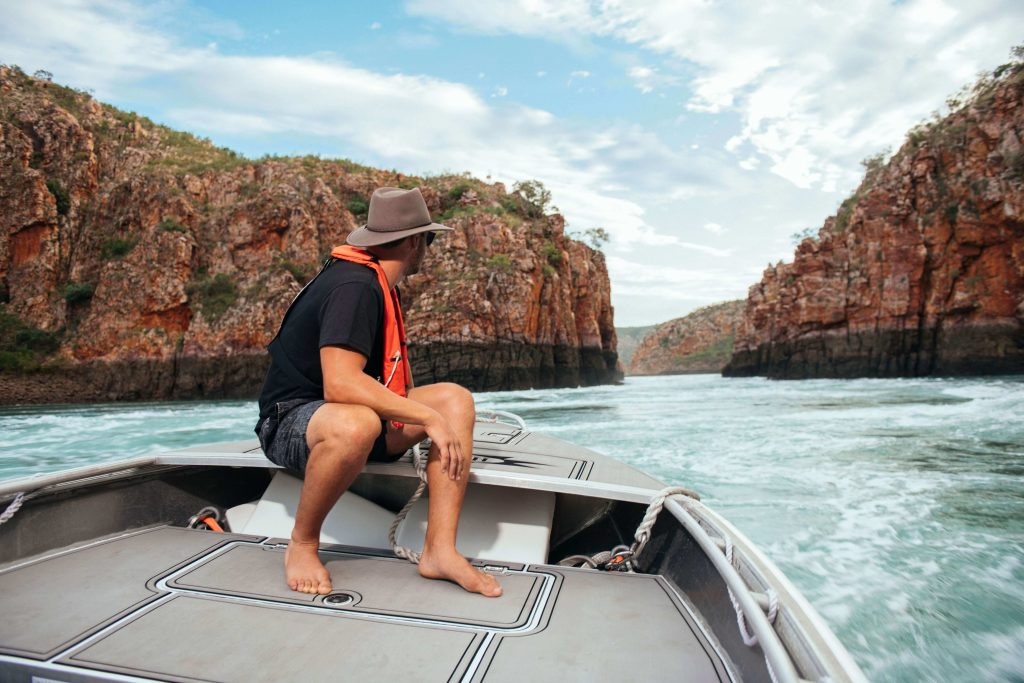 And seeing the Horizontal Waterfalls as part of a TRUE NORTH itinerary is the best way to truly experience this natural phenomenon.
That's because you get to ride the falls in one of the TRUE NORTH's adventure boats and, you can also see the falls from the air in the TRUE NORTH's helicopter.
The adventure boat ride is everything you expect from a fast boat ride through turbulent water – lots of movement, lots of noise and, you might end-up just a little bit wet! The proximity of the narrow gorge walls is also exciting – you can almost reach out and touch them! Your guide will expertly navigate through the gaps (subject to the conditions) and then heading back the other way is twice the fun!
There's nothing like getting up-close to a natural phenomenon – but the falls are even more spectacular from the air. The TRUE NORTH'S helicopter flight also includes seeing Koolan and Cockatoo Islands – two of the archipelago's larger islands that also have interesting histories.