It's chalk and cheese really.
Touring with a larger group will probably, but not always, work out a bit cheaper.
But that's probably where the advantage ends when you're 'hangin with a crowd'.
The benefits of not being just another face in the crowd
Small group tours are a much more intimate affair, especially on a cruise ship.
On a larger cruise ship, no matter how hard they try, the crew will never be able to offer the levels of intimacy and warmth that are the hallmarks of a small ship experience.
And the smaller the group size the greater the difference.
On a true small ship (less than 50 guests) most of the crew will likely know your name before the end of the first night onboard and, it makes such a big difference when the people looking after you are able to greet you by name – even if they are just passing you in the ship's corridor. On the TRUE NORTH for example, it's very common for guests to remark that being onboard is just like being invited to stay at a friend's beach house!
And just like when you're staying with friends – the crew will know what makes you happy. They will know how you like your coffee and you probably won't even need to ask for your favourite drink at the bar. The small group allows the crew to provide a level of personal service and attention to detail that sets almost every experience apart.
Unlike crew on big ships, crew on the TRUE NORTH are encouraged to interact with guests. Of course, they know when to stay in the background, but they will also uniquely chaperone every experience providing timely assistance and genuine company. They will bait your hook and carry your SCUBA tank and they will also join you for dinner and entertain in the ship's lounge. And not forgetting that they will also prepare fine meals of distinction, maintain your cabin with a renowned degree of attention and, safely navigate ship, boat and helicopter to each destination. Guests on the TRUE NORTH never fail to recognize the outstanding involvement of the crew!
Small group travel with like-minded people is also a great way to make new friends and, sharing new experiences with newly made friends is surely one of life's simple joys.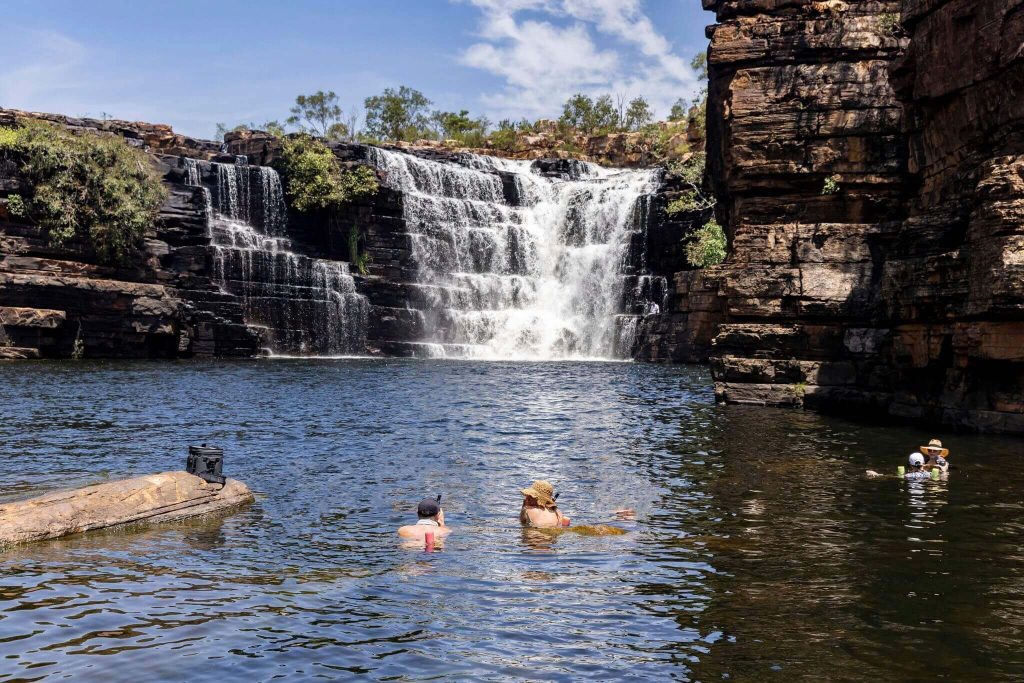 Being able to do "what you want, when you want"
On a larger expedition ship the practicalities pretty much dictate that everyone needs to do the same thing at the same time. But it's a very different story on a small group tour with True North. Because of the small group and because we feature a high number of excursion vehicles – you have much greater ability to do "what you want, when you want".
On the TRUE NORTH, each night the adventure director outlines the itinerary options for the following day. This normally happens before the evening meal and typically guests will discuss their options over dinner. Then all they need to do is indicate their preferences at the ship's office before retiring for the evening. The next day guests embark on excursions as scheduled and pretty much everyone goes in different directions doing different things all day long. The emphasis is very much about being off-ship and our guests take great delight in recounting their differing experiences when they come-together again at the end of the day.
There is also much greater scope to cater for special interests such as birdwatching and photography.
And there is a refreshing absence of queues – when your activity is called you simply step into your adventure boat or climb-aboard the ship's helicopter – and off you go!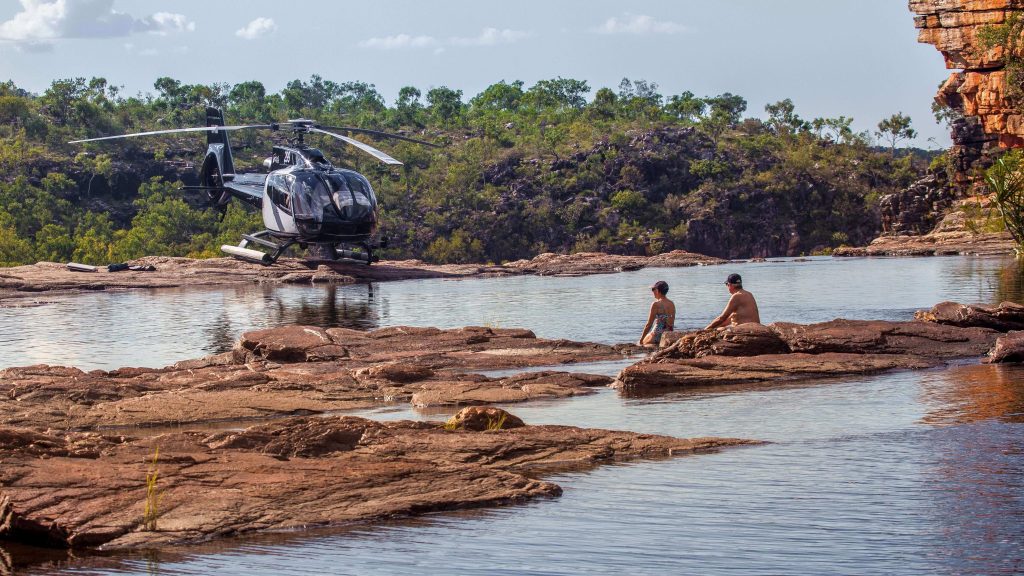 Unequalled Access and authentic experience
Limiting group size allows for the deployment of a smaller and purpose-built ship. The TRUE NORTH's shallow draft enables comfortable access to shallow coastal areas and rivers that cannot be accessed by larger ships; however the adventure doesn't stop there. The TRUE NORTH also carries 6 dedicated adventure boats and, a ship's helicopter – additional resource that enables our guests to explore even further afield.
The small group also makes it much more practical to offer tactile experiences such as fishing, diving and snorkelling. And on the TRUE NORTH the helicopter can also be utilized to provide unique activities such as heli-fishing or heli-camping and for personalised excursions such as sunrise and sunset flights.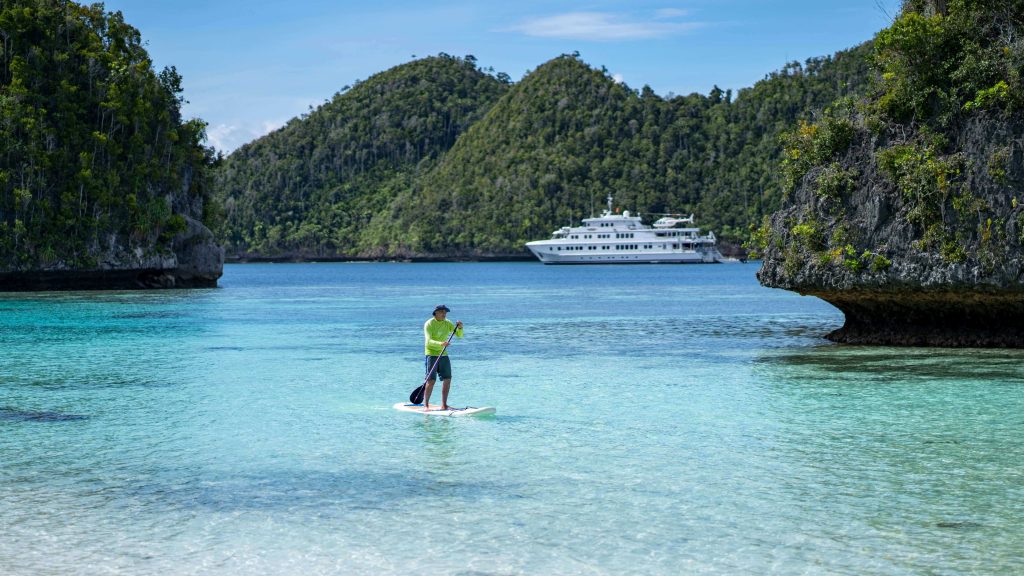 The small group also enhances cultural interaction. In Indonesia and Papua New Guinea for example, it is very common for the TRUE NORTH to visit small villages – perhaps sometimes it might be a village of less than 50 people. Imagine what it might be like to visit such a place in the company of hundreds. To visit a small village where in some instances life has remained relatively unchanged – with perhaps only the others in your adventure boat, is one of the truly remarkable experiences afforded to guests on the TRUE NORTH. Far from being over-whelming – such visits provide opportunity for positive encounters and even community nourishment. Guests on the TRUE NORTH often bring small gifts or even more importantly, they often assist crew members to distribute school supplies, sporting equipment, farming implements and other essential items such as mosquito nets.
And a small group is equally important when visiting areas where there are no people – it just doesn't make any sense to take a crowd with you when you are experiencing wilderness.
Experience the small group advantage aboard the TRUE NORTH.