March 2017
MindFood – Pippi Smith
In the far north of Western Australia, the Kimberley region is a panorama of rugged ranges, spectacular gorges and majestic waterfall. Purpose-built for this extraordinary location, the stylish adventure cruise ship TRUE NORTH can navigate shallow river systems to access the area's many iconic natural wonders so you can experience an awe-inspiring adventure.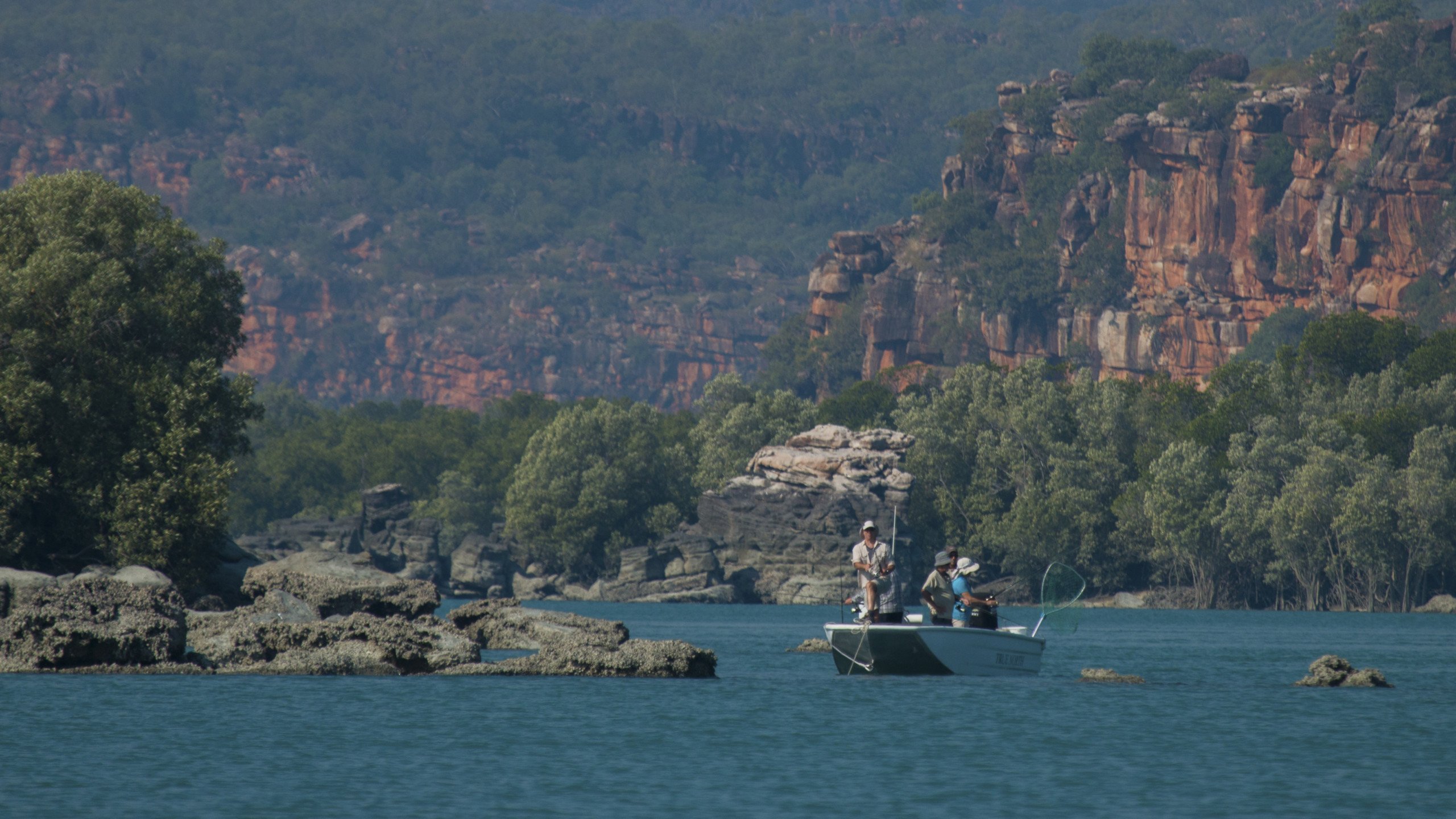 Encompassing an area of almost 425,000 square kilometres in the north-western corner of Australia, the Kimberley is home to some of the world's most untouched scenery with glorious canyons, winding rivers, freshwater swimming holes and abundant wildlife. For 30 years, True North has been cruising this spectacular region. To take it all in, the ship offers lavish vantage points, including a sundeck, a forward observation lounge, a ship's lounge and an al fresco bar. The ship's naturalist is also on hand to present interpretative information throughout the journey,
A True North adventure isn't only about sitting on deck with a glass of champagne, it's also about experiencing what the region has to offer, from fishing for barramundi to swimming in freshwater waterholes.
True North's flagship tour to the region, the 13-night Kimberley Ultimate, has become  known as one of Australia's most exclusive holiday experiences. Starting in Wyndham, the cruise commences with sunset cocktails and a gourmet dinner. Wyndham is the oldest and northernmost town in the Kimberley region. It was established in 1886 as a major port and trading station, and has continued to run vessels ever since.
True North sails through the night so you wake to a new spectacular destination each day. The spacious cabins have a comfort level on par with a luxury hotel. Come morning, as soon as the tide is high enough, it's time to cross the sand bar at the mouth of the mighty King George to reveal a breathtaking river vista.
This region must be seen to be believed – even photographs don't do it justice. Massive cliff faces coloured in brilliant red, ochre and black meet crystal-clear waters teeming with prehistoric-looking crocodiles and barramundi. The journey upstream takes you to the "jewel in the crown", King George Falls. True North drops anchor at the base of the falls so you can explore, either on foot or via helicopter, which will take you to the top for an unforgettable view.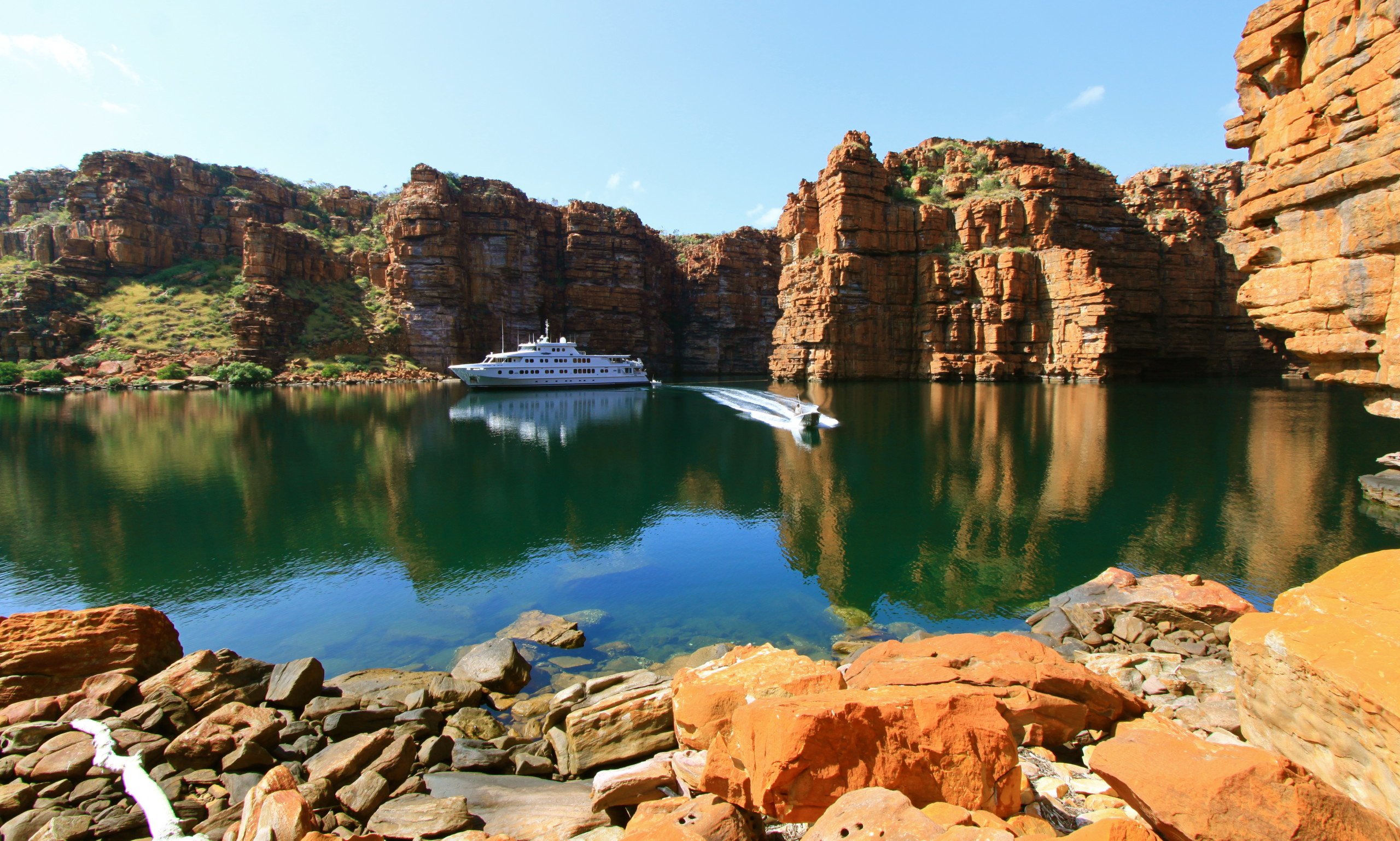 WET A LINE
On day two you'll head to the Drysdale River for a spot of fishing. Armed with scones and a billy of tea, expedition boats will ferry you upriver in search of mangrove jack and barramundi, There's also an opportunity to take your time beach combing and, in the afternoon, joining a scenic night to Cape Londonderry, the northernmost point of Western Australia.
Next stop is the Gwion Gwion, also known as the Bradshaw paintings. This ancient rock art is thought to be the oldest figurative art In the world. The hell-picnic at Eagle Falls is also a star attraction. Explore local beaches and rivers, including an isolated site in the rainforest where a lone bomber crashed during World War II.
The Mitchell River- famous big barramundi and even bigger crocodiles – Is up next. It's another beautiful destination as the river winds its way past spellbinding gorges, waterfalls and steep-sided blocks of sandstone. While the fishers drop a line, other guests can take an expedition boat to Surveyors Creek – which is a croc-free natural pool set in layers of King Leopold sandstone.
After an early breakfast on day five, join the hunt for the black-lip oyster along the coastline. These delicacies are responsible for producing the famed black pearls, but today you get to savour their unique taste direct from the rock. Then, spend a leisurely afternoon exploring the picturesque Voltaire Passage and the many surrounding islands.
More fishing awaits, now in the Roe River, a region that boasts one of the highest crocodile counts in the Kimberley. By afternoon you will sail into Prince Frederick Harbour at the southern end of York Sound and enjoy sunset drinks on Art Island.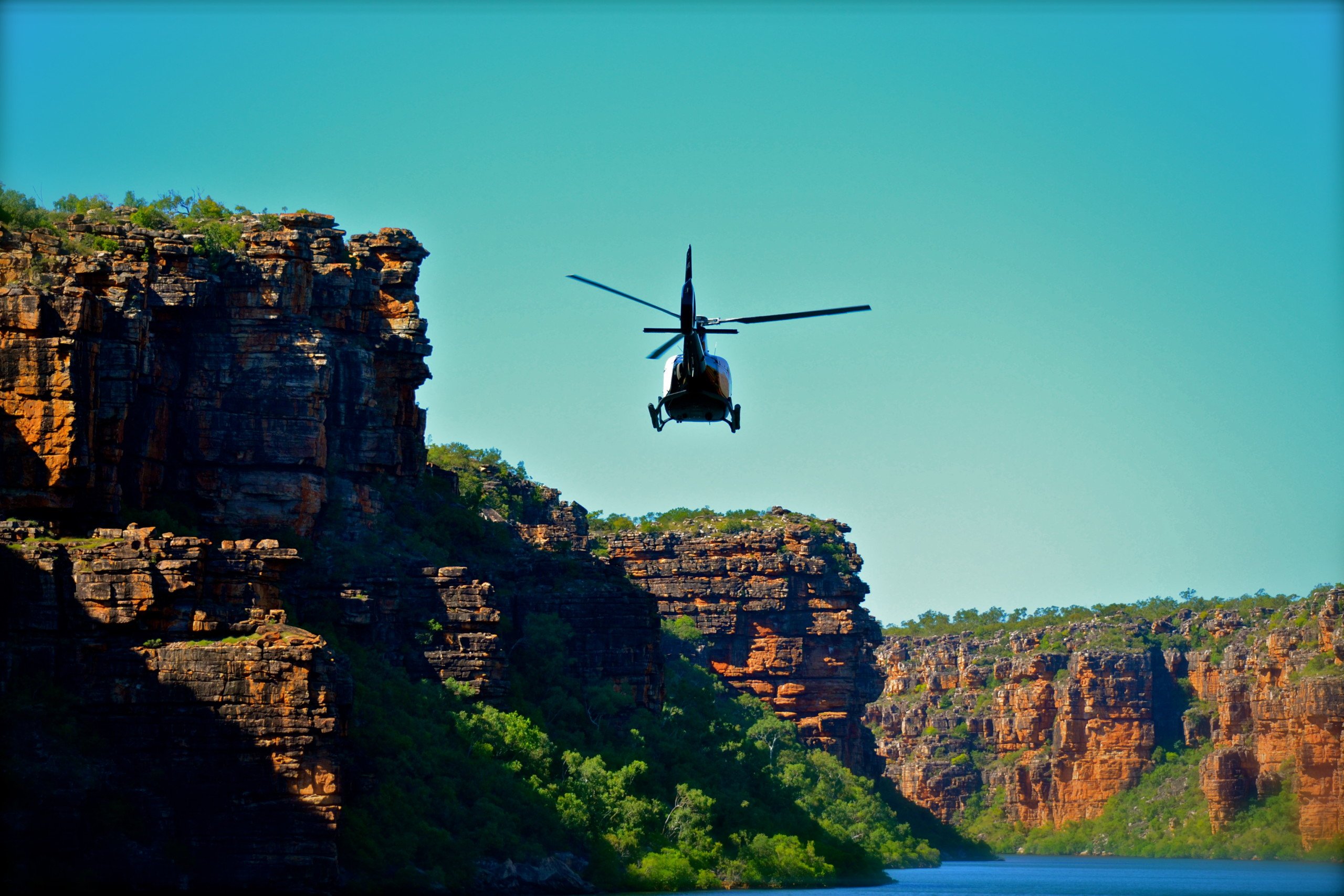 THE HUNTER
Halfway through the trip, guests wake to the magnificent Hunter River. This is about as remote as you can get in  Australia. The stunning river system is lined with dense mangrove forests. surrounded by rainforest-covered mountains and is home to man-eating crocodiles. As well as watching the scenery go by, there's fishing, mud crabbing and bird-watching on offer or you can scout the area on foot with a short hike to the beautiful Jackson Falls.
First stop on day eight is one of the Kimberley's most historic sites -Captain Phillip Parker King's boab tree with its famous graffiti, "HMC Mermaid 1820". Next, the mighty Prince Regent River, which runs almost straight  for most of its length, often between near-vertical cliffs. At Kings Cascades the ship is manoeuvred right under the falls before another awe-inspiring helicopter flight to a scenic billabong for a gourmet picnic. It's a day that will bring smiles for years to come.
As the adventure continues, early risers will be treated to a helicopter flight with a difference – a champagne sunrise on top of a mountain. It's followed by more rewarding hiking and a swim in yet another Insta-worthy billabong.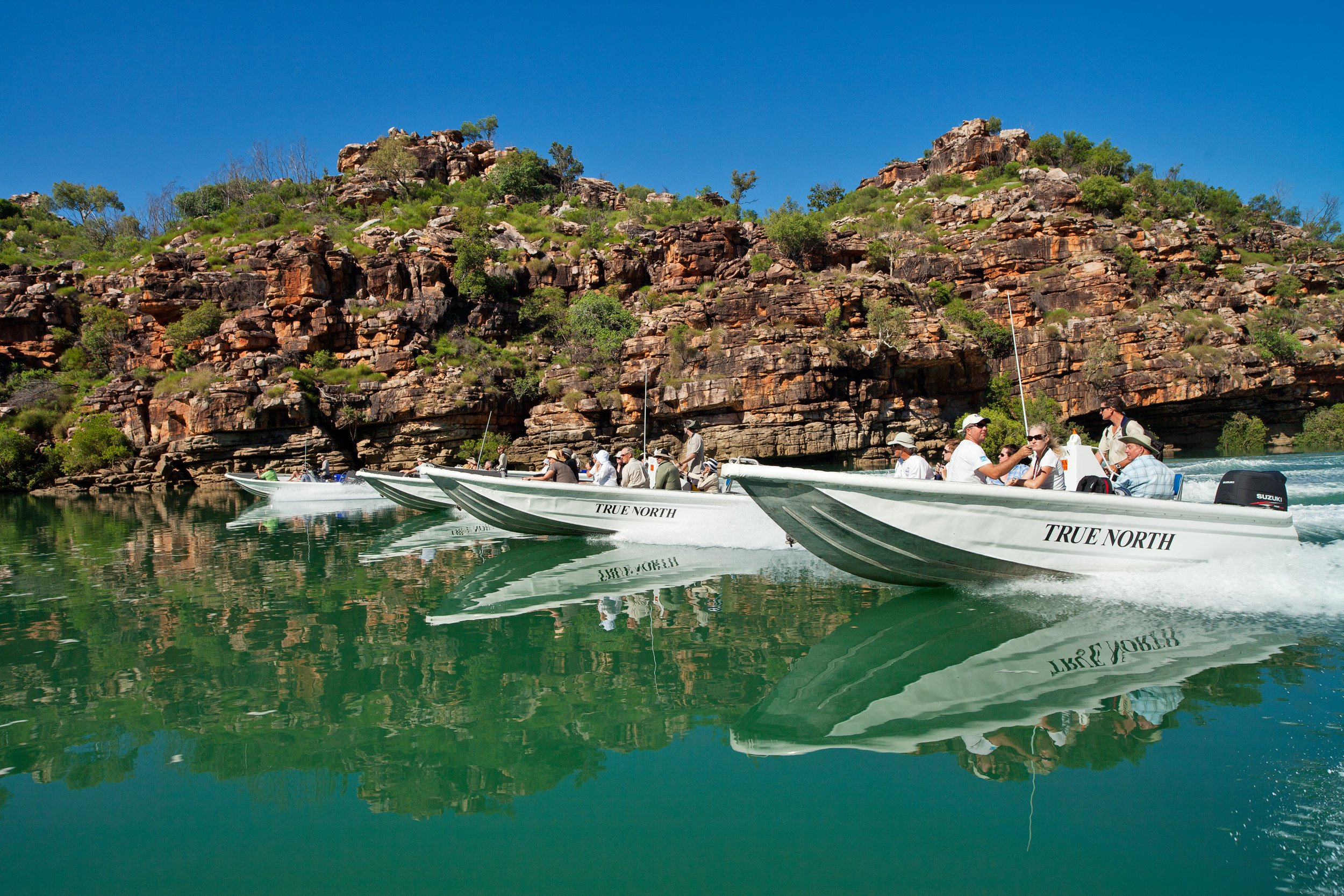 The next morning is devoted to exploring the Sale River before setting off for Montgomery Reef. Montgomery is a unique ecosystem comprising 360 square kilometres of coral reef-home to abundant marine life from manta rays to turtles. With tidal differences of more than 10 metres over a single spring tide cycle, it's amazing to watch the water cascade down numerous channels  as the tide falls.
It's your final chance to bag yourself a barramundi, this time at Three Ways. Then a short lunchtime cruise delivers all aboard to the impressive silhouette of Raft Point for a moderate climb to an art gallery with a difference and the well-preserved Raft Point Wandjina paintings.
Your final day on True North is spent with another Kimberley icon, the Horizontal Falls. Experience the awesome power of the region's huge tidal range in an exhilarating tender ride and then climb aboard your air-conditioned helicopter for a final view of the falls.
All too soon, your adventure on True North comes to an end, but not before a celebratory farewell dinner as you glide past Cockatoo and Koolan islands, Cape Leveque and down the Dampier Peninsula to Broome, all the while planning your next True North adventure.