Melanesia Rising
Two dimdims fly off a yacht… It's the start not of a joke but the trip of a lifetime for Sophy Roberts, who scuba dives below Papua New Guinea and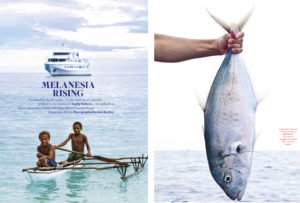 chugs above it in a mixmaster bilong Jesus Christ. Photographed by Ken Kochey.
There is a black-and-white picture of Errol Flynn standing in a copra plantation in Papua New Guinea, taken in 1926 in Kavieng on New Ireland, an island at the northern end of the Bismarck Archipelago off Papua New Guinea's northeastern seaboard. The 17-year-old Flynn poses in a white cotton shirt, sleeves rolled to the elbows, matching pants and with a cigarette hanging from his lip.
The photograph was taken six years after the League of Nations expropriated this former German possession when the islands north and east of Papua New Guinea, from New Ireland to Bougainville, were turned over to Australia as winnings for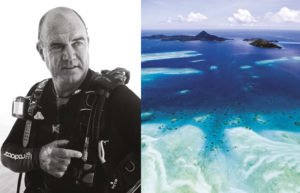 the crucial role their soldiers played in the Great War. This was when the area became known as the Mandated Territory of New Guinea (in 1942 invaded by the Japanese, then integrated into the independent political entity of PNG with independence in 1975). As for foreigners, they became known as dimdims in the local Melanesian Tok Pisin (or New Guinea Pidgin) language.
There is nothing more compelling than New Guinea's lingua franca aside, perhaps, from the fact that in a country of just 7 million, Tok Pisin is one of 800 different tongues spoken, a sum representing an entirely disproportionate eighth of the languages in the entire world. It is a unique range mirrored by PNG's fantastical topography—especially its eastern shores and islands, which I'm exploring on a 10-night cruise aboard the Australian-flagged expeditionary yacht, True North. Sailing one of the very few vessels plying these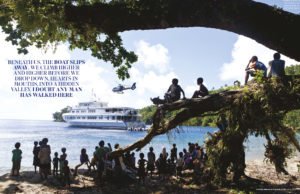 waters with an on-board helicopter, I can tell you from on-high that the landscape runs from menacing volcanic cones on New Britain, to strings of coral pearls in the Louisiade Archipelago, to a thousand jade-green fjords, which reach like spindly fingers into the cobalt Solomon Sea. What's more, the diving here provides an extraordinary perspective, with multi-colored coral gardens more vibrant and full of vitality than any I've seen elsewhere in the world. Still, this is my second visit to PNG in the space of six months, and the main reason I've returned is because I can't get enough of the people.
The trip starts in Kavieng, where Flynn was photographed, and finishes in Alotau, which is the capital of Milne Bay Province at the mainland's easternmost extremity, the 1,000-nautical-mile route encompassing numerous archipelagos, including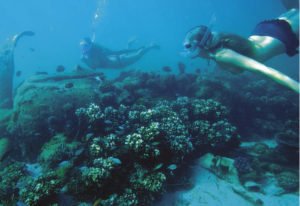 islands as deliciously named as Panapompom. But then every word in this country, from maps to machines, is packed with poetry.
Children are pikininis. Branches are fingas bilong tri. Waterfalls are wars kalap, or water collapsing. Even the baddies sound attractive criminals are raskols. Helicopters, more familiar to PNG's remote communities than cars, are mixmaster bilong Jesus Christs, indicating the presence of Christian missionaries, with the de-compressed metaphor such and such is this, but not quite loading up concrete nouns and simple verbs to create brilliantly witty turns of phrase. To read the full article please click here: Travel + Leisure Asia April 2015