Nigel Marsh visited one of the most remote dive destinations in Australia aboard the mighty TRUE NORTH and discovered a collection of corals, fish and sharks that blew his socks off!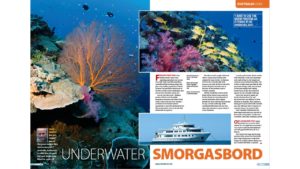 From my first dive at the Rowley Shoals I knew I was exploring somewhere very special. For a start, there were fish everywhere – colourful reef fish and large pelagic fish, plus a very healthy population of sharks. However, because these creatures see so few divers at this remote destination, they proved to be extremely camera-shy.
Less shy were the corals – fabulous gardens of hard corals, beautiful gorgonians and spectacular fields of soft corals. I hate to use the word "pristine" as it tends to be overused and not appropriate to most dive destinations, but this was the perfect word to describe this underwater smorgasbord.
View the full article: Underwater Smorgasboard (DiverNet) or View as PDF