Hooked on paradise: PNG cruise – by Scott Podmore
– news.com.au ESCAPE 25th December 2011 Article
SHOCK set in the moment my fishing guide Ben locked a look of horror on me after frantically grasping the fishing line.
I'd been barbed by a barracuda! And that barracuda, with protruding needle-like teeth and one large peeper firmly fixed on mine, was about to have the last laugh after our five-minute fight by delivering another of its trademark aggressive thrashes.
Even the backdrop of the Solomon Sea surrounding the island reefs lining the tropical Papua New Guinea islands suddenly provided eerie theatre. Dark clouds drifted over and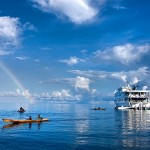 unleashed a furious downpour and within seconds the obligatory photo pose for catch of the day, a 2m barracuda all right then, maybe two feet had turned to sheer panic as our luxury cruiser, the TRUE NORTH, sat majestically in the background.
Ben and I stood wide-eyed and stiff-legged, balancing in awkward silence.
"I think you'd better work quickly, mate," I told him, knowing one more vigorous wriggle by my fishy foe would have made mincemeat of my hand. Fast but sure, he reached for a set of pliers and swiftly snipped the top half of the hook off.
I was home free.
Relieved, after a quick hug and some slap-up first aid, this fishing tale had grown legs thanks to a little embellishment by the time we were back on board the TRUE NORTH.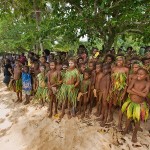 My new best friend and crew member Ben's composure and efficiency was what counted in the end, a common trait among all 20 of the TRUE NORTH's versatile crew: all of them young, already brimming with life experience and happily multi-tasking as they go about their duties.
It's only when you return home after such a cruise that you truly appreciate just how special the adventure was because of them.
Take the girls. Meticulously cleaned rooms, turned back sheets, Swiss chocolates on the pillows each night, the fresh smell of eucalyptus every time you walked into the bathroom, neatly pressed laundry on the end of your bed, and service always with a smile at the bar or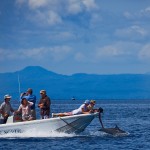 in the dining room.
Then there's the boys. A little rough-edged in comparison, but friendly, confident and capable, zipping around in expedition boats on to the next aquatic adventure, helping you reel in the catch of the day while stoking the fire with some cheeky banter over the two-way radio with the other guides and their fisher crews (it was important you either boasted about big catches or called their bluff if there were none).
They also doubled as deck hands, engineers and watch-keepers.
There's diversity among the crew, too. At 6ft 5inches in the old language, gentle giant Rainer the pilot squeezes into the onboard helicopter before whipping you off into the sky at sunrise for bird's-eye views of giant waterfalls, smouldering volcanoes, remote villages and even the mighty Kokoda Track for a sentimental dose of history.
Chef extraordinaire Ryan and his young sidekick Zack pack a tasty punch with every meal from the kitchen that included modern treats and old favourites.
There's also an educational factor. Each day coral reef ecologist and marine expert Dr Andy heads up a dive, and just as easily turns his hand to conducting a fascinating talk and slideshow presentation in the True North lounge later that evening. Of course, behind every great crew there's an excellent captain, and cool, calm and collected Captain Brad is always up for a seafaring story and never short of an answer on all things boating or to provide a bit of local World War II history.
And what Captain Brad doesn't know, his charming wife and cruise chief, Nitty, certainly does. "It's the intimacy between the crew and the guests that makes it work so well," says cruise director Nitty Oregioni, with hand on heart for her final voyage before heading home to WA for impending motherhood duties. A crew stalwart in her 20s, she started not long after the True North officially set sail in 2005 and has worked her way to the top. Nitty says the ratio of crew to guests 20 crew to 36 guests creates the opportunity for "a lot of one-on-one attention and care", something unusual in the industry.
Exquisite accommodation quarters span three decks, including Explorer, River and Ocean classes. There's a lounge/bar area for unwinding, a dining room for meals, viewing decks and Linneys Lounge for the ladies at the front where pearl sales tend to put holes in credit cards.
"We're an all-Australian crew, well-spoken and polite with different backgrounds, but it's that intimate experience and first-name basis approach with the guests that sets us apart from other bigger cruises," Nitty says. "It's very personable. Part of the adventure for the guests is to get to know the crew as well, instead of being a more sterile `yes sir, no sir' type of experience that I guess you would expect on a larger cruise ship.
"For guests, we make it so it's more a `get your shoes off, get to know the crew and let the adventures begin' type of adventure."
The minute you set foot on the True North the excitement builds. It's relaxed, luxurious and certainly a place where a former country boy like myself from the other side of the tracks discovers how the other half lives. Not surprisingly, most of the guests are repeat passengers coming back for more in what must surely be the ultimate endorsement.
And be warned: being "cashed up", if you will excuse the Aussie parlance, is a prerequisite for this one. Standing barefooted with a pina colada in a coconut half-shell in hand, it's a time to get to know crew and other guests.
Then the real adventure begins.
The True North is purpose-built to sail deep into the heart of wilderness, visiting areas that larger ships can't.. Every October the Adventures In Paradise cruise, with seven-night or nine-night options, sets sail in Papua New Guinea's paradise island precinct starting at Alotau and gliding north to Kavieng.
"Paradise" is everywhere in between as the ship slowly steams and stops off at such natural treasures as the D'Entrecasteaux Islands, Sebutuia Bay, Tufi Harbour, Lusancay Islands, the beautiful bays and islands off New Britain, the Duke of York Islands and New Hanover. There's something different with every sunrise.
The TRUE NORTH's point of difference comes with its itineraries. All cruises are designed to avoid lengthy spells at sea and include regular daily excursions for the adventure factor. Passengers need a reasonable level of fitness and mobility, such as stepping into an expedition boat or hiking for half an hour through a mildly challenging rough track on land, however, it will suit those who choose to "spectate onboard the spectacular", as one guest pointed out, if you're happy to skip the action.
The voyage takes in a largely untouched route that complements the contrasting confines of the cruise ship. Each stop-off provides something new, such as the haunting Skull Caves at East Cape, or the chance to be transported on a traditional outrigger canoe through mangrove-lined river inlets complete with a cacophony of sounds from the tropics, to hiking through muddied jungle pathways to spot a golden bird of paradise, or find hot spas seemingly in the middle of nowhere.
Another island destination called Wara Kalap (which means water falling down) is home to a subterranean river system shooting out of the jungle into the ocean below; the perfect place for a "bottom bounce" along the rapids or a canoe ride with one of the curious locals.
For me, the piece de resistance arrived with the village visits and the chance to interact with the Papua New Guineans and their way of life. Places where wide-eyed excited children greet you and who would rather play with and marvel at a handful of ice from the cooler you've just brought to shore rather than accept a can of Coke. It's refreshingly non-material.
The village communities also offer the chance to see many colourful sights, ancient methods of farming and the sweet sounds of a traditional sing-sing ceremony while sinking your teeth into a fresh, juicy mango or sipping from a recently cracked coconut.
North Star Cruises and guests good-heartedly provide the local communities with gifts including school books, sports equipment and other viable goodies and also help nurture tourism development.
Back in the sea, there's more to explore. Dazzling South Pacific vistas trigger the need to occasionally pinch yourself when catching a sunset or witnessing such spontaneity as a pod of dolphins leaping from the water right when you're buying a shimmering pearl shell from a friendly family of six crammed into a tiny old canoe at the back of the TRUE NORTH.
It's not uncommon for the locals to paddle for the best part of a day just to say hello and make a sale. Underwater activities allow you to slip into snorkelling or diving mode and drift through World War II wreckages including old tanks, and snorkel or dive the coral reefs.
The TRUE NORTH, the shining light of WA-based North Star Cruises Australia, has become an award-winner in the world of aquatic adventure cruises over the years. Managing director Craig Howson pioneered luxury adventure cruising along the Kimberley coast more than 25 years ago and the company has recently spread its adventure cruises into the South Pacific each year as part of its circumnavigation of Australia.
It's a cruise for dreamers and romantics. The Adventures In Paradise option is unforgettable: the food is to die for, the adventure and sights are heavenly, and the crew is first class.  And one thing is certain for those who enjoy throwing a line in. The fish are always biting and some even fight back.
The writer was a guest of North Star Cruises Australia.