October 2019
Private Wealth Canada – Peter Volny & Linda Goddard.  Reproduced with the kind permission of Private Wealth Canada.
Cruising has boomed for many years with ships growing ever larger and offering ever more entertainment. From Las Vegas style stage shows to elaborate water slides and gourmet black-tie dining, there are no end of options. On the other hand, if you're taking the kids or grandkids, the Disney Cruises are probably right for you. However, if you're after that rare combination of new and wondrous sights, a touch of adventure, and unique experiences, combined with fine cuisine then you need look no further than True North Cruises in Australia. They actually have a tag line of 'The Art of Adventure' and they can justifiably lay claim to it. While they have several options in Australia, Papua New Guinea, Indonesia, and other exotic places, the one we chose was the 13-day Ultimate Kimberley, which leaves from the small town of Wyndham and finishes in Broome, traveling over the rugged northwestern Australian coast.
Most Remote
This area is one of the most remote in the world, with many still uncharted waters, and with a never-ending panorama of rugged coastline, pristine estuaries and rivers, magnificent waterfalls, mangroves lining the shorelines, and all on mesmerizingly clear, azure waters. Getting there proved a nightmare and did not portend well for the rest of the trip. We elected to fly Qantas, Australia's flag carrier airline, on a Los Angeles to Sydney 15-hour non-stop Airbus A380 in Business Class. Well the flight left Los Angeles three hours late, and was unable to make any of this up, so we missed our connection from Sydney to Darwin and the following connection from Darwin to Kununurra, necessitating an unscheduled overnight stay in Darwin for which Qantas refused to reimburse us even though this was their fault. We found the service in Business Class quite poor and the meals mediocre at best.
We finally arrived in Kununurra, having also missed our planned and paid for helicopter tour of the Bungle Bungles. Rising 300 meters above the grass-covered plains that surround them, these orange and black sandstone domes are one of the world's most fascinating geological landmarks.
Kununurra was the assembly point for passengers on the cruise, so a modern coach driven by a very pleasant and knowledgeable driver, drove us for over an hour to the small village of Wyndham, where we first saw the Australian flagged True North. Built in 2005, she is 50 meters long with a beam of 10 meters but just a 2.4 meter draft, which allows her to sail deep into estuaries and access places that larger vessels cannot. With just 18 cabins, she carries a maximum of 36 passengers and with a crew of 22 exceptionally personable and enthusiastic young, mainly Australian crew the service is beyond first class, more akin to sailing on your own private yacht than a commercial one.
Cabins on the two upper decks have large panoramic windows and believe me you will see a never ending panorama of scenery through them. Our cabin, on the uppermost deck, while typically boat compact, had a king-size bed, lots of drawer space, a large flat-screen TV, which we never switched on as our time was filled with activities, a desk, a couple of comfy chairs, and a small fridge stocked with a complimentary split of champagne, soda and juice, and candy bars. The bathroom, or head in nautical parlance, also had a large window, a good size shower and double sinks with no shortage of hot and cold water thanks to the desalination water maker. The decor is modern in light wood with thick beige carpeting and the lighting is excellent. It was kept spotlessly clean all the time.
Open Aft Deck
Common areas include a forward observation lounge and sun-deck, open aft deck, spacious dining room, inside and outside bars with a bar lounge where the resident naturalist gave very interesting presentations on aboriginal rock art, crocodiles and more. Meals were served either in the dining room or al fresco on the back deck, which was certainly everyone's favorite.
True North carries an Airbus EC 130, seven-passenger, luxury helicopter and offers a broad variety of aerial sightseeing tours or ferries you to spectacular and remote picnic and swimming spots. Six outboard powered, sturdy aluminum dinghies take passengers on fabulous river cruises to spot crocodiles and we certainly saw lots of those, lots of different bird species, mangroves, and non-stop spectacular scenery. We saw another larger cruise ship, but it had rubber inflatables, which one of our crew brilliantly called "teething rings for crocs." Alternatively you could go fishing, and the crew certainly know where they are biting as even a rank amateur like me caught large and, more importantly, delicious Barramundi, Queenfish, Spanish Mackerel, Cod, Mangrove Jacks and Fingermarks. This is a good segue into the dining, which is not only delicious ,but very imaginative with different menus for breakfast, lunch, and dinner every single day. Needless to say the two chefs make the most of our daily catch be it fish or mud crabs. If fish is not to your taste, then you can request from a selection of meats, pastas, and vegetables. Meals are a communal affair at tables of 10 with lively conversation leading to new friendships. .
An exceptionally pleasant surprise was the extensive wine list at all price ranges and very reasonably marked up. As you would expect it was heavy on the Australian offerings, a country renowned for its wines, but there were also choices from New Zealand, France and Italy. Having done quite a few cruises, and all on smaller boats with a maximum of about 90 passengers, we know only too well how critical the crew are to the overall enjoyment and here again True North bats it right out of the ballpark. The decidedly youngish crew soon know everyone by name and taste and anticipate your every need. In fact, within a few days you feel like you are with family, or at least really good friends.
Always Choices
Well enough about the boat and on to the itinerary which is printed out and left on your bed each evening for the next day, as well as explained by the cruise director after dinner. There are always choices, but all are so appealing that you try to cram in as much as you can. The boat cruises mainly while you are dining and anchors overnight so that it is still for a truly restful sleep. The scenery constantly changes to the passengers chorus of 'oohs' and 'aahs.' This vast Kimberley region is one of the most remote and sparsely populated in the whole world and the same is true of tourism so it is rare to see another vessel.
The rugged coastline is punctuated with tidal estuaries leading to rivers and often spectacular waterfalls above which lie pools of crystal clear water. Morning and afternoon dinghy cruises offer sightseeing and fishing and each is somehow different and better than the one before. Some shore excursions have challenging rocks to climb over, but the crew are always there to help and ensure your safety, no matter your age or physical fitness so that even the less agile passengers were able to participate.
It's hard to pick a favourite excursion, but one well worth mentioning are the Horizontal Waterfalls. Two large pools of water lie behind high cliffs that come almost together with narrow gaps between. The tides in the Kimberley are massive, second only to Canada's Bay of Fundy between Nova Scotia and New Brunswick. As the tide recedes it drains these two pools, but the water must pass through the narrow gaps creating a virtual horizontal waterfall. As the tide rises, the flow is reversed. We were taken on a thrilling ride through these gaps on the dinghies and later saw them from another perspective on a helicopter ride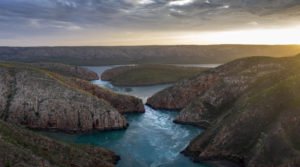 Another top contender, among so many, was Montgomery Reef, a 400 square mile submerged reef that emerges rapidly as the low tide drops over 30 feet quite rapidly. As it does, water pours over in hundreds, if not thousands of streams gathering in intensity and creating whirlpools of rushing water. By dinghy, we navigated a channel with these streams on either side. Later we helicoptered over to get a birds eye view.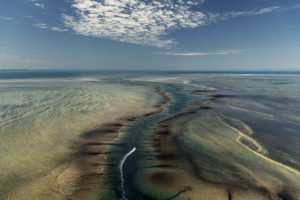 Several times when we anchored, six to eight foot tawny reef sharks swam lazily right at our stern hoping for scraps, while at other anchorages large saltwater crocodiles floated opportunistically at our sides. On one river cruise we saw no less than 28 crocodiles, including one feasting on what looked to be a bloated dugong or dolphin carcass. Another monster of some 15 feet with an enormous belly lay serenely on the mud bank totally ignoring us as we came to within perhaps ten feet of it.
Spectacular Scenery
The helicopter flights, which you can sign up for individually, or buy as a comprehensive package, are very varied but all afford spectacular scenery and often breathtaking passages through deep gorges with shimmering pools of water and sometimes waterfalls, although we were there in the dry season when they were few and far between. Initially this bothered us, but soon the scenery itself combined with the constant sunny days and lack of humidity were more than enough.
Twice we were helicoptered to remote and otherwise inaccessible areas for luncheon picnics and swimming in pristine, waterfall fed pools. An advance crew party always set up a canopy strung between trees and cliff faces to provide shade from the ever present sun, with camp chairs beneath, a makeshift barbecue, and tables laden with meat, fish and several sides. Needless to say there were ice boxes with beer, wine and sodas.
We were celebrating our 40th anniversary on the cruise and I had asked if the captain would renew our vows. What I didn't expect is the extraordinary lengths Tegan, the brilliant cruise director, Ben the wonderful captain, and the entire crew went to, to make this by far the most memorable anniversary ever. They decorated the aft deck with white balloons, flowers ,and even made a portal out of white tablecloths. All the passengers and crew assembled as Captain Ben's two young daughters acted as flower girls and led us out. The champagne flowed and even some tears from some of the passengers. If you are looking for a very special way to celebrate a major birthday or anniversary, I can't imagine any better.
Another night we even had a fancy dress party with the ship providing an extensive selection of costumes, most truly outrageous, but we all wore them including the crew and hopefully no photos will appear on Facebook or Instagram, otherwise we are bound to be seriously embarrassed. Needless to say the combination of costumes and cocktails led to a very lively dinner and dancing until late into the night.
On our last day we anchored and went ashore at Silica Beach, so named for the pure white, ultra-fine silica based sand. It was a fitting end to a fabulous cruise. The passengers unanimously ranked this cruise a 10 out of 10 with me being the sole dissenting voice ‒ I gave it an 11!
Peter Volny and Linda Goddard live in Arizona and are inveterate travelers with about 160 countries visited. They write on travel and car shows for Private Wealth Canada.